How to Train Your Small Dog to Not Bark When Left Alone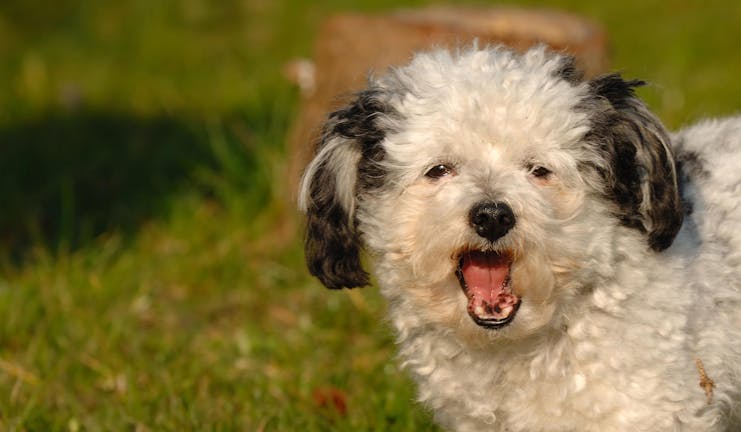 Introduction
Driving into your driveway, you thought you might have heard barking coming from your house. Now, as you put your things down and greet your little dog, who is beyond elated that you are home, you hear knocking on the front door you just closed and your heart sinks. You open the door, pushing your little dog back and preparing a stream of apologies and excuses. At the look in your angry, clearly sleep-deprived neighbor's face, you know none of your excuses or apologies are going to work. As you close the door and stare into your little dog's loving eyes you are faced with an impossible situation. Why does your little dog bark all the time you are gone, what can you do to stop her, and will you have to get rid of her?
If your little dog is barking when left alone it is likely that she is experiencing separation anxiety. All dogs experience some level of concern when separated from their family, and relief when they are reunited, but some dogs take this emotion to an unhealthy level. Small breeds bred to be constant companions and lap dogs may suffer particular anxiety when away from their person, while little dogs bred for work, like terriers and little hounds, may express their boredom with an empty house through barking at every sound, real or imagined, all day long.
Top
Defining Tasks
Determining why your small dog is barking, whether mostly out of boredom or anxiety, and how pervasive the behavior is, can help in determining how best to address the problem. For dogs that are already causing a considerable disturbance and problem in your neighborhood, temporary solutions like doggy daycare may be necessary in the short term until your training goals are accomplished. If you are unsure of the extent of the problem, using a baby monitor or other video or audio monitoring device can help you understand more about your dog's behavior while you are away.
Keep in mind throughout training that your dog is barking out of anxiety from being separated from you, or out of boredom because she does not have an enriching enough environment. It is unfair to feel angry at the dog for speaking out her unhappiness. Instead, work steadily to address your dog's unhappiness.
Top
Getting Started
Food replaces fear and anxiety in a dog's mind with motivation and pleasure, so having food your dog likes is essential in this training. Many extremely anxious dogs will not be interested in their normal kibble, so have some more delectable treats available. New stimuli encourage dogs to think in new ways, so even if your dog already has a great selection of toys, some new toys, and especially food distributing, toys will be very useful in this training.
As a disclaimer, it is necessary to add that some dogs experience truly debilitating anxiety when left alone, and really may not be able to be taught not to bark while you are gone all day. If, after working with your dog extensively, she is still displaying the behavior, it may be necessary to consult with a behaviorist or consider a new home for her. Some dogs can be helped by a second dog, so fostering a second dog for a while may also be a last attempt to keep a very anxious dog if you must leave her alone.
Top
The Find Treats Alone Method
Teach the 'find treats' game
Teach your dog to stay and wait while you hide treats throughout the house ( and yard if she has access to it) and look for the treats. Start simply and then build complexity until your dog is looking for at least ten to twenty minutes at a stretch.
Leave briefly
While your dog is looking, step out very subtly for a minute or so and then come back in. Don't react to your dog if she notices. Keep practicing this until your dog isn't noticing or caring that you are stepping out briefly.
Leave for longer periods
Work up to leaving for about the time it will take your dog to find all the treats. Keep practicing at this level until your dog is showing minimal reaction to your leaving and return.
Add treat-dispensing toys
Hide treat dispensing toys as well as treats. This will increase the time it will take your dog to find all the food. Work up to leaving for the time it will take your dog to find everything.
Add novel toys and work up time away
Add novel toys and treats, like frozen broth ice cubes in a bowl in the kitchen or a new rope toy tied to a closed door handle to be pulled until untied. The idea is to make your home an interesting place full of discoveries for your dog while you're away. Work up to full days away, coming home to check on your dog or hiring a dog walker to check on your dog and refill and hide toys.
The Remote Bark Control Method
Enlist the help of technology
Get monitoring equipment so you can observe your dog, something that enables you to talk to your dog over speakers, and be ready to spend some time watching and working with your dog.
Teach "quiet"
Teach your dog the meaning of 'quiet' by asking her to be quiet, getting her attention with a treat, and then giving the treat when she is quiet
Remote communication
Teach your dog to understand remote communication by going into another room and asking her to do a simple trick, and then quickly going into the room to reward her.
Remote 'quiet'
Go outside and, if your dog barks, ask her to be quiet using the remote system. Quickly run in and reward her. Keep practicing until you can get her to be quiet with intermittent reward.
Work until intermittent reward and consistent quiet
Keep working until your dog is not barking very often, and is being quiet when you ask. At some point, you should be able to remove remote monitoring.
The Alone Time is Rest Method
The high drive little pup
This method is best for the intelligent, energetic, high drive little dog who is barking largely out of boredom as well as loneliness when you are gone. This is for dogs who are not sufficiently entertained by treat dispensing toys and hide and seek with treats games.
Get up early
Get up well before you would need to leave for work and wear your little dog out. Think of things that will get her thinking and exhausted. It is best if she can be somewhat independent of you. Encouraging terriers and little hounds to hunt out game, playing ball and jumping through hoop games, agility, and running with a bike are all good examples.
Keep her active
When you get home, keep your dog going. Ask for lots of fun tricks in the house, take her to the dog park, bring her with you to a friend's house and ask for her to do all her tricks there. Don't give her time to rest or chew. Remove toys that aren't being actively played with. Keep training new tricks to keep her mind going. She should sleep as little as possible at night.
Rest while I'm gone
Give your dog all her chew toys, food dispensing toys, and favorite beds and comfy things while you are gone. After all the together time and activity, your dog will hopefully be sick of you and doing things, and will sleep instead of barking while you are away.
Keep it up
It may take up to several weeks for your little dog's pent up energy to be spent, and for her to settle into this new routine. Be patient and consistent. Keep up the new training. New ideas take much more intellectual energy than old ones.
By Coral Drake
Published: 01/15/2018, edited: 01/08/2021
---