How to Train Your Dog to Not Bite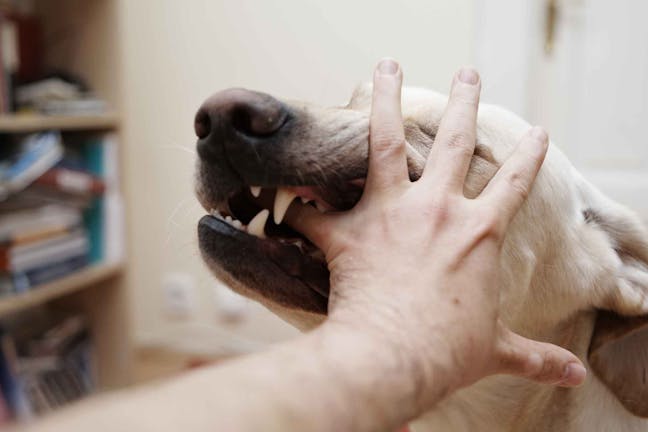 Introduction
You're strolling down the road when you notice your dog's tail suddenly drops and he stands perfectly still. You follow his gaze and see another dog approaching. You hold onto his leash firmly, but as soon as he gets within a few feet he lunges for the other dog, teeth exposed. You firmly pull him away and, fortunately, the other owner is quick to react. It's another close shave, thankfully nobody was hurt this time.
You've also seen your kids playing with him, which is usually all plain sailing until he gets fed up and snaps at their arm or leg. It's just a warning bite, but it doesn't half worry you that something more sinister could take place one day. Training him not to bite could save a loved one from serious injury, and you from a hefty vet bill if he injures another dog.
Top
Defining Tasks
Unfortunately, training your dog not to bite isn't always a smooth ride. The behavior will have gradually developed and become habit, and breaking the habit isn't always easy. Training will consist of obedience commands to regain control. You will also need to manage his environment to prevent biting triggers and reduce the chances of biting taking place. If he's young, he should learn quickly and the behavior won't have been ingrained for too long. Then you may need just a few weeks to fully stamp out any biting. If he's older and been aggressive for years, it may take a few months to fully break the habit.
Getting this training right is essential for the health of yourself, as well as other individuals and pets. Worst case scenario, he could bite a child and be court ordered to be destroyed, and nobody wants that.
Top
Getting Started
Before you commence training, you will need to gather items to make the training sessions a success. Have toys and treats on hand for every practice, work on the methods for ten to twenty minutes a day, and always end on a happy note. Don't rule out the assistance of a certified trainer if you feel that you are not getting the positive results you need soon enough.
To start, you will need time to dedicate to training each day, as consistency is key. Plus, you will need patience and resilience to see this through, despite the occasional slip-up.
Once you've got all of that together it's time to get to work!
Top
The Brush Up On Obedience Method
Practice at home
Take a few minutes each day to reinforce the basic commands your dog learned at obedience class. A dog that knows sit, stay, come, down, leave it, and heel has a lot of knowledge that can be used to deter unwanted behavior.
In-class fun
Sign up for obedience classes where fun and learning are combined. Your dog will learn socialization skills that will serve him in any situation. His bond with you will be strengthened and he'll know that you are there to be respected and trusted.
Take it to the next level
Your furry companion can only benefit from structured classes and play. Join the next level of obedience and consider taking your dog to agility, flyball, or tracking classes. A dog with physical and mental stimulation will be too tired to think about biting.
Reward him when he plays calmly
It is important you don't just show your pooch how not to react, but that you also hammer home how you do want him to behave. So when he plays gently, give him the odd treat and praise.
Be consistent
Biting will have become an ingrained behavior, so it is vital you are persistent with the above measures if you want to cut it out. As soon as you stop reacting to any signs of aggression it may seep back in. So keep up the behavior for a few weeks even after the biting seems to have stopped.
The Redirect Attention Method
Play tug of war
Many dogs bite because they have too much energy and because they don't understand what they can and can't bite. By playing tug of war for a few minutes each day, he will get the biting temptation out of him there.
Act fast
If you are approaching a dog and you think your pooch will get aggressive, firmly pull him away and cross the road. By removing him from a situation that is likely to trigger biting, over time he will break the habit through lack of choice.
React to signs of aggression
As soon as your dog starts to display aggressive behavior during playing, get the tug of war toy out. If you do this each time, he will start to associate biting only with the toy and game. When you are playing with the tug of war toy, be sure to keep it upbeat and playful, dogs respond best when they think they are playing a game.
If he does bite, don't punish him
If you scare him, next time he may bite out of fear. Dogs that are terrified are often unpredictable so it's important you react calmly. Simply remove him from the situation and give him some time to calm down.
Give him more exercise each day
If your dog bites because he's full of energy and excited, then tiring him out may help stem his desire to bite. If you can't give him more walks, then play fetch during walks to keep him sprinting, and encourage him to swim in ponds you pass. Both will knacker him out and leave him napping in the afternoon rather than terrorizing everyone in the house.
Use words
When your dog does bite, it's important you give him a quick verbal sign to tell him he's behaved badly. Saying 'NO' or 'STOP' in a clear, firm voice will help reinforce this. You don't want to terrify him, but he needs to know you're not playing around.
Never rough house
If your dog is biting when you play, it's important you play gently and don't get him too excited. It is often a heightened state of excitement that triggers biting and dogs mirror their owner's behavior, so keep it relatively calm.
Keep your cool
Throughout any training session, or even when your dog is playing and it leads to your dog getting rambunctious, keep your cool. If your dog becomes afraid of you, it may lead to fear biting.
Consistent praise
When you are playing, reward him consistently for good behavior. While he's playing gently and not trying to bite, reinforce the behavior with rewards. The combination of positive and negative reinforcement will quickly get the message across about what behavior is, and isn't, acceptable.
Daily practice
Practice all of these steps every day for several weeks. Breaking a biting habit will take time, so you must be consistent with each measure, otherwise he may get confused and return to biting. After many weeks of no biting you can cut down the frequency of treats during play until they are no longer needed.
By James Barra
Published: 10/15/2017, edited: 01/08/2021
---