How to Train Your Chihuahua Dog to Not Chew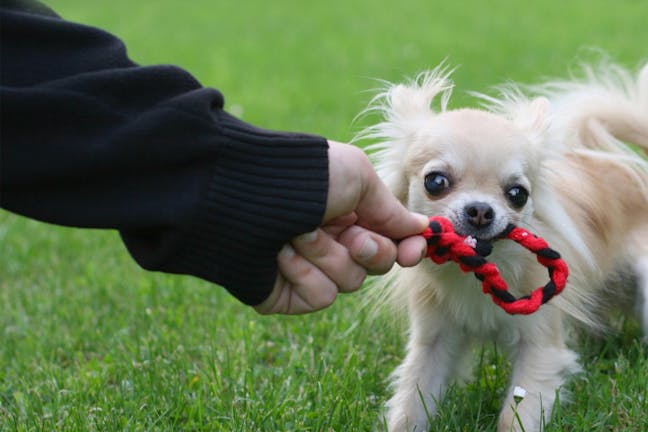 Introduction
Chewing on things is completely natural to a dog. Dogs chew to clean their teeth, exercise their jaw muscles, and for entertainment and relaxation. Dogs, and especially puppies, explore their environment with their teeth. Your Chihuahua has many good reasons to chew, and with mouths that tend to be small and sometimes crammed with too many teeth, chewing may be even more important for your Chihuahua than for other breeds.
Chihuahuas, like most tiny breeds, are prone to teeth that do not match up evenly, which can lead to plaque buildup and decay, as well as jaw issues from uneven grinding. These problems can lead Chihuahuas to chew on things of different shapes and textures, so as to compensate for any issues with their jaws and teeth. This is why Chihuahuas will sometimes chew on strange things even late into life, and even if provided with chew toys.
Top
Defining Tasks
Since chewing is a natural behavior for a dog, it is impossible to teach your Chihuahua not to chew at all. Rather, you must teach her the concept of your things and her things, which is which, and what is appropriate behavior with each. It may not ever be possible to trust your Chihuahua completely with free rein of your house, especially since the tiny Chihuahua may chew something dangerous like electrical cords or wood furniture, which can splinter and lodge in tiny throats. It is, however, reasonable to expect your Chihuahua to restrain herself at least while you are home.
Chihuahuas are sensitive animals capable of learning not just what is theirs and what is ours, but what is the appropriate sort of behavior with various sorts of toys. For instance, your Chihuahua can learn that while she is allowed to play with her stuffed toys by biting and carrying, she is not allowed to chew holes into them and pull out all the stuffing.
Top
Getting Started
Unquestionably, the most important tools available to you in teaching your Chihuahua not to chew on your things are things your chihuahua is supposed to chew on. Pet stores are full of products ranging from natural antlers, horns, and hooves to hard and soft plastics. Chew toys come in all shapes and sizes, flavored and unflavored, edible or indigestible. Many can be stuffed with food treats, or frozen or microwaved for the added element of being hot or cold. Do your research and have fun buying as diverse a field of chew toys for your Chihuahua as you can afford. Don't skimp on larger toys either, little dogs often love settling down with a huge bone to work on for hours from every imaginable angle. Do be careful of very hard, weight-bearing bones, as these can quickly wear down little teeth.
Another useful tool to have at your disposal is a bitter taste spray. It is best to buy a couple of varieties so you can be sure of finding one that your dog does not like. Be very careful in applying these sprays to furniture or fabric, as they can be damaging.
Top
Chew this, not that
This method simply substitutes what your dog shouldn't be chewing for what she should. Basically, you will watch your Chihuahua and whenever she starts to chew something she shouldn't you will startle her and substitute a chew toy.
Clear options
Make sure you set the stage by leaving out some things you know your Chihuahua will be tempted by, as well as several good chew toys.
Pay attention!
While you can certainly do other things while utilizing this technique, you must be paying close enough attention to notice as soon as your Chihuahua starts to chew on the wrong things.
Startle, don't scare
When you see your dog start to chew on the wrong thing, quickly and sharply say, "not that!" or whatever command you want to use. Keep your tone positive and substitute a chew toy quickly and make it enticing. If you scare your dog, she will simply wait until you are not in the room to chew what she shouldn't, or perhaps to chew at all.
Practice
Practice this technique as often as you can, with as many potential chew-able items that you don't want chewed as possible. Repetition is key to teaching your dog the concept of what is yours and what is hers.
Taste and associate
This method depends on your Chihuahua associating things she shouldn't chew with an unpleasant bitter taste. Make sure you test your bitter spray on less noticeable parts of furniture or fabric until you know how it will affect them.
Does it taste bad?
Start by putting some bitter spray on something in front of your dog. Probably your Chihuahua will sniff or lick the substance. She should wrinkle her nose and not lick anymore. If she seems unaffected, try a different spray.
Use the right wrong things
This method is nice because it can work while you are not with your dog. But to be safe, do not treat and leave anything that could harm your Chihuahua if she overcame her aversion to the bitter taste and chewed anyway.
Coat thoroughly
Use a good deal of bitter spray all over the accessible parts of whatever you don't want your chihuahua to chew. Let the items dry and leave them with your Chihuahua, along with plenty of desirable chew toys.
Check for success
Examine everything left with your Chihuahua carefully to insure that your technique is working. Leave similar items around when you are home with your Chihuahua and observe her to see if she is interested in chewing the wrong things.
Try without the bitter
If you seem to have been successful for several weeks, stop treating things with bitter spray. Carefully examine things frequently and observe your Chihuahua to insure that she doesn't relapse.
Dog space
This method works best if your Chihuahua has her own dedicated room or crate where she spends time when you are not home. Keep all her chew toys here, and teach her to put them back when she brings them out into the general living space.
People space
Establish your territory by keeping your home neat. Socks, shoes, or throw pillows tossed on the ground look to a dog like unclaimed stuff, free game for chewing. Ideally, have all possessions off the floor and in designated places.
Mine!
If your chihuahua moves something or begins to chew or bite at furniture, firmly reprimand by saying "Mine!" and claim the item either by putting it back or by taking up the space in front of furniture, pushing your dog away.
Yours!
Remind your chihuahua what is appropriate for her to chew on by wiggling a chew toy enticingly while saying "Yours," in an encouraging tone.
Mine and yours
Constantly repeat and reaffirm the concept of what is yours and what belongs to your Chihuahua. Having your Chihuahua clean up her own toys is an excellent way to remind her to identify what is hers and leave alone what is yours.
By Coral Drake
Published: 12/14/2017, edited: 01/08/2021
---