How to Train Your Dog to Not Chew Gum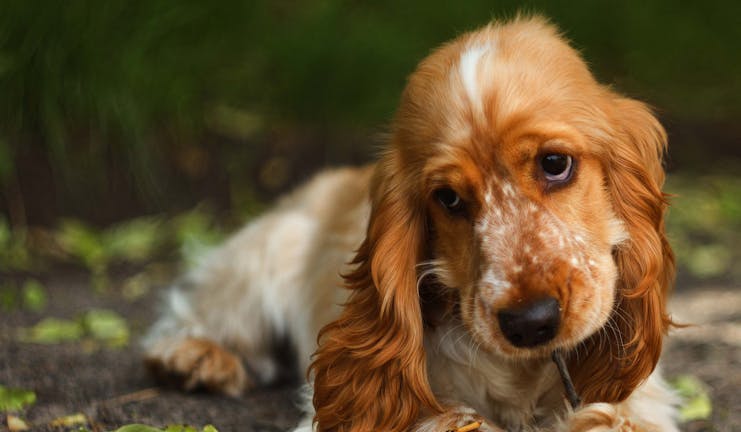 Introduction
Missy is very sick, the little Shih Tzu is exhibiting neurological symptoms, a loss of coordination, and lethargy that alarm her owners.  When her owners discover a chewed up, half-empty gum wrapper on the floor under the bed, they have a pretty good idea what is making Missy sick, and it is serious.  
Many sugar-free gums contain Xylitol, which is poisonous to dogs and can result in seizures and even death. Missy is rushed to the veterinarian where she is given supportive care. Fortunately, she did not ingest too much gum and makes a full recovery, but it could have been much worse. 
Even chewing gum that does not contain xylitol or other additives that are harmful to dogs can create health problems, as they can cause intestinal blockages and other gastrointestinal issues. Training your dog not to chew gum will prevent dangerous, possibly life-threatening conditions. 
The best way to prevent your dog from chewing gum is to keep gum out of your dog's reach, however, this is not always possible. Got kids? Then you know how hard it can be--children do not always remember to keep gum and other treats out of your dog's reach. Training your dog may be easier than training your family members!
Top
Defining Tasks
Teaching your dog to leave gum and other tasty treats you do not want him ingesting is a useful and potentially life-saving skill that all dogs should know. This means teaching him to stop investigating an object or objects that you direct him to "leave", including gum. This, however, only works if you are present when the dog discovers the gum. You can also teach your dog to signal you or bring gum to you when he finds it, in order to get a more desirable treat. This might be useful if you have small children in your home or are otherwise limited in how and when your dog is exposed to gum and other candies that could harm him. Ultimately, you will want your dog to respond to commands to leave gum or to make you aware when he finds gum, rather than simply ingesting the gum, which could be harmful to him.
Top
Getting Started
You will need high value treats like chicken, hot dogs or peanut butter, whatever your dog loves, to redirect him from chewing gum to another behavior. You will also want to supervise training carefully when using actual gum so that your dog does not accidentally ingest any. You can take gum out of a package and just use the package for training to minimize the chance of gum being consumed. Make sure gum you use in training does not contain xylitol or other substances that can be harmful to dogs.  Remember that gum itself is not good for dogs, as it can cause blockages, so close supervision during training is imperative.
Top
Present treat in closed hand
Put a low value treat, dog kibble works well, in one hand and have a high value treat nearby. Make a fist with your hand and hold the treat in front of you.
Reinforce 'leave it'
Your dog will investigate your fist-- keep it closed. Your dog will paw and lick your hand--ignore him. When he gives up say, "leave it" and provide the high value treat with your other hand. Repeat until your dog associates 'leave it' with ignoring the presented treat and waiting for a better treat.
Present treat on open hand
Now present the low value treat on an open palm. When your dog approaches, say "leave it". If he stops and looks for his alternate treat, provide the high value treat. If he continues to investigate the low value teat, close your hand and repeat the previous step. Once established, start putting low value treats on the ground in your home and practice 'leave it'. When your dog leaves the treat, give a better treat.
Make more difficult
Move the exercise outside, where distractions are present. Plant low value teats and practice the 'leave it' command with your dog when he discovers the treats. Start letting your dog be tempted with better treats, continue to command 'leave it' and give better treats. Eventually wean your dog off high value treats and provide praise instead.
Use gum packs
Start planting gum packages and practice the 'leave it' command when your dog discovers gum.
The Trigger Signal Method
Teach signal behavior
Teach your dog to provide a signal to you. The signal can be a bark or a nudge of the hand. Use treats to establish the behavior on verbal command.
Associate gum and signal
Now present gum to your dog. When your dog investigates, immediately give him the command for his signal.
Reinforce signal
When your dog barks or nudges your hand, give a high value treat. Repeat until the association is well established and the dog starts to anticipate your command when presented with the gum.
Capture signalling for gum
Present gum and wait for your dog to bark or nudge without being commanded. When he does, throw a big treat party and give praise--get excited. You want your dog to recognize that the gum triggering his signal was the goal.
Establish
Repeat, allowing supervised gum exposure and waiting for the signal. Have treats available to reward signalling.
Reinforce investigating
Put a pack of gum that is not toxic to dogs on the floor, supervise closely. When your dog investigates, click and treat.
Reinforce mouthing
When your dog mouths gum, click and treat.
Switch for high value treat
Do not allow your dog to continue mouthing, as this can lead to ingestion. Immediately call your dog over to you. Take the gum and provide a better high value treat, like hot dogs, bacon or chicken.
Practice retrieve and release
Continue to leave gum where your dog can get it while supervising. When he picks up gum, call him and provide the better treat.
Test retriveal
Increase distance and allow dog to think he is not observed with the gum--hide around a corner and supervise. Allow your dog to discover the gum. Wait to see if he brings it to you without being called to get a better treat. If he does, reward. If he starts to chew on the gum package, intervene and go back to repeating previous steps until your dog learns to seek you out with retrieved gum for a better treat.
By Laurie Haggart
Published: 01/19/2018, edited: 01/08/2021
---