How to Train Your Dog to Not Eat Cat Poop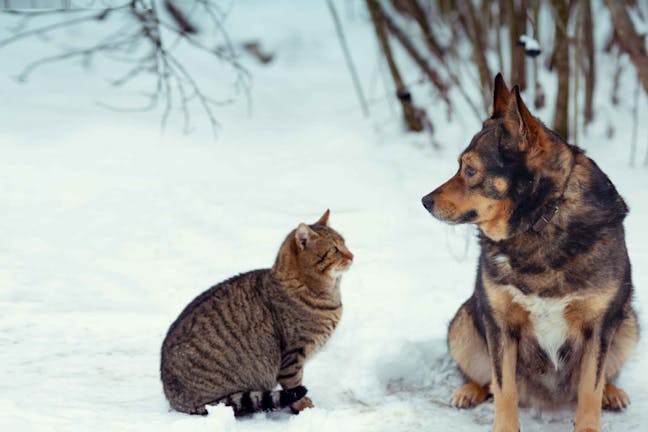 Introduction
You run a busy household. You have kids to keep an eye on, a range of pets to care for, and hardest of all, you've probably got a partner to look after too. Keeping an eye on all these moving pieces is never straightforward and one thing you'd never think to be on the look out for is your dog eating your cat's poop. It's the last thing you expect to see when you open the front door with hands full of shopping. But for whatever reason, he has developed a taste for cat poop and you know no good can come from it.
Dogs can snack in a cat's litter box for any number of reasons; they might be lacking in minerals and they might simply be bored. But whatever the reason, getting a handle on this bad habit is essential if you want to keep him happy and healthy.
Top
Defining Tasks
Training your dog to leave your cat's stools alone will require a number of different components. Obedience commands will be used to control his behavior and a number of steps will need to be taken to reduce his access to the cat's litter box.
Whatever the motivation behind his new habit, he can quickly pick up a range of ailments from your cat's poop, including an unpleasant infestation of worms. So training him to steer clear of the cat's poop will save him considerable discomfort and your bank balance from some hefty vet bills.
If you have a young, receptive puppy you may be able to complete training in just a couple of weeks. Dogs that are older and have cemented the bad habit may need several consistent weeks of training before success. Don't be put off by the time though, the training is relatively straightforward. 
Top
Getting Started
Before you start on your campaign you will need several things. Firstly, your dog's favorite food and some treats will be needed as an incentive. You will also need a quiet space, free from the distractions of a busy home. 
In addition, for one of the methods, you may want to invest in a cat flap and some diet supplements to sour the taste of your cat's feces.
The only other things you need are 10-15 minutes a day for the next few weeks, patience, and a proactive attitude. Once you've armed yourself with all the above, you're ready to get to work!
Top
Setting up
Place your cat's litter box in the middle of the room. Then secure your dog to a leash and collect some tasty canine treats.
Wait
Wait patiently for him to head towards the cat feces in the middle of the room. As soon as he pulls on the leash, be ready to take action.
'Leave it'
Position your body in between your dog and the litter box and firmly say "Leave it". Wait until he looks away from the box and backs away slightly, then reward him with a treat within 3 seconds. A swift reward is essential so he associates the moving away from the box with the tasty treat.
Practice
Practice this for 10-15 minutes a day for a week. Repeat this until you are confident you can control him even when he is close to the litter box and you are not standing between them.
Lose the leash
Lose the leash and move farther away, to the edge of the room. By this point your 'leave it' instruction should always be reacted to promptly and he will be more interested in the treat than the cat poo. Once he still leaves it even when you are barely in the room, start to reduce the number of treats until the 'leave it' command is enough. Slowly he will break his unhealthy habit and will lose interest in the cat's litter box entirely.
The Reduce Temptation Method
Covered litter box
Replace your current litter box with a covered litter box. These boxes can be picked up cheaply from local pet stores and a number of online retailers. They are still comfortable for your cat to use but they will also prevent your dog from accessing any poo. Once he realises he can no longer get to the tray, he will lose his appetite for it.
Try relocating the litter box
Sometimes simply moving the box into a room he doesn't have access to will eliminate the chances of him eating cat poop. You can try putting it in a room where you can keep the door shut. You can even fit a cat flap into this room so you can keep it shut throughout the day.
Sour the taste
Try adding products to your ca'ts food that will make their feces taste unpleasant. A number of online retailers and stores sell safe products that can be added to your cat's food and are guaranteed to make it taste terrible. These products can take weeks to work, but soon the mere smell of the cat feces will put him off and he'll quickly forget he ever used to enjoy eating it.
Deterrents
Try deterrents around the litter box. You can get your hands on a range of motion activated deterrents for dogs. These products could do anything from spray water at your approaching dog to release a high pitched sound from a compressed air can. He will soon associate cat feces with these unpleasant experiences and give up his foul snack.
Exercise
Some dogs feast on cat feces simply out of boredom. Try walking him more, or if you can't do that, throw a ball for him as you walk, this constant sprinting will leave him resigned to his bed for the rest of the day and reduce his desire to snack out of boredom. All these steps can be tried on their own or together. But by reducing his access to the temptation he will lose their appetite for it altogether.
The Boundary Training Method
Secure him
Put him on a leash and head towards the room the cat's litter box is kept in. Ensure you have a firm handle on the leash and some tasty treats in your pocket.
Approach
Walk up to the doorway and stop and click with your fingers if he is behind it. Then reward him with a treat (behind the line). Keep practicing this until you think he is aware the doorway holds some significance.
Cross the line
As he is eating a treat, cross over the line, click numerous times and reward him with more treats. If he follows you over the line though, walk him back out of the room and begin again. If he follows you three times in a row, go back to the previous step and practice that some more.
Make it more challenging
Now increase the duration you spend over the line and see if he manage to stay back. If he does, click again and reward him with treats. Keep practicing this until you are able to cross the line for longer and longer without him crossing the boundary.
Lose the treats
Now he understand the boundary, start to reduce the frequency of treats. If you are at this stage, he understands there is a boundary and that he shouldn't cross it. At this point, transition from treats to verbal praise and after some success reduce the frequency of verbal praise. It may take many weeks, but he will eventually stop crossing the line altogether, ensuring your cat's litter box is finally safe.
By James Barra
Published: 11/05/2017, edited: 01/08/2021
---