How to Train Your Dog to Not Fear Bite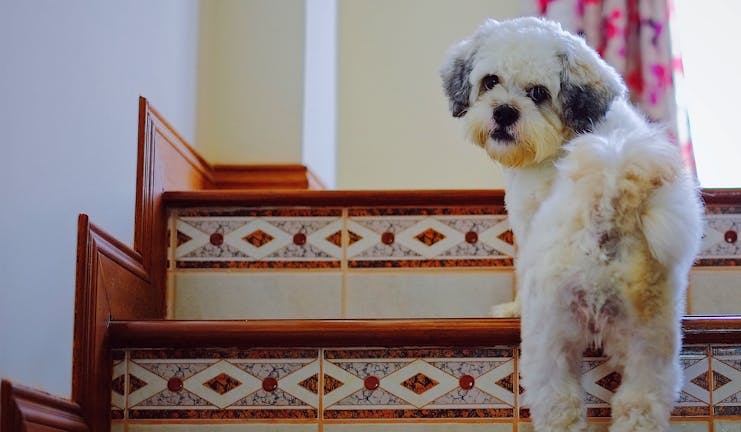 Introduction
You have friends over, and your normally laid back pup is tense as a board, watching your friends' every move. "Poor puppy, why are you so nervous?" a dog loving friend says and leans in to pet the anxious dog. You can see one second before it happens that something is very wrong. Then, your dog bites your friend. The bite isn't bad (it barely broke the skin) but your friend is shaken and the party is definitely not off to a good start. You urge your shaking dog into her crate. You feel so mad at her and so bad for her at the same time. Why does she feel so afraid that she feels she has to bite?
The most common reason that dogs bite people is out of fear. These dogs experience a terrible fear that results in a fight or flight reflex. If the dog feels she cannot escape, either because she is cornered or because she feels she needs to protect her family or home, she may turn to biting in order to remove the threat.
Top
Defining Tasks
Teaching your dog not to fear bite depends on changing her perception of people and the relationship she has with them. It will require a good deal of patience on the part of both the human and canine participants. Most of all, teaching your dog not to fear bite depends on establishing a relationship with your dog in which your dog trusts you to teach her how to react to her environment.
The younger your dog is and the shorter the period of time the fear biting has been taking place, the easier it will be to change your dog's behavior. It will also take much longer if you have not had your dog for long, and have not yet built a relationship with her. Dogs don't want to fear bite, however, and hate being in a state of anxiety and fight or flight panic. Your dog will thank you deeply for teaching her a better way to respond, and the experience will create a deep bond between you.
Top
Getting Started
You will need plenty of time, your dog's favorite treats and toys, and plenty of patient, dog loving volunteers. It is important that you have tools to control your dog. If your dog is very unpredictable and has delivered dangerous bites before, it is advisable to use a muzzle throughout the training process.
Make sure that you have a secure harness for your dog, as reactive dogs often bolt unexpectedly and could injure themselves on a neck lead.
Top
Natural activities help lead to natural behavior
Dogs that fear bite often do so because they feel trapped and don't know what to do. Walking gives a dog something to do--take another step. Furthermore, walking together is an essential pack activity that builds trust between pack members.
Wear out the wiggles
Walk or jog with your dog alone for awhile first before introducing other participants. Make sure your dog is good and tired out.
Casually share a space
Have your volunteer walk parallel with you but across the street. If your dog reacts, ignore her and encourage her to keep walking.
Move closer
As your dog becomes comfortable, the volunteer should move steadily closer, until you are walking together. Keep yourself between the volunteer and your dog.
Reward positive behavior
As your dog acts naturally in the volunteer's presence, reward her with favorite toys or treats and lots of praise. If your dog is being very comfortable, let your volunteer reward her, always letting the dog come to the person.
Positive interactions
As you practice this activity with different people, your dog will learn a positive way of interacting with people, and will no longer feel it necessary to bite to protect herself.
Guests bring good things
This method relies on volunteers rewarding your dog for positive behavior, while ignoring negative behavior. It will require plenty of yummy treats or favorite toys, and some very patient friends.
Find your spot
Have your guests position themselves all over your house, equipped with goodies. Instruct them not to move at all, to ignore any bad behavior, but to quickly give treats for sniffs, tail wags, or just moving closely by without reacting.
Release your dog
Allow your dog to wander through the gauntlet of goodies. If you are worried about her being very aggressive, have her wear a muzzle and follow her with a loose lead.
Reward, ignore, repeat
Let your dog explore on her own, learning as she goes that positive behavior results in treats, while negative behavior doesn't result in anything.
Practice
Over time during these sessions, encourage your guests to begin acting more naturally with your dog, petting and playing with her. Eventually your dog will no longer feel afraid.
The Positive Outlet Method
Need to protect
Some dogs fear bite out of an overwhelming urge to protect their family. Their fear is of injury to their family, not themselves, and they are obsessed with their "job" of protecting their family.
Give them an outlet
Much like teaching a dog that tends to bark too much, a command for 'speak"' and one for 'quiet' can help her identify and control the target behavior, so for a dog that bites teaching to bite on command can help clarify the behavior to not bite, as well as giving the dog an outlet for her protective energy.
Name the bite
Teach your dog to bite a sleeve on command, with the help of a brave and well padded volunteer. Work up to being around the volunteer for some time with your dog, before giving the command to bite, so that your dog learns to wait on you for the signal.
At ease
Teach your dog a command for when she does not need to be ready to bite. Use this command when you are with the padded volunteer. Have the volunteer give your dog treats, and act naturally.
Practice
Keep practicing the 'at ease' command with your dog, as well as having protection training sessions. Your dog will get out her need to protect, without misfiring on your guests.
By Coral Drake
Published: 12/20/2017, edited: 01/08/2021
---