How to Train Your Small Dog to Not Jump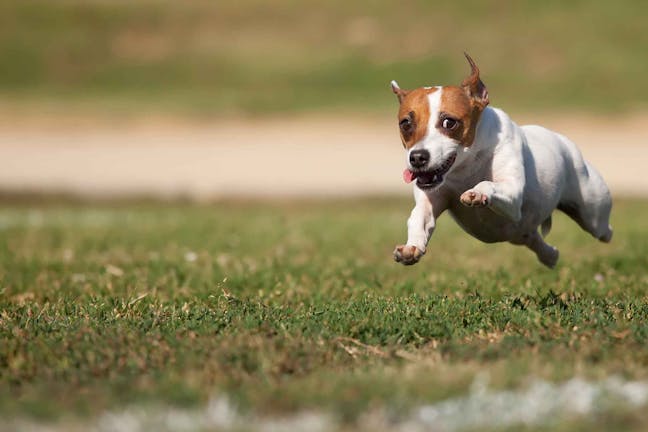 Introduction
You've just walked through the door and of course, your pooch is keen to see you. While you're also glad to see him, there are a few things you need to do before you can sit down and give him some attention. He's not prepared to wait though; he jumps up at you to try and get your attention. He may be small, but that doesn't mean he can't get some serious height when he leaps into the air. It's a habit that only seems to be getting worse. It's particularly annoying when he jumps up at guests who don't know quite what to do. 
You need to get a handle on this behavior now, or he's going to be causing jumping havoc for years to come. Training him not to jump will be worth it. It will show him that giving him attention is strictly on your terms.
Top
Defining Tasks
Fortunately, training your small dog not to jump up is relatively straightforward. You'll need to take a number of steps to deter him from wanting to jump up in the first place. You'll also need to reinforce the behavior you do want to see instead. Food and toys will be used to motivate him to keep firmly on the ground. If he's a puppy then breaking the habit could take as little as a few days. If he's older and been jumping up for years then you may need ten days to fully kick the habit.
Succeed with this training and you'll find it's easier to keep him off furniture and away from food on the table. Not to mention he won't be the impolite host that leaps up at guests, something you particularly don't want if they're in nice, clean clothes.
Top
Getting Started
Before you can get to work you'll need to gather a few bits. Tasty treats or his favorite food will be needed to motivate him throughout training. You'll also need a spray water bottle and possibly a deterrence collar for one of the methods below.
You'll also need to set aside 10 minutes each day for training. Try and find time where you won't be distracted by a noisy household.
The only other things you need are patience and a pro-active attitude. With all of that, you're ready to get to work!
Top
Meet his needs
Make sure he isn't jumping up because he needs something. Check his water bowl has plenty in it, that it isn't a meal time, and that he's been out to the toilet. You don't want to start ignoring his jumping if it's a genuine sign something is the matter.
Turn around
When he jumps up at you, turn around and face the other way. Don't shout at him or give him any attention. He's jumping purely because he wants attention, you need to make sure you don't pander to that behavior.
Wait
Wait for 30 seconds and then you can turn back around. This is, in effect, a time out period. He'll soon learn that if he jumps up he gets even less attention, which will hopefully deter him from jumping altogether.
Lengthen the sentence
If he jumps up at you again, turn around, but this time wait for an additional 30 seconds. Do this every time he jumps up. He will slowly catch on and think twice about jumping. You just might have a lot of waiting around up until that point, so be patient.
Leave calmly
Once it gets to two and a half minutes, leave the room altogether. Make sure you don't say anything or even acknowledge him. Then shut the door to get some real distance for a little while. After a few minutes, you can go back to whatever it is you were doing.
Be ready with treats
You're going to channel his energy into something more productive. Before he gets a chance to jump up at you when you walk in the house for example, you're going to make him work for your attention in a productive way.
Obedience commands
Have him 'sit', go 'down' or do any other kind of trick when you walk in. If you do this every time, he'll soon forget about jumping and instead he'll perform a trick for you if he wants your attention.
Reward
Make sure you give him a reward when he does successfully do a trick. This will further reinforce that tricks get him treats and jumping gets him nothing. This technique works by slowly breaking the jumping habit. He'll have soon forgotten he ever used to do it.
Use toys
You can also try dropping him a toy as soon as you come in the room. If he knows he'll get something from you then he won't feel the need to jump. So drop his favorite toy, or even a food puzzle. Both will keep him distracted and all four paws firmly on the ground until the habit is broken.
Never punish him
Don't shout or scare him when he does jump up. This will only make him terrified of you and unsure how to behave. You may find he swaps his jumping up habit for a worse habit, like nervously peeing on the floor, so stay calm.
Spray bottle
Make sure that you always carry a water bottle with a spray spout. Then whenever he jumps up, give a quick spray near his face. You don't want to blind him or scare him, just let him know you're not happy. This unpleasant consequence will make him think twice next time.
Consider a collar
You can get remote controlled collars that emit an unpleasant citronella spray when you hit the button. Whenever he jumps up, hit the button straight away. He'll soon associate jumping with negative experiences and stop doing it.
Delay
If he jumps up while you're trying to make his food or put his bowl down, make him wait for it. Simply look at him to let him know you're waiting for him and then wait for him to calm down. You can also do the same thing if he jumps up when it's time for a walk. Stand there with his leash until he calms down and stops jumping.
Praise
When he does stop jumping up, take out a treat and give it to him. You can also give him some verbal praise. Just make sure he has definitely stopped jumping, you don't want him to think the treat is for the jumping. This combination of negative and positive reinforcement will help him quickly understand what's expected of him.
Be consistent
It's vital you always respond. If you occasionally give him the attention he wants you'll only set back the end result. Each slip up tells him actually jumping is an effective way to get what he wants.
By James Barra
Published: 11/21/2017, edited: 01/08/2021
---