How to Train Your Dog to Not Jump on Guests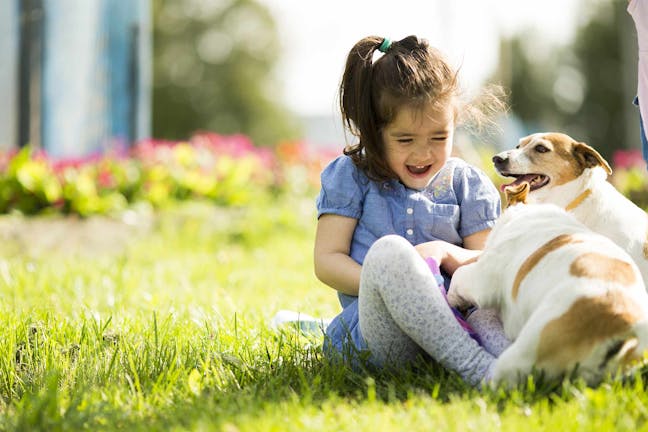 Introduction
Does your dog jump up on everyone who comes through the door? Is he driving your guests crazy with his incessant jumping? This type of behavior is relatively normal as it is one of the most common ways in which dogs show their joy and affection to people they know. Basically, it is his way of saying "hello" and at the same time "pay some attention to me". Unfortunately, not everyone appreciates your dog's enthusiasm.
Chances are good that while your dog was a puppy, you reinforced this type of behavior. Puppies are so cute and little that their enthusiasm seems harmless. In most cases, it only becomes a problem when the dog becomes big enough to cause injury to the person he is jumping on or knocks things out of their hands. 
Top
Defining Tasks
Most people tend to use a voice command such as "down", "off", or "no" to bring this kind of behavior to a grinding halt. You can create your own command if it works better for you, but remember to use the same command each time so that your dog does not get confused and knows exactly what is expected of him each time.
You should wait until your dog is old enough to have mastered basic behavior commands like 'sit', 'stay', 'come', and 'lie down' before you attempt to teach him to stay down. The reason for this has more to do with age than anything because your dog will have already started to calm down by the time he is old enough to have mastered the basics. Of course, be sure to have plenty of his favorite treats on hand to reward him for getting things right. 
Top
Getting Started
Teaching your dog not to jump on guests will take plenty of time and patience, as well as a healthy supply of his favorite munchies. You will need an assistant, preferably one of your dog's favorite humans, or if you can gather several friends together this can make the training go more smoothly and quickly, depending on the training method you choose.
One of the most important things to keep in mind is that you must always use the same command and give in a voice that lets your dog know you mean business. If you allow him to think otherwise, he will not see you as alpha and is never going to obey you. It is your job to convince him you are the alpha dog in the pack. 
Top
Stand outside
Have a friend stand on the outside of the door and wait for your signal to come in.
Sit over there
Make your dog sit a few feet away from the door on his leash. Leave some slack in the leash.
Come in
Ask your friend to come in and give your dog enough slack to start walking towards the guest.
Turn and walk away
If your dog gets up and starts walking towards your guest, have your guest stop, turn, and walk away.
Sit again
Have your dog sit, then have your guest turn around and start walking towards your dog again.
When he stays seated
Once your dog remains seated, give him a treat and tell him he's a good boy. The idea is to teach your dog to think before he goes running up to someone and starts jumping on them. Using this method, you make the dog think about what might happen if he just sat there until the person comes to him. Be sure that your guest stops, pats your dog, and says 'hello', as this will help to affirm the behavior.
Tell him to sit
As your guest comes in, tell your dog to sit and tell him he's a good boy when he does so.
Tell him to stay
Once he is sitting, use the 'stay' command to keep him in place as the guest comes forward.
Give him a treat
If he does well, give him a treat.
Call your pup
Now have your guest place his hands at shin level and use his fingers to call your dog to come to him.
Practice this
If your dog behaves and comes forward without trying to jump, give him lots of praise and, of course, treats. Keep repeating this process with as many friends as you can get to volunteer to help until your dog remains seated when your guests come into your home.
Ignore my dog
As your guest comes in through the door, have them completely ignore your dog, no matter what he does.
Use the command
Give your dog the command you have chosen for this behavior, but other than this, hands off and say nothing else.
When he stops
After he stops and puts all four feet on the ground, praise him and give him a treat.
If he reverts
If for any reason he reverts to jumping, have your guest back off and go through the entire process again until he gets it right on a continual basis.
Treats and praise
Remember, treats and praise from both of you when he gets this down will go a long way toward helping him to learn to be polite when you have guests come through the door.
By PB Getz
Published: 02/02/2018, edited: 01/08/2021
---