How to Train Your Dog to Not Jump on You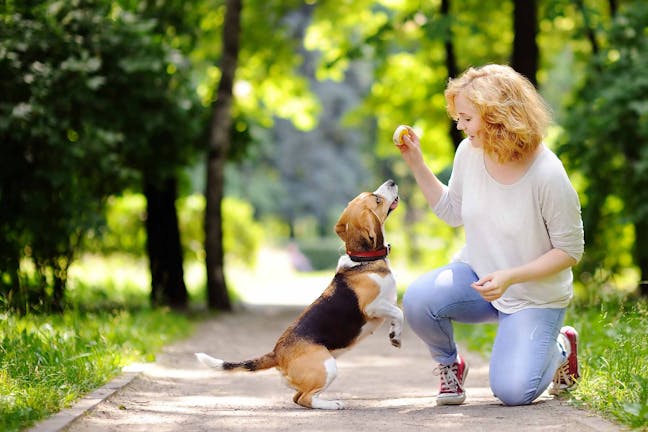 Introduction
Puppies and jumping go hand-in-hand. Puppies are small creatures who want to be close to their owners. Puppies often find a means to their favorite people by jumping on them. As puppies grow into larger dogs, the may not grow much taller--or may grow to be quite tall, depending on the breed. No matter the size of your dog, you do not want him jumping on you when you walk into your home, when he is excited to see you, or when he wants something. However, because it is a natural response for your dog, it's a behavior we need to train before we expect it to stop. Your dog may jump on you to greet you. He wants attention and affection and to be as close to you as possible. It is completely natural for dogs to get as close to us as possible while we are interacting with them. The trick with a jumping dog is to train him to greet you with all paws on the floor.
Top
Defining Tasks
Training a dog not to jump as they are greeting you requires time and commitment. Like any other command, it will require repetition and dedication from you and your dog. Remember, your dog wants to be close to your face, so jumping is a natural greeting to them. Though some people do not mind a dog who jumps to greet, others might not be as excited if they were to walk into your home and be greeted by a dog jumping all over them. A jumping dog could cause injury to their owner, discomfort and injury to a pregnant woman or an older person, and a jumping dog could knock down a child, potentially causing harm as well. Teaching your dog a proper greeting is a crucial part of obedience training as your dog becomes social.
Top
Getting Started
Repetitive training is key to teaching your dog to stop jumping on you and your guests. You will need a commitment of time and a dedication to the effort of teaching your dog not to jump to say hello. Prepare yourself for each training session with treats, a special toy your dog enjoys, and lots of love and praise.
Top
The Delay Greeting Method
Ignore
Ignore your dog until he is able to calm down.
Greet
When you greet your dog, if he is excited and jumps on you, turn your back toward him.
Follow
If he follows, turn your back again ignoring him.
Verbal cues
Once your dog calms, bend over or lean down to greet him. Use verbal cues and commands such as 'sit' to encourage all four paws on the floor.
Practice
Use this method every time you walk into a room with your dog so he begins to learn he cannot greet you unless he has all paws on the ground.
Have your dog sit
Start with your dog in a 'sit'.
Lure to 'down'
Hold a treat close to the tip of your dog's nose without giving it to him. For some dogs, this may require holding it in your closed hand, so your dog does not snatch it from you. Once your dog notices the treat in your hand near his nose, lower the treat down to the ground and then towards your body.
Follow motion
Your dog should follow your motion. You should see him begin to lower his body down to the ground, following your hand with the hidden treat.
Touch the ground
Once your dog's chest and belly touch the ground, give him the treat.
Repeat
Repeat. Have your dog get into a standing position and repeat the steps above several times while clicking and rewarding each time your dog lies down.
Hand signal 'sit'
While standing in front of him and with your palm facing up, tell your dog to sit. Once he sits, give him a treat.
Palm down
Turn your palm over for the down command. With the down command followed, use it when you greet your dog to let him know if he wants a greeting he needs be lying down first
Practice
Once these commands are down and well trained, use them when you walk into a room to greet your dog. Do not give him any acknowledgment or attention until he obeys the command.
No attention
Do not give your dog any attention from anyone if he is jumping to greet you or guests.
Guests
Teach the people around your dog not to touch, pet, or acknowledge your dog unless he is sitting or lying calmly.
Calm
Once your dog is calm, pet him and praise him for being a good dog.
Command
Use a command to help your dog understand your expectations to sit and remain calm before he is allowed affection and a greeting.
Practice
Practice this with everyone your dog meets and set your expectations with the people he meets so he begins to understand there will not be any petting allowed until he is calm.
By Stephanie Plummer
Published: 12/29/2017, edited: 01/08/2021
---