How to Train Your Dog to Not Lick Feet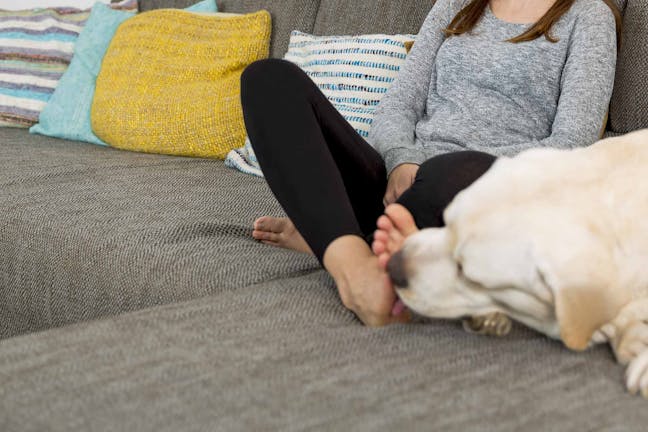 Introduction
He's gorgeous and he's cute but your dog does have some bizarre habits. For example, you've just stepped out of the bath after a lovely long soak. You head to your bedroom to get changed but on the way you encounter your canine friend. Who, goes straight for your feet and starts licking them. Your lovely clean feet now have the odd dog hair protruding from them and smell interesting, to say the least. It isn't the first time he's gone to lick your feet and you know it won't be the last. It's most awkward when a guest takes their shoes off and his way of saying hello is to pounce on their feet.
Training him not to lick feet will save you having to wash your feet numerous times throughout the day. It will make guests feel more comfortable and it will save your dog from whatever unpleasant bacteria are carried around on feet.
Top
Defining Tasks
Thankfully, training your dog not to lick feet is definitely achievable. You'll need to take a number of steps to deter him in the first place. You'll also have to use a variety of tactics to distract him when the temptation hits. You can then use food and toys to focus his attention toward more productive avenues. If he's a puppy he should be a fast learner and you may see results in just a week. If he's older and the habit has been forming for many years then you'll need resilience, because this could take up to a month to fully kick.
Succeed with this training and your feet will be saved from the smell of dog breath. You'll also find this type of training makes it easier to stamp out other unwanted behaviors.
Top
Getting Started
Before you get to work you'll need a few bits. Get your hands on a deterrence collar and some food puzzles. Both will play a key part in the methods below.
You'll also need a stockpile of mouth-watering treats and a few toys to keep him occupied. Apart from that you just need to set aside 10 minutes each day for training. You'll also need patience and some soap to keep those feet clean after training sessions.
Once you've got all that you're ready to get to work!
Top
'Lick'
Whenever he starts licking, give a 'lick' command. Before you can train him to stop licking on command you need to train him to lick on command. Give the command in an upbeat voice as he starts to lick.
Reward
When he does lick you after the command, get out a treat and hand it over. Continue doing this for a few days, until you can give the command and he gets to work with his tongue.
'Stop'
Now wait for him to stop licking your feet. As soon as he does, give a 'stop' command. You can use any word or phrase you like. Just make sure you give it in a happy voice. You want him to think this is all one big game.
Reward
Once you've given the command and he's stopped licking your feet, you can give him a reward. Practice this for a few minutes each day. After a few days you can start giving the 'stop' command while he's still licking your feet. Then continue to reward him when he stops.
Lose the treats
After a week of successful 'stop' training, you can stop giving him the initial 'lick' command. Now just instruct him to stop whenever he starts licking. Over time you can gradually cut out the treats too.
'NO'
As soon as he comes over to your feet and licks them, give a 'NO' command in a loud, firm voice. Make sure he knows you mean business without terrifying him. He needs to know this behavior will always be met with disapproval.
Deterrence collar
These collars can be extremely effective in stamping out bad canine behavior. You can get them from numerous stores and they'll release an unpleasant spray of citronella towards his face. As soon as he licks your feet, hit the button. Several days of this and he'll soon be more cautious.
Remove him
When he does lick the your feet and you've issued the 'NO' or used the deterrence collar, remove him from the room. Don't talk to him or give him any attention, he needs to know he's done wrong.
Time out
Leave him there for 30 seconds and then go and retrieve him. Don't let him play with toys or anyone else in the house during this time. He needs to understand licking feet will have negative consequences.
No encouragement
Call everyone in the house together and lay down some ground rules. It's important nobody giggles and encourages him when he tries to lick people's feet. If anyone isn't strict with him the message won't be clear. Laughter will make him think he's doing the right thing so you have to work as a team.
Exercise
The first thing to do is increase how much exercise you give him. Lots of bad behavior from dogs stems from being bored and full of energy. You need to tire him out in the day so he spends half the time napping. Take him for an extra walk or throw a ball for him for a few minutes each day.
Obedience commands
When he comes over and looks like he may be about to start licking, have him perform a trick instead. If you can channel his energy into something more productive like 'sit' and 'stay', then he'll soon forget about licking feet.
Reward
Make sure he gets a treat when he's performed the trick correctly. The treat will show him that he doesn't need to lick feet to get attention and rewards. He'll soon be more concerned with performing tricks than he will be with feet.
Play time
Spend a few minutes each day playing with him. In some dogs, feet licking is attention-seeking behavior. If you can give him the attention in another way, he won't be driven to such lengths to get it. You can play with a frisbee, tug of war, or simply lay there and stroke him.
Food puzzles
These clever contraptions will keep him entertained for hours. That means instead of licking feet he'll be busy licking something else to get to the food inside. This will keep him adequately distracted until the feet licking habit subsides.
By James Barra
Published: 12/05/2017, edited: 01/08/2021
---