How to Train Your Chihuahua Dog to Not Run Away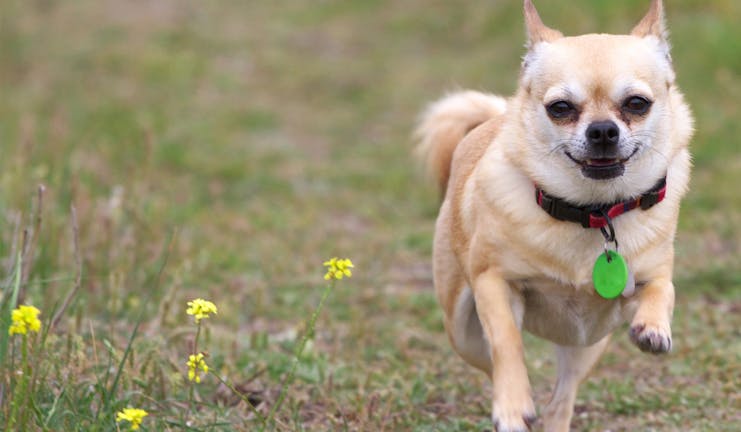 Introduction
The smallest breed of dog in the world is unsurprisingly one of the cutest. You just want to pick up your Chihuahua and cuddle him all the time. He's relatively new to your home, but everyone in the house is already head over heels for him. However, he doesn't always seem quite so happy. Several times now he's tried to run away. You're aren't quite sure what the problem is, but you're worried for his safety when he escapes. If he runs out onto the road he could be killed or seriously injure himself. Any injury could bring with it expensive vet bills. 
You're also worried he could get attacked by another dog, or generally lost. Training him not to run away then is paramount for his safety. You also can't socialize him in the house properly with other pets if he doesn't get settled.
Top
Defining Tasks
Training any dog not to run away can come with challenges. However, with Chihuahuas, the hurdle is particularly big for two reasons. Firstly, they are so small they can escape easier than large dogs often can. Secondly, because of their size, they are at more risk of harm outside the safety of your home. Training him not to run away will mean remedying the underlying cause of the problem. You'll also have to take steps to deter him from running away, while employing a number of incentives to keep him safe and secure inside.
If he's a puppy he could still be adjusting to his new home and he should be receptive to training. You could see results in just a week or two. If he's older and set in his ways then you may need up to six weeks. Get this right and you'll be able to sleep easily and not panic whenever you can't see him.
Top
Getting Started
Before you get to work you'll need to get your hands on a few things. Baby gates will be needed for one of the methods. You'll also need to stock up on treats or break his favorite food into small pieces. You'll also need some toys and food puzzles to help him feel at home, and possibly a new bed.
You'll need to set aside 10 minutes each day for training. The only other things you need are patience and an upbeat attitude. 
Once you have all that, your work can begin!
Top
The Underlying Cause Method
Baby gates
If you've recently moved house he may be escaping because he's trying to get home. Alternatively, he could be escaping because he wants to mate. If you fit baby gates on the doors he'll have no choice but to stay inside. This means he'll soon give up trying to run away, regardless of the underlying cause.
Freedom
Some Chihuahuas run away if their territory and freedom have been significantly reduced. If he's not used to being in a confined space, you need to help him feel at ease. That means taking him out for walks and giving him time in the yard.
Obedience commands
Teach him a range of different obedience commands, starting as early as possible. You can start with basics such as 'sit', and then upgrade to 'come' and 'stay'. All will increase your control and help keep him disciplined.
Walking rewards
When you're out on walks, always keep him close by. Don't let him go more than 10 or 15 feet to start with. Then call him over frequently and give him a treat. Over time, this will cement a habit where he feels he always wants to stay close to your side.
Leash in busy areas
Until the running away habit is under control you should keep him on a short leash, especially in busy areas. Not only will this prevent problems, but if he can never escape he'll soon give up trying.
Play time
Make sure you dedicate a few minutes each day to playing with him. You can play tug of war or a little game of fetch in the yard. This will help him blow off steam and give him the attention from his owner that he needs.
Exercise
Make sure he gets enough exercise each day. Chihuahuas are only small, so they don't need a long walk. However, a quick walk around outside will give him exposure to the outside world and leave him napping in the evenings, instead of dreaming up escape plans.
Other pets
If there are other pets in the household, they may be making him feel scared and uneasy. You need to make sure you introduce them to each other carefully and monitor their behavior. If he looks scared, calmly separate them.
Safe haven
Make sure he has a safe and secure place he can escape to. This is especially important if there are other pets around. Give him a comfy bed in a spot where he has walls around him. If he has a safe haven to run to then he may not feel the need to run out of the house altogether.
Encouragement
Give him the odd reward when you see him. Chihuahuas love food. So, the occasional surprise treat will put a smile on his face and keep him content. You need to look at all angles of his life to ensure he's as happy and comfortable as you can make him.
Leave a treat in his bed
Before you go to bed each night, place a treat on his bed. This will give him something to look forward to each evening. It will also make the bed feel like his safe spot that he associates with good things.
Food puzzles
Some Chihuahuas try and escape out of boredom. So, keep him occupied. If you go to work in the day you can leave him with a food puzzle. This will keep him occupied for a considerable length of time, ensuring he's napping peacefully by evening.
Sit down with the kids
Chihuahuas are small dogs. That means they can easily feel scared by lots of people around them. Young children often like playing with dogs, but they don't always realize when the dog wants space. Make sure if he tries to run for his bed that's he allowed some alone time.
Never punish him
It's important you don't shout at him or terrify him. Dogs often try and escape because they're scared at home. You need to remember how much bigger you are than him. So, if he does something wrong, deal with the situation calmly and quietly.
Food, water & toilet
Make sure you create a consistent schedule for him. He needs to know he'll get his meals at the same time each day. He needs to know his water bowl will always be full. Plus, he needs to know he'll get to go to the toilet when he needs it. Ensure these needs are met and he'll be able to relax and feel comfortable at home.
By James Barra
Published: 12/20/2017, edited: 01/08/2021
---