How to Train Your Dog to Open Sliding Door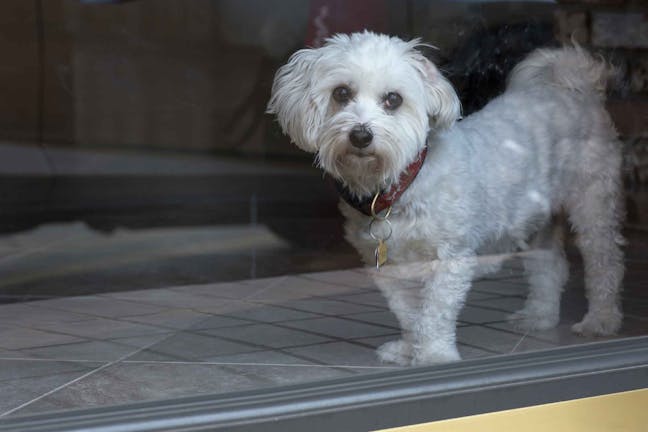 Introduction
You've sat down to tuck into dinner, Game of Thrones is on, and your dog starts whining outside, signaling he wants to come in the room. You sigh a deep breath and get up to let him in. This is a procedure that happens regularly, perhaps even daily. Whether you're outside or in the garage, he can't open the sliding door and it's driving you mad. If you could just train him to open the sliding door for himself he'd be able to come and go as he pleases, and give you some well-deserved peace and quiet.
It's also ideal for ensuring he can still get in and around the house when you're not there. If he can open doors, he'll have a much bigger space to roam when you're out shopping or at work. Using his brain for this task might make it easier to teach him a range of other things too.
Top
Defining Tasks

Training him to open a door isn't as difficult as you might think. At the moment, he doesn't know how, but once you've shown him and he's done it a couple of times, he'll quickly catch on. If he's young, his brain should be ready to learn and he may be opening doors in just a few days. If he's older or not the smartest of cookies, he might need a week or two to fully get the hang of it. 
However long it takes, it's worth investing some time into. You'll never have to get up from your cozy slumber in the evenings again. He'll be able to roam free across the house and outside when he's mastered the art of the sliding door. You may find when it comes to teaching him to 'wait' and 'heel' that he's more receptive too.
Top
Getting Started
Before you get going you'll need a few bits. Some old T-shirts or clothes will be needed to tie to the door to make a doggie handle he can pull on. You'll also need some small brightly colored sticky notes. 
Treats or some small pieces of his favorite food will also go a long way to keep him focused and eager to learn. Once you've got all of that you just need 10 minutes a day to commit to training and a proactive attitude.
When all of those boxes are ticked you can set to work!
Top
The DIY Door Handles Method
Get creative
Tie a T-shirt or handkerchief to the sliding door handle so a long bit hangs down for your dog to hang onto. This is going to be your doggie door handle, so make sure it isn't your partners favorite designer top!
Verbal command
Issue an 'open' command. You don't have to use that word, you can use anything you would like as long as it's short and not already being used in conjunction with another verbal cue.
Encourage him to pull on the handle
You may need to hold it yourself and swing it in his direction. This is the hardest part, so be patient, it may take a few minutes before he finally grabs it with his mouth.
Reward
As soon as he puts it in his mouth, give him a treat and lots of praise. Keep practicing this, but wait longer before you give the reward and encourage him to open it. You may need to slide the door with him to start with so he understands. Be sure to really give him lots of praise. The happier he is the more keen he will be to do it again.
Practice makes perfect
Every day, dedicate 10 minutes to playing with the new handle. Keep encouraging him and helping him until he can slide it open himself. Encourage him to go through the open door and then give him the treat. Continue with this until he no longer needs your help, then you can stop giving him rewards every time.
Create a target
Place a sticky note on the end of your finger, get down on your knees and hold it in front of your canine pal. Encourage him to be nosy and to touch it with his mouth.
Reward with treats
As soon as he touches it with his mouth, give him a treat and some praise. The sticky note is the target and you're going to use it to get him opening that sliding door. Once he goes to the sticky note every time you hold it up, start putting it on different locations, including chairs, doors and windows. When he goes straight for it with his mouth every time, then you can tackle the big challenge.
Create a handle
Make sure he can open the door handle by tying an old T-shirt or the like to it. It needs to hang down low enough that he can reach it with his mouth. If you leave the handle in his bed for a couple of days beforehand, it will smell like him and he'll be more inclined to play with it.
Place a target on the handle
He'll naturally head straight for his new handle with the sticky note on it. But this time when he grabs it with his mouth, encourage him to grab the handle too. Play almost a mini game of tug of war with him, then as soon as the door starts moving, give him a treat. Practice this persistently, but make sure the door opens a little more each time before you give him a treat. Continue with this for 10 minutes each day until he can quickly and effectively pull open the door.
Lose the target
When he gets good, you can take off the sticky note. By this point he will have learned that he can pull open the door with the new handle, so the sticky note will no longer be needed. It is just to help him understand what he's now capable of when it comes to sliding doors! Once he's got the hang of it you can also cut down on the treats, they too won't be needed.
The Lead by Example Method
Set up your new handle
Using old T-shirts, clothes, handkerchiefs, or anything else, make a doggie door handle that hangs down low enough that he'll be able to get his mouth around it.
Demonstration
Take him to the door, get down on his level, and use your mouth to open it. Yes, you really did just read that. Dogs often learn by mirroring their owners' behavior, so a simple example with your mouth may just help set the light bulb off in his head.
His turn
Now it's his turn to try the trick. Encourage him and play with the handle until he starts to pull it on with his mouth. Don't be put off if it takes a day or two. This part is always the trickiest so you just need to be patient and reassuring--and demonstrate regularly.
Tasty treats
As soon as he starts to show progress, give him a treat and lots of praise. Really show him he's doing a good job, that way he'll be more inclined to try again. Keep practicing this until he gets better and better. Then start giving him the treats only when he's opened the door enough for himself to get through.
Broaden your horizons
Once he's mastered that sliding door you can move onto the next. It's important he understand all sliding doors work the same, otherwise you may find him sat outside the next sliding door, with the same puzzled look on his face he had before his door opening days. Use lots of encouragement, a doggie handle, and demonstrations again if needs be. When he can do all your sliding doors, you can stop giving him treats.
By James Barra
Published: 10/18/2017, edited: 01/08/2021
---