How to Train Your Dog to Paw His Nose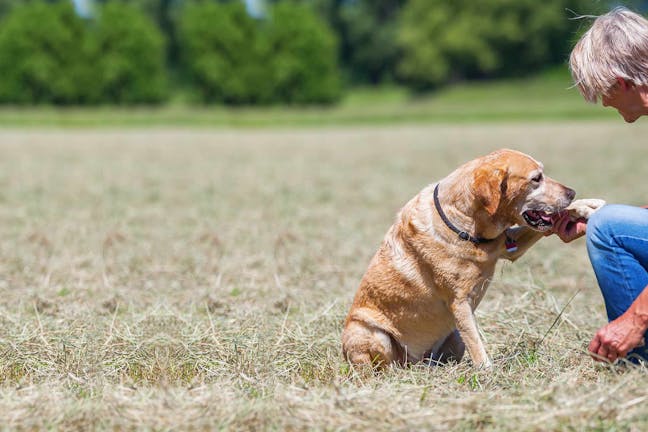 Introduction
Okay, you've taught your pup the basic commands such as 'sit', 'stay', 'come', and 'down', it's time to start teaching him a few fun tricks the two of you can show off with at every possible opportunity. Sure, you can teach him to sit pretty, fetch, even hunt, but what about teaching something really crazy like how to paw his nose or "be shy"?  This one can also be called peek-a-boo or anything you can think of. Be sure to give the commands its own name and one that doesn't sound like any of the others you already use.
There are even some who will teach their pup to paw his nose as if he is "ashamed" of not getting another trick right or is caught doing something he knows he shouldn't, like getting into the trash. Once your pup masters this trick, you can use it for a number of reasons, in the end, it doesn't matter how you use it, as long as you use the same command words. 
Top
Defining Tasks
The task at hand is to teach your pup to lie down and use his paws to cover his nose. This applies even if you choose to call it "peek-a-boo" as most dogs will not be able to completely cover their eyes. The concept is fairly simple, and the training can be a lot of fun. It is much easier for you to teach your pup this trick if he has already been taught to lie down. But even if he hasn't mastered that trick, you can teach them together. It might just take a little longer.
The most important thing to remember, no matter which training method you use, is to remain calm and consistent. Getting frustrated won't make things go any faster as your pup will pick up on your stress and begin to mirror it in the form of struggling to pay attention. 
Top
Getting Started
While teaching your pup to do this trick can take a little time, making it fun and having plenty of treats as rewards will make it go much faster. There are a few things you might need to have on hand before starting. These include:
Treats

Clicker

Scotch tape

Paper

Stick

Patience and time

A quiet place to train

This trick can be a lot of fun for everyone, especially your pup who is always looking for new ways to please you and show off to everyone. Take your time, there is no need to rush this training, in fact, the slower you take it, the better your pup will learn it. 
Top
Create the target
Your pup is a creature of habit, one of which is to take his paw and swipe at his muzzle if there is something on it. We do the same thing, it is a natural behavior and one you can take advantage of. Create a target by using low-tack tape and a piece of paper.
Lie down
Call your pup over to you and have him lie down.
Tape his nose
Gently tape the piece of paper to your pup's nose.
Use the command word
Give your command word and when your dog paws at the tape and paper, praise him and give him a treat.
Repeat and confirm
Repeat this several times a day over the course of several days in short training sessions. Now try giving the command without the tape. If your pup goes to paw his nose, be sure to praise him profusely and give him plenty of treats. Keep doing this until your pup will paw his nose anytime he is given the command.
The Natural Behavior Method
Watch your pup closely
Watch your pup closely over the course of several days, he should rub his face occasionally to scratch it, or to rub the dirt out of his eyes.
Name the behavior
Time to give this particular behavior a name. You can use "Be shy" or "Cover"--anything you want. Just remember to stick to it.
Every time he moves
Every time you observe your pup pawing at his face, speak your command as soon as you see him make a move towards doing this. Repeat this for a couple of weeks without expecting him to make the connection.
Try to make it happen
Now try giving him the command the next time you see him lying on his side or belly. If he does as expected, be sure to praise him and give him a treat.
Carry on my wayward pup
The rest is all about repeating the training and slowly weaning your pup off the treats. Relax and take your time, the more fun you make it, the faster your pup will learn this trick and the more fun you can have showing it off.
Choose a target
For this, you need a stick and a quiet place to train, along with plenty of treats.
Set the target
Lay the stick on the ground about 12 inches in front of your pup. Call your pup to come to you. When he steps on the stick, praise him and give him a treat.
Repeat this step
Repeat this step several times per session over the course of several days. Keep the sessions down to less than 15 minutes.
Going up
This time when your pup steps on the stick, skip the treats and raise the stick about a foot off the ground. Keep it close enough to your pup that he can easily reach out and put his paw on the stick. Each time he does so, praise him and give him a treat.
Getting higher
Continue raising the height of the stick and making it smaller and harder for your pup to touch. Rewards each time he does.
The nose knows
Take the stick and raise it to a point where it touches his nose and give the command word you have chosen. Move the stick towards his eye and he should lift his paw up to where he is touching his nose. This part may take a while for your pup to master. Be patient and once he will do it for the stick and treat, slowly wean him off both until he will touch his nose anytime you give the command expecting nothing more than praise.
By PB Getz
Published: 12/13/2017, edited: 01/08/2021
---