How to Train Your Dog to Perform the Down Position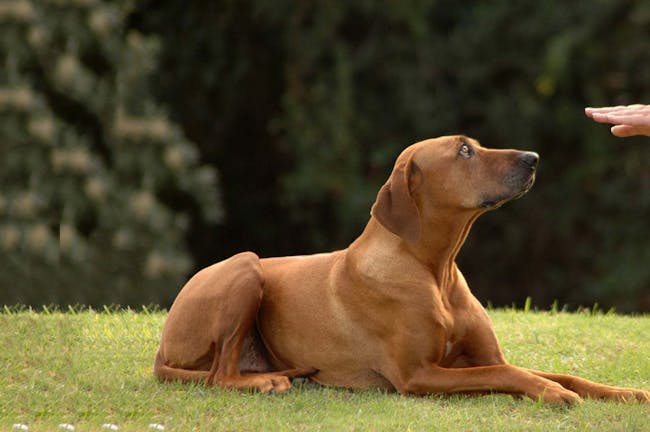 Introduction
Call it 'Down', 'Drop', or 'Lie', this is one of the more advanced basic commands.
Put yourself in the following scenario:
You and your dog are enjoying a walk on a beautiful spring day. He ambles off-lead, sniffing the grass as you stroll along a woodland path. The trees start to thin and you emerge back out onto the sidewalk just as the dog spots a cat on the opposite side of the street. He darts off, racing straight for the road as a car sweeps round the corner. Horrified, you realize he's about to run straight into its path.
What do you do?
Simple! Taking a good lungful of air, you holler "Down". He drops to the sidewalk, giving you time to run over and grab his collar.
Your dog is trained to "Down".
The 'Down' command has two important assets. One, it requires to dog to stop moving, and two, it takes more effort to rise from down than sit, hence putting you in control and buying time.
Top
Defining Tasks
Teaching a dog to lie down gives your great control in a whole variety of situations. It involves the dog transiting from a sit, standing position, or even running, to lying upright on the ground waiting for the next command.  
From lying quietly at a cafe to dropping down instead of running into a road, this is a great skill to teach. Indeed an emergency 'Down' could even save his life. And once he's mastered 'Down', you can further improve his obedience by adding distance (stepping away from him) or time (having lie for timed periods)
The 'Down' position is deceptively difficult for some dogs to master, so be patient with your pooch (as with any training exercise.) Remember, if he is struggling, end the session on a positive note and start again later. Training should always be fun, so give him marks for effort and be happy that he gave it a go.
Top
Getting Started
You will need:
Tasty treats: Dogs learn best when good actions are rewarded. Choosing a tasty treat the dog will work for is half the battle
Clicker (optional):  Some owners prefer to clicker train, as this makes marking the desired behavior super easy.
Start your training in a quiet location away from distractions. It's also helpful if you are familiar with the principles of reward-based training, and the dog already knows how to sit.
Always make training sessions fun, so be extravagant with praise when the dog does as commanded. However, if the dog is struggling to concentrate or seems confused, bring the session to an end.
Daily training is essential, with three, five to ten minutes sessions per day being preferable to one 15 to 30-minute session.
Top

Sit
Start with the dog in a sitting position.
Introduce treat
Hold a treat in your hand and show it to the dog to gain his attention, while he remains sitting.
Lead with treat
Bring the treat close to his nose, then lower your hand down past his chest to the floor between his paws. The pup should drop to the ground to investigate the treat.
Introduce command
As the dog follows the treat and lies down, say "Down" in a clear voice.
Reward "down"
Once he is in the down position, let him have the treat and praise him.
Encourage staying
Stroke his back and encourage him to stay down.
The Treat on Floor Method

Sit
This is for dogs that are slow to catch on. Start with the dog in a sitting position.
Introduce and lead with treat
Make sure he knows you have a treat in your hand and lower it to the ground while saying "Down".
Move treat to floor
If he doesn't follow, but stays sitting, place the treat on the floor but cover it with your hand.
Encourage "down"
The dog will eventually become curious and lie down to investigate, at which point praise him and repeat "Down."
Reward!
Now remove your hand and let him have the treat.
Encourage staying
Stroke his back and encourage him to stay down.
The Down from a Distance Method

Solid "down"
Once the dog has mastered a basic 'Down', start working on the giving hand signals and giving the command from a distance.
Introduce hand signal
To do this, while saying 'Down' add in a hand signal, such as turning your palm to face the sky and raising the hand toward your shoulder
Step away
Once the dog is in the down position, take a step away from him while repeating the command 'Down'. Wait a few seconds then return to him and give lots of praise.
Make him wait
Also, try extending the length of time you ask the dog to stay down for. Work on one thing at a time, either the duration of the down or your distance away from him.
Give command while walking
Once he has a good basic 'Down', start giving him the command when he's walking slowly to heel. As he masters this, start giving the command when he is standing a short distance away
Give command at Increased speed and distance
Gradually increase the distance from you and the speed of his movement, at which you give the down command.
By Amy Caldwell
Published: 09/19/2017, edited: 01/08/2021
---