How to Train Your Dog to Play at a Playground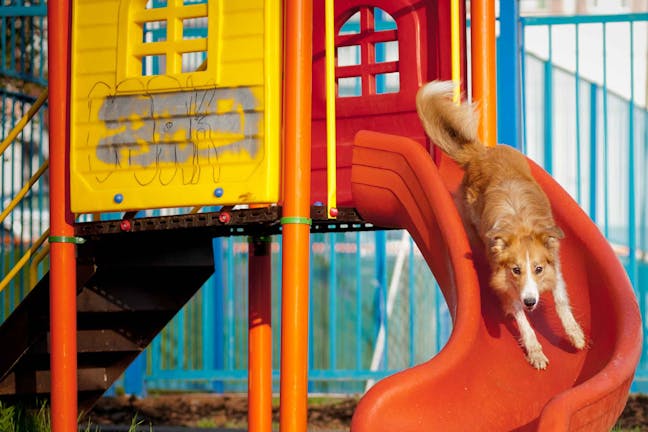 Introduction
Your dog is full of life and in constant need of attention. It's part of the reason you all love him, but it also means that he can be a lot of work sometimes. You take him on a lengthy walk each day and the kids play around with him at home, but he never seems to run out of energy. What you need is an effective way of tiring him out, so he spends the evenings dozing instead of charging around and keeping your kids up late at night. You take the kids to the playground regularly and if you could train him to play there too then you could kill two birds with one stone.
Training him to play at the playground won't just be fantastic exercise for him, he'll also keep the kids entertained. Plus, it will be great bonding time for the kids and your dog.
Top
Defining Tasks
Training your dog to play on a playground is surprisingly straightforward. He may seem nervous and unsure with so many strange obstacles and numerous kids around, but he simply needs the right motivation. Often, the most effective means of motivation is tasty food. Use that to incentivize him and he'll soon be in the thick of it in the playground. If he's young he'll have energy, be confident and eager to learn. This should mean training could only take a week or so. If he's older and not quite as energetic as he once was then you may need a couple of weeks.
Succeed with this training and you'll be able to sit and relax on a bench while the kids and your dog play happily. You can let them all tire themselves out as you fantasize about the relaxing evening you'll get when they're all sleeping.
Top
Getting Started
Before training can begin you'll need a few things. The most important component will be food. You can use treats or you can break his favorite food into small pieces. 
You'll also need to set aside 15 minutes every other day for training in the playground. Try and go at a time where it will be relatively quiet so you can keep him focused. 
The only other things you'll need are patience and a pro-active attitude. With all of those boxes ticked you're ready to get to work!
Top
The Lead By Example Method
Walk him
Before you start getting him to play, you need to get him familiar with the playground. Walk him on a leash around the playground a few times first. This will make him feel more relaxed and comfortable when you let him off to play.
Stay animated
Make sure when you do take him off the leash you lead by example. Talk in a high pitched, playful voice. Point at the equipment and really encourage him to start playing. Dogs mirror their owners' behavior so if he sees you enjoying yourself, he'll feel more inclined too as well.
Show him how it's done
You'll need to clamber up on equipment and play around to show him how it's done. He'll naturally want to follow you and jump up on the fun obstacles and equipment.
Reward
Give him tasty rewards whenever he shows signs of playing. That means being on hand to give him treats. When he does play, you can shower him with verbal praise too.
Never punish him
If he doesn't play or remains puzzled, don't get angry with him. This will only scare him and then you'll have even more of an uphill battle. If he associates the playground with negative consequences he'll be less likely to play next time.
Start at home
Start playing around with your dog and a ball at home for a few minutes each day. Get him as worked up as possible by the sight of it. You can play fetch, tug of war, and anything else that gets him excited.
Head for the playground
Start throwing the ball near the playground. Then encourage him to bring it back to you. At this point you just want to get him relaxed near this new environment, so ease him in gently with ball play.
Use the playground
The next time you go, start playing with the ball in the playground. Throw it against the equipment, make it bounce off the obstacles, then encourage him to go and chase it. You want to incorporate the playground in with the ball play.
Reward
Make sure you give him a tasty treat regularly throughout play. If he leaps over a piece of equipment, give him a treat. When he brings the ball back to you, give him a treat. Also, give him lots of verbal praise to further reinforce that he's doing the right thing.
Get others involved
You want to make sure he likes playing in the playground even when you're not there. So, get your kids, partner, or friends to take him there too and follow the same steps. When he's comfortable and playful when anyone takes him, then you can slowly cut out the treats.
Routine
Establish a regular routine of going to the playground. If he knows he's going to be going there he can get excited by it. It will also make him feel more comfortable when he's there if he's used to going at roughly the same time a few times a week.
Start slow
To begin with, make sure you don't pressure him into playing. You need to let him find his feet and build his confidence up gradually. To do that, point at the equipment and walk around it yourself, but don't pull him onto anything with his leash.
Breed specific
Certain breeds have a natural predisposition to certain games. So, if you play a game he'll instinctively love at the playground, he'll start seeing the playground as somewhere that's particularly fun. Retrievers, for example, love fetch, while terriers are known to enjoy tug of war.
Reward
Make sure he's consistently getting tasty treats. If he associates the playground as somewhere he gets well fed he'll start looking forward to going and his tail will start wagging as soon a he sees the playground.
Bring another dog
Take a friend's dog with you to the playground too. Having another dog to rough and tumble around the playground with will help familiarize him with this new environment. Plus, if he sees the other dog enjoying themselves he'll be more relaxed there too.
By James Barra
Published: 11/29/2017, edited: 01/08/2021
---