How to Train Your Small Dog to Play 'Chase Me'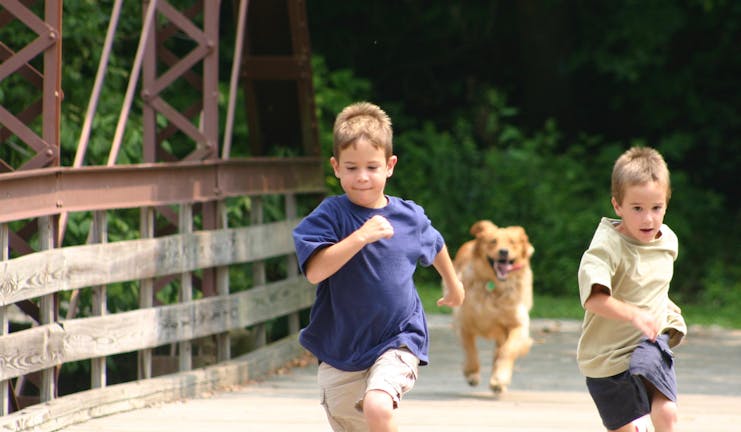 Introduction
He may be little, but he's full of energy. Your pint-sized pooch spends his time tearing around the house causing trouble. He's the kids' perfect excuse for getting distracted from their homework and he's always waiting to jump up at you as soon as you walk through the door. While his enthusiasm for life is great for the most part, it does get a bit wearing at times. What would be great is if you could channel his energy into a productive game. 
Playing 'chase me' is ideal in many ways. Firstly, it will help him blow off steam so he spends his time napping in the evenings instead of causing trouble. Secondly, it's a safe game to play outside. That means you can send the kids out with the dog and when they come in half an hour later, they will all be tired and calm, allowing you to enjoy an evening of peace and quiet.
Top
Defining Tasks
Training a dog to play 'chase me' is relatively straightforward. The biggest obstacle comes in conveying to him what it is exactly you want him to do. Once you've done that, you just need the right motivator to keep him interested. In many ways, it's the ideal game to teach a small dog. This is because a large dog will catch you in no time at all, but you have a much better chance of tiring out a small dog because it will take him much longer to catch you.
If he's a puppy he should be energetic and receptive. You could see results in just a few days. If he's older and not quite the keen athlete he was in his youth, then you may need a couple of weeks. Succeed and you'll have a fantastic form of exercise for the both of you.
Top
Getting Started
Before training can begin you'll need to gather a few bits. The first thing you will need is a space to train. A yard or local field is ideal. Avoid training in rooms where something is likely to get broken.
You will also need a generous supply of treats. Alternatively, break his favorite food into small chunks. Get your hands on a toy too. A tennis ball will do. A clicker will also be required for one of the methods. Then set aside 10 minutes each day for training.
Once you have all of the above, you will just need stamina and a pro-active attitude, then you can start!
Top
Head outside
Make your way to your training ground with your small dog in tow. Also make sure you have a pocketful of treats. You are going to use food to get him chasing you around.
Hold a treat out
Take out a treat and hold it in front of his face. Make sure you have it firmly in your grasp, but also ensure he knows there is something tasty on the menu. Once you have captured his attention you are ready to go.
Run
Start running backwards away from him. Hold the treat up as you go. Also, shout in an animated, high-pitched voice. You can call his name and do everything you can to get him to follow you. The more worked up you are, the more eager he will be to chase you down.
Reward
Once you've run for 30 seconds or so, stop and let him catch you. It is important he always catches you, especially to start with. If he doesn't he will quickly give up trying. Once he's caught up with you, hand over the treat and give him some verbal praise.
Make it harder
Over the next few days, make it harder for him to catch you. Have him run for longer before you stop and he gets his treat. This will build up both of your staminas! Once he has got the hang of it and loves the game, you can slowly phase out the treats. Simply playing around with his owner will be enough motivation.
Setting up
Take him outside to your training arena. Ensure you have some food or treats with you. You can get him excited at this point by talking to him in an animated voice. Dogs learn best when they think they are playing a game.
Start running
Hold out a treat and then start running away from him. Make sure you keep looking back at him to keep his attention. Also, ensure you don't run so fast he has no chance of catching you, otherwise he may not even bother trying.
'Chase me'
As you start running, give the 'chase me' command. You can use any word or phrase you like. Dogs can learn hundreds of different commands. Just make sure you give the command only once and in a playful voice.
Let him catch you
Only run for around 30 seconds and then let him catch you. To start with, he will need regular treats and encouragement. So, stop and then hand over the treat and give him some praise The happier he feels, the more he will want to play again.
Practice
Now all you need to do is practice each day. Continue to use the command each time and always give him a tasty reward. You can gradually make him work harder and chase for longer before you let him catch you. Only when he loves the game and responds to your command every time should you slowly cut out the treats.
Play time
Spend a few minutes each day playing with a particular toy. Play tug of war or fetch and really get him worked up by the mere sight of the toy. You can even leave it in his bed at night so it smells like him and so he gets even more attached to it.
Head outside
Now go outside and take your dog and the toy with you. He will probably already be getting excited by the sight of it. Hold it in front of him and then start running away. You can run backwards to start with, to really entice him over.
Encouragement
Shout his name in a high-pitched voice, wave your arms and keep looking back at him as you run. Dogs mirror their owner's behavior, so this is a case of lead by example. Really do everything you can to encourage him to chase you.
Click & reward
Once you've run out of breath or he's been chasing for around half a minute, stop. Then as soon as he is at your feet, click. This will signal to him that he has performed the behavior correctly. Then hand over the toy and play with it for a minute.
Lose the toy
Continue playing like this every day or other day. The more animated you are, the more he will enjoy the game. You can then make him run for longer each day before he gets the toy. Once he's got the hang of it, you can lose the toy and just click when he catches you to let him know he's behaved correctly. By this point, running around after you will be enough of a motivator.
By James Barra
Published: 01/10/2018, edited: 01/08/2021
---