How to Train Your Beagle Dog to Play Dead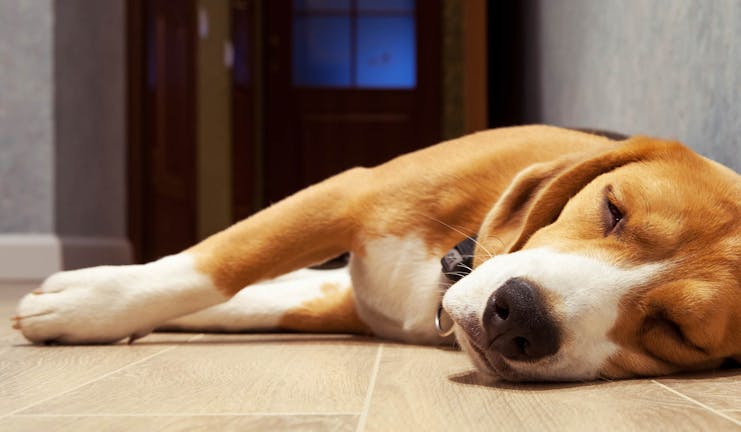 Introduction
Teaching a dog to play dead is one of the first and easiest tricks for canines to master. That isn't always the case with all breeds, though. Beagles, in particular, can be a challenging breed to train because they tend to have a more independent nature and are not as concerned with pleasing their owners as, for example, a Golden Retriever. Additionally, Beagles are prone to distraction, especially when outdoors and exploring the sights and scents around them.
Although your Beagle may take a bit longer to train than other types of dogs, by no means is it impossible to teach your beagle some new tricks! Teaching your Beagle to play dead can help build and strengthen the bonds and communication levels between you and your dog. Not only can you entertain your family and friends, but you can also help your Beagle to learn to settle on his side. This trick may encourage anxious Beagles to calm down and relax.
Top
Defining Tasks
It's helpful if your Beagle understands the 'down' command before training him to play dead. Otherwise, patience, consistency, and practice will yield the best results for mastering this trick.
Training your Beagle to play dead can fortify your relationship with your dog. Beagles tend to enjoy physical challenges, and this kind of training can enrich the time your dog spends with you. This trick is also a useful way in which to move your Beagle from being underfoot around the house.
Although Beagles may take a bit longer to train than other breeds, they have an undeniable zest for life and enjoy human companionship. Use your Beagle's personality to your advantage, and have fun teaching your pup how to play dead!
Top
Getting Started
The lessons below will work best with some of your dog's favorite treats and a clicker if you use one for training purposes.
Because Beagles can be somewhat stubborn during training, make sure that you have plenty of patience available. Beagles may not be as subservient as some breeds, but they do love to bond with their owners and families. Stay patient, upbeat, and consistent with each step of training, and your Beagle will have this trick down in no time at all.
Top
Find a comfy spot
Select a spot that your Beagle is comfortable with, such as a carpeted room, rug, or dog bed.
Give the 'down' command
Ask your Beagle to lie down.
Roll and command
Carefully roll your Beagle onto his side while giving the command, "Nap time."
Wait and reward
Allow your Beagle to lie still on his side for a few moments. Once he successfully accomplishes this step, praise him and give him a treat.
Release and command
Release your dog by allowing him to stand up while giving the command, "Wake up." Repeat these steps until your Beagle has mastered this skill.
Give the 'down' command
Place your Beagle in the 'down' position.
Guide with a treat
Place a treat near your dog's nose, then slowly bring it over his side so that he will have to roll on his side to follow it.
Praise and treat
Once your Beagle stays on his side for a few moments, praise and reward him with a treat.
Repeat
Repeat the first three steps of this training process until your Beagle is proficient at this stage.
Add a cue word and/or hand signal.
When your Beagle is lying on his side, give the cue word "Bang! Bang!" or "Dead" or any other term you choose. You may want to include a hand signal with your finger pointed at your Beagle when the command is given. Repeat this step until your Beagle has learned the trick.
Prep your Beagle
Observe when your Beagle naturally lies on his side. Praise him and use a cue word like "Sleep" when he is in this position.
Command and belly rub
Give your Beagle the 'down' command, then relax him by rubbing his belly for a few moments.
Roll and praise
Gently roll your Beagle onto his side and praise him.
Practice and repeat
Repeat the first three steps for a few days until your Beagle is comfortable performing this task..
Give a 'sleep' command
Once your Beagle is in the down position and on his side, give the "sleep" command. Tell your dog to 'stay' if he lifts his head up during this step. Repeat this process until your Beagle has learned this trick.
By Erin Cain
Published: 01/24/2018, edited: 01/08/2021
---