How to Train Your Small Dog to Play Follow the Leader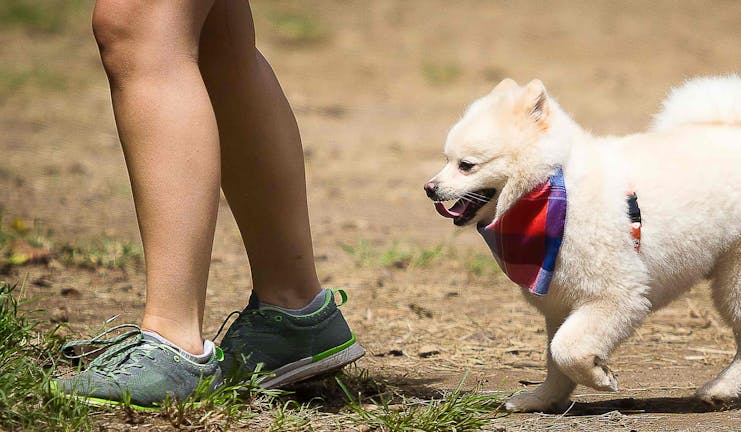 Introduction
Follow the leader is a fun game to play with your small dog, and one that she will likely take to very naturally. Furthermore, it can be a great training tool for working towards general off-leash manners and other behaviors. Your small dog will learn to watch and imitate you, which is a useful skill for training any other behaviors as well. Leading your little dog through new environments encourages her to trust you as her leader. This is especially important for small dogs as they can be more prone to fear than larger dogs. Allowing your dog to lead will also help to instill confidence, and teach her to look back for you to make sure you are still near her. This will serve as a foundation for keeping your small dog close for the length of your relationship.
Top
Defining Tasks
Your small dog will learn this game very easily when she is a puppy and her instinct to stay near to you is strong. If you've ever watched kids with puppies, you've seen how this game should go. Kids run from interest to interest and their puppy follows them. Then their puppy might be interested in something and the kid will follow the puppy. Kids and puppies pursue their interests together, which is how a person and dog should interact. Keep this attitude in mind as you play with your small dog.
If your dog is older, you may need to provide more suggestion at the beginning until she gets the idea. All dogs feel the desire to follow their human, however, and playing games like follow the leader are a great way to build a bond that will keep your small dog close. If your dog experiences anxiety, have plenty of yummy treats available to make training rewarding instead of scary. Food eliminates a fear response.
Top
Getting Started
Motivating your small dog to follow you with lots of treats, toys, and affection will teach her that if she follows you closely, you will lead her to wonderful things she would not have found on her own. Since you don't know if you'll find anything good or not on the trail, make sure you bring lots of interesting things to drop for your dog to discover. Don't just motivate with treats and toys, bring lots of novel stimuli with new smells, sounds, and textures to teach your small dog the joy of discovery and exploration. Your dog may experience anxiety along the way, especially if you are leading her through new or challenging terrain. Make sure to always be attentive to your dog, and provide plenty of affection and comfort her so that she views you as a safe harbor in the anxiety of a new place, rather than someone who is dangerously leading her through risky areas.
When your little dog is the leader, she will have to learn how to lead a human effectively. Be prepared to pretend to try to climb through the little spaces she goes through, to teach her how to lead you in a way you can follow. When she sees you struggling, she should come back and lead you in a different way. If you are training off-leash, it is essential that your small dog has excellent call back training, or else train in a fenced area.  
Top
The Gradual Following Method
Little steps
This is a great way to teach this game if your dog is a puppy or naturally wants to stay near you. All you have to do is reward this natural tendency and extend it.
Exactly follow
Choose a path that has several variables or step over a very small obstacle. As you do, look back at your dog and entice her to follow the same path by luring with a treat and naming the behavior with a command like "follow me".
Challenge
Once your little dog is consistently following you over simple obstacles and paths, begin making it more challenging. Lead your little dog through very shallow water or up mild inclines. Keep your dog's safety and comfort forefront in your mind. Too much anxiety or an accident at this stage could set your little dog back.
Little dog leading
Let your little dog lead you, naming the behavior with a command like "lead me". If she gets too far ahead, make a show of being left behind. Vanishing behind a bush or lying down can show your little dog that she needs to keep track of you, her prone-to-getting-lost human. If your little dog leads you through some tiny space, make a show of getting stuck. When your dog comes back to you, reward her and encourage her to lead you down a better path.
Practice
Keep practicing, using your commands and increasing the challenges. Make sure you continuously vary rewards to keep the game about discovery. Eventually you can reduce rewards and just enjoy exploring together in this way.
Choose a safe leash and harness
Use a leash that has some elasticity, and attach it securely to a well-fitted harness. Ideally you should be able to move and slightly lift your little dog with the leash and harness comfortably.
Follow me
Drop treats or toys while using the command to follow you. If your dog wanders off your path or becomes distracted, use the leash to gently put your dog on the right path and then promptly reward.
Keep her interested
If your little dog is prone to wandering off or is scent or prey driven, make it interesting by going over challenging terrain and rewarding with novel experiences, treats, and toys. You can use the harness to help steady your little dog and give her security as she attempts new terrain and obstacles.
Little dog leads
Let your little dog lead, being sure to make a show of not being able to follow her if she goes into too small a space. If she doesn't return, use the leash to reinforce her return and reward.
Practice and potentially unleash
Practice until you feel you are rarely using the leash to reinforce training, and then try off-leash in a contained area.
The Follow the Dog Method
Locate another little dog who likes to explore
If your little dog is very insecure about exploration, but likes other dogs, you can use another little dog to increase her confidence. Attach the dogs with a back harness on the confident dog and a chest harness on your little dog.
Lead the leader
As you go, reward both dogs for following. At first, your dog may seem anxious, but soon she will be trotting alongside the leading dog to get her share of goodies.
Challenge
Practice on more difficult terrains and going over obstacles. Work until both dogs seem confident and happy with the exercise.
Dogs lead
Let the confident dog lead and pull your dog along. If your dog is very insecure, she may be afraid to go ahead of you, but she will be encouraged when she looks back and always finds you there. Encourage both dogs to come back and redirect if they lead you somewhere impossible.
Practice and maybe unleash
Once the dogs are following and leading confidently, try both dogs off-leash in a fenced area. Once your dog is no longer dependent on the other dog for confidence, you will be ready to try it alone.
By Coral Drake
Published: 01/24/2018, edited: 01/08/2021
---