How to Train Your Older Dog to Play Jumping Rope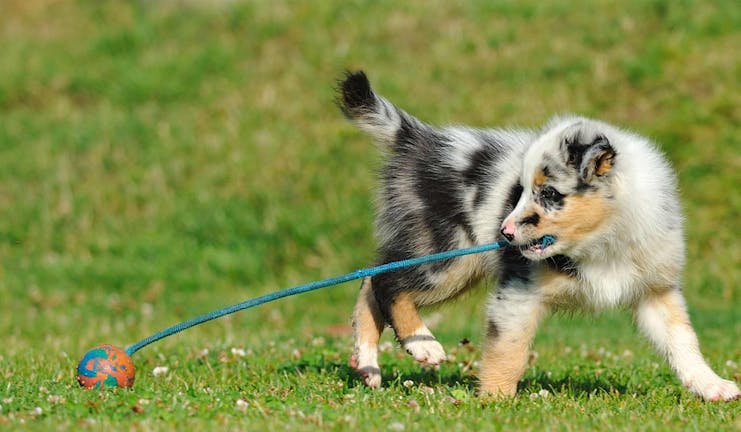 Introduction
Jumping rope is a really fun trick to teach your pup, but you should be prepared to spend a fair amount of time working on it, as this is not an easy trick to teach your dog. It's a hard enough trick to teach a young dog, but it can be even harder for an old dog in some ways. However, since by now your dog should have mastered a few tricks such as 'jump' or 'jump up', which might make up for him being an older dog.
Before you start working on this trick, however, you should take your dog in to see his vet for a checkup. You want to make sure he is physically fit enough to take on the task.  This way you won't have to worry about injuries during the training process. 
Top
Defining Tasks
While there is no way for your dog to hold his own jump rope, you can teach him to jump rope between two people and in time, if he is small enough, with one person. Jumping rope can be a lot of fun for everyone involved, it's a great trick to show off, and it's a great exercise. Bear in mind, you do need to be sure your pup is physically able to handle the rigors of training.
Although you can train with a helper, at first you may find you are better off tying one end of the jump rope to a stationary object such as a table, fence post, or tree. Also, worth noting is that the rope itself could become a distraction at first, but in time your dog will get used to it and being around it. Keep the training sessions short and above all, make them fun. 
Top
Getting Started
It really doesn't take much in the way of training supplies to teach jumping rope, and by now your dog has probably had the basic commands down pat for so long they are second nature to him. The act of jumping is natural to most dogs, all you are doing is training your dog to channel this natural talent into a fun activity that the whole family can enjoy.
Your supply list:
A jump rope

A training stick

Treats

Beyond this, you need plenty of time and patience to train your older dog to jump rope.  But as long as you are willing to put in the time, the end results are more than worth the effort. 
Top
Jumper
This method assumes your dog already knows how to jump on command.
To the table
Take your dog over to the table and introduce him to the jump rope. Give him time to sniff it and get used to it.
Tie the rope
Tie one end of the rope to the table securely.
Swish the rope
Swish the rope back and forth, letting your dog get used to the movement of the rope.
Over the top
This time, swing the rope all the way over your dog's head, allowing it to come to a stop just before it reaches his legs. Repeat this several times until your pup is used to the rope going over his head.
First jump
With the rope by his feet, give him the 'jump' command. As he jumps up, slide the rope across the ground under his paws while he is in the air. When he does as requested, praise him and give him a treat.
Repeat
Keep repeating this until your dog will jump every time the rope comes around. Remember, this is going to take some time, so be patient.
Grab a stick
You can use a stick, a length of PVC pipe, a cane, anything you can get your dog to jump over safely.
Hold the stick
Hold the stick a couple of inches off the ground, call your dog over and use a treat to lure him over the stick. As he goes over the stick, give him the "jump" command.
Increase the height
Slowly, over the course of several training sessions, increase the height of the stick until your pup has to jump to clear it.
Time for the rope
Tie one end of the rope to a stationary object. Start with the rope a few inches off the ground and use the "jump" command. When he jumps over the rope, give him lots of praise and treats.
Slow at first
Once your dog has mastered the stationary rope, start slowly swinging it with him jumping over it every time until you can swing the rope all the way around and he successfully jumps it. By this time, you should not need any more treats as he will be doing it just for the fun of it.
Jump training
Teach your dog to jump for a treat in your hand. After he has mastered this, move on.
All together now
Time for both of you to jump in place together. Use the treat in your hand to encourage your pup to jump with you. Keep practicing this until your dog will jump with you on command without the treat.
Get used to the rope
Give your dog time to get used to the movement of the rope and letting it hit him gently without freaking him out.
On the ground
With the rope on the ground, jump with your dog just like you have been practicing and pull the rope under you when you are off the ground. Give your dog a treat.
Practice makes perfect
Keep practicing this, slowly building up the speed of the rope until you are both jumping rope together. This is a great exercise for both of you and a lot of fun.
By PB Getz
Published: 01/19/2018, edited: 01/08/2021
---