How to Train Your Dog to Play Patty Cake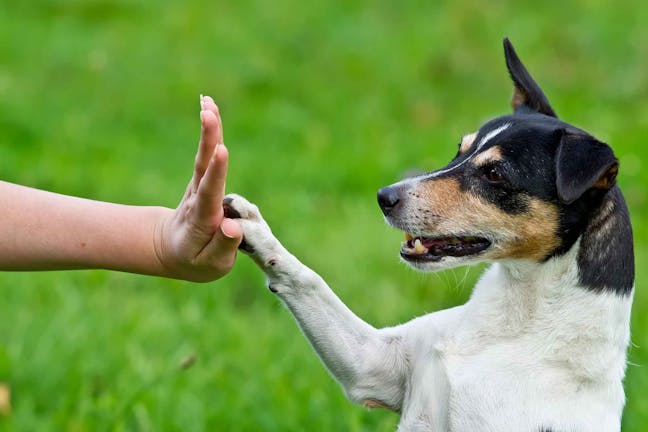 Introduction
Need to make a little extra money? Thinking of breaking your dog into show biz? 
Whether your dog is star material or not, teaching him to perform tricks is a great way to spend time having fun with him. And teaching a fun trick like how to play patty cake will be entertaining for friends and family, even if he does not become a big Hollywood celebrity someday. A dog that can perform fun tricks like patty cake is especially suited to performing at children's hospitals and seniors homes, bringing joy to people who would not usually get to interact with a pet. Your dog will seem oh so clever and an interactive trick will give people a chance to participate with the dog. This kind of activity may help patients who need motivation to perform coordination exercises--your dog playing pattycake might be just perfect for that!
Top
Defining Tasks
"Patty cake, patty cake, baker's man, bake me, a cake, as fast, as you can." This verse makes 8 counts, which is the usual number of times you will want to teach your dog to play patty cake for. To play patty cake, your dog will sit in front of you and raise first one paw to touch your outstretched opposite hand, then put that paw down and raise the other to reach across their body and touch your other hand, diagonally, for approximately 8 counts. You can go longer if you want.  
A dog that has learned to perform 'high five' is already part way to performing this behavior, you will just need to teach your dog to raise their other, non-dominant, paw to perform the same trick, and then to start touching opposite diagonal hands instead of the mirror hand usually used for the 'high five' trick.  Most dogs enjoy this trick and it should be fun and involve lots of rewards without punishment.
Top
Getting Started
Keep training sessions short, especially for young dogs, and always end on a positive note.  You will need lots of treats!  Some people like to use a clicker to help shape the paw raising and touching behavior. A dog that already knows 'shake a paw' or 'high five' may pick this trick up faster than others, as the behavior is already part way there. Remember to have fun!
Top
The High 5 to Patty Cake Method
Set up
If your dog already knows how to perform the 'high five' trick, teaching him to transfer to 'patty cake' can be an extension of this trick. In high five, your dog touches your hand with the paw directly opposite, e.g right hand to left paw. Get in a position slightly different from 'high five' and give a different cue, like clapping twice, to distinguish you are doing something different.
Work on non-dominant paw
Ask your dog to start raising the paw he does not usually use for 'high five'. If your dog usually raises his left paw to your right hand, raise your left hand and ask for his right paw. Establish this and reward with lots of treats.
Initiate diagonal
Now start asking your dog to touch opposite paw to opposite hand. Present your right and and wait for your dog to raise his right paw to touch.
Practice until established
Ignore if your dog uses his left paw, reward if he uses the diagonal right paw to touch your right hand. Repeat with the other paw until your dog repeatedly crosses over each paw to touch your hand 4 right and 4 left for a total of 8 counts.
Introduce rhyme
Gradually stop using the command for high five and start adding the patty cake rhyme for 8 counts, having your dog alternate right and left paws to touch your hands diagonally.
The Clicker Training Method
Reinforce nudge hand
Sit your dog down in front of you while you kneel in front of him. Put your right hand up but not too high, keep it relatively close to the ground, and wait for your dog to nudge it with a paw or nose. When he does, click and reward.
Reinforce paw touch
Require your dog to touch the hand with his paw before clicking and rewarding.
Raise hand
Raise your hand so your dog has to reach up to touch your hand. Click and reward.
Reinforce cross over
Require your dog to touch your hand with his opposite paw. Right hand to right paw, left to left. When your dog performs correctly, click and reward, say "yes". Ignore wrong attempts, do not punish.
Add ryhme
Add the nursery rhyme 'patty cake' as your dog starts to reach with the correct paw across their body to touch your opposite hand.
The Demonstrate & Shape Method
Touch paw
With your dog sitting in front of you and you kneeling in front of your dog, reach across with your right hand to tap your dog's right paw.
Reward paw lift
When your dog lifts the right paw, give him a reward. Now repeat using the left paw to left hand.
Lift paw
Gradually touch your dog's paw and when he raises it, take hold gently and lift it to the patty cake position. Reward each time you take and move the dog's paw into position.
Reward paw lift and touch
Start holding your hand out for your dog to touch with the paw. Start with your hand low at first and gradually raise until your dog is raising his paw to touch the appropriate hand.
Add rhyme
Add the rhyme 'patty cake' to associate it with the behavior. Practice lots and give lots of treats to reinforce.
By Laurie Haggart
Published: 11/24/2017, edited: 01/08/2021
---