How to Train Your Older Dog to Play Searching Game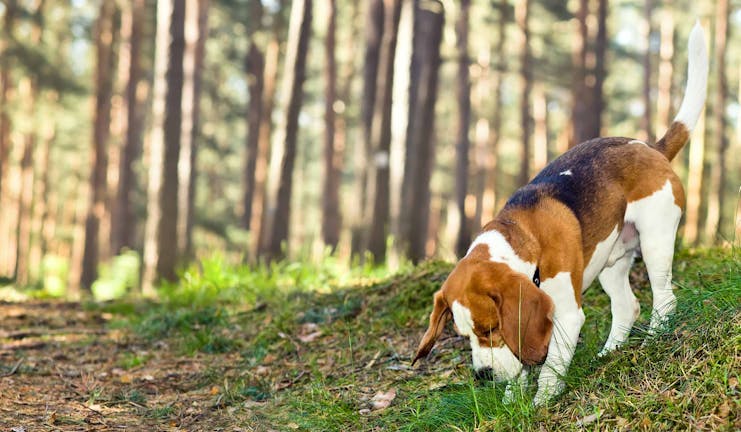 Introduction
Growing up, do you remember watching our favorite canine hero, Lassie? Remember how Timmy was always getting lost and into trouble? Timmy's parents were always telling Lassie to "find Timmy" for them. Lassie would race off with the grown-ups in tow to exactly where Timmy was, just in time to save the day.

How would you like to have a dog that could help you find someone or something? Searching games are a great way to begin teaching a dog how to find things. They can be a fun way to include your dog in a game of Hide and Seek, a great way to tire out your energetic pup, and it can save you time when you are trying to find your kids or husband, without having to walk into every room of your house. If you wish to move onto real search and rescue work, these games are also a fun way to get started.

Top
Defining Tasks
Training an older dog to play search games is very similar to training a younger dog. You will need to keep a few things in mind while doing this with an older dog, though. You will need to keep the training practices short, so that your older dog does not get too tired while searching, especially if your dog is doing a lot of running while playing. You will need to choose the method that best suits your dog. For instance, if you older dog is no longer interested in toys or food, you will want to choose the method that does not depend upon that thing.

The amount of time that teaching this will take will depend largely on which method you choose, how strong your dog's sense of smell is, and how quickly he can make the connection between the command and the thing that he is supposed to be searching for. On average, expect this to take between four and eight weeks, with the 'Hide and Seek' and 'Toy Hiding' methods taking longer than the 'Treat Finding Method' if you teach your dog to find multiple different people or toys by name.

Top
Getting Started
To get started you will need a few things. You will need lots of small, soft treats to use as a reward, or if you dog is not food motivated, you will need several favorite toys to use as a reward. You will need the things that your dog is supposed to find.

For the 'Hide and Seek' method, you will need at least two people for your dog to find, yourself and an assistant. For the 'Treat Finding' method, you will need treats that your dog loves that have a very strong smell. Something like liver treats or real meat works well for this. For the 'Toy Finding' method, you will need several of your dog's favorite toys. Each toy needs to be unique enough from the other toys for your dog to be able to tell the difference between each one. It will also be helpful if your dog already knows the 'drop it' command.

Top
Practice chasing
To begin, get your dog excited to come to you by running away from him while calling his name excitedly.
Reward
Reward your dog when he reaches you.
Release and repeat
As soon as your dog reaches you and receives his reward, tell him "OK", and have your assistant call your dog to her.
Add command
When your dog is going back and forth between the two of you eagerly, begin to tell him "Go find [your assistant's name]" right after you release him with an "OK", and right before your assistant calls his name.
Begin hiding
When your dog is on his way to your assistant, quickly hide somewhere slightly out of sight. Have your assistant do the same thing whenever your dog is on his way to you. Make sure that your hiding place is not so hard that he cannot find you. You can clap or repeat your dog's name if he seems confused.
Increase difficulty
When your dog is finding you quickly, begin to hide in harder, less visible locations. Increase the difficulty level whenever your dog has mastered the current hiding difficulty.
Continue practicing
Continue to practice this game in harder and harder locations, always keeping it fun and motivating for your dog. If your dog becomes confused, either give him a hint or go back to the previous difficulty level until he has mastered the current level better. Enjoy playing this game with your dog!
Show him the food
To begin, inside your home, place some of your dog's food a couple of feet from him, where he can see you doing this.
Add command
Tell him "find treats" and allow him to eat the food off of the floor. If he is used to leaving food on the floor alone, then when he approaches the food, give him his release word, such as "OK" or "take It", to communicate to him that he can eat it.
Move the food
After he has done this several times, and he is taking the food without hesitation when told to, move the food a few feet away. Keep the food where he can still see you placing it though.
Hide it
After he has mastered going to the food from a further distance, place the food slightly behind something. Allow him time to sniff around in order to find it.
Increase difficulty level
When he is able to find the hidden food easily, either by remembering where it was placed or by using his nose to find it, hide the food in a harder location. Continue to increase the location difficulty as he improves.
Change locations
Once he has mastered finding the food in various locations inside your home, take your dog outside and practice having him find the food in your yard, where there are more competing smells.
Do not let him see you
When your dog has mastered finding food in your yard as well, hide several pieces of food in your yard before you bring your dog outside. Once the food is hidden, bring your dog outside and command him to "find treat". If he seems unsure about what to do, you can give him a hint by showing him where a couple of the pieces of food are hidden.
Practice makes perfect
When your dog will search for treats when told "find treat" without seeing you hide it first, begin to practice this in harder and harder locations. Practice until your dog can find the hidden food anywhere.
Introduce toy
To begin, find one of your dog's favorite toys. Set the toy a couple of feet away from your dog and tell your dog to "Find [the name of the toy]".
Reward
Reward your dog with either a treat, a game of tug of war with the toy, or a brief game of fetch with the toy for going to the toy or for picking up the toy.
Take the toy
If you dog knows the 'drop it' command already, have him drop the toy by commanding him to 'dro it', and then repeat having your dog find the toy again. If you dog does not know the 'drop it' command, place a treat in front of your dog's nose and when your dog drops the toy to get the treat, offer the treat to him while you pick up the toy at the same time.
Increase distance
When your dog is going to the toy without hesitation, increase the difficulty by moving the toy farther away from your dog. Repeat this process every time your has mastered the current distance and is able to find the toy quickly.
Hide the toy
Once your dog can find the toy from twenty or more feet away, begin to hide the toy partially out of sight at that same distance. If your dog struggles to find the toy while it is partially hidden, give him a hint by walking him close by it, where he can see or smell it
Hide the toy completely
Once your dog understands that he needs to search for the toy when he cannot see it, begin to hide the toy entirely out of sight at the current distance. Continue to reward your dog every time he finds the toy.
Add smells
Once your dog can find the toy when it is out of sight by searching for it and sniffing it out, practice hiding the toy somewhere with competing smells, such as your yard. At first let your dog see you with the item before you hide it.
Do not let him see you
Once your dog can find the toy in the new environment, practice hiding the toy before you bring your dog outside. This will require him to search for the toy without previously knowing it was there. If your dog seems confused, lead him to the toy for a couple of the searches, then resume practicing hiding the toy without him first seeing it.
Add new toys
Once your dog has mastered finding that particular toy in various locations when it is out of sight, start the entire process over again with a different toy. Then once he has masted that toy, teach him to find another toy. Continue to add toys. Be sure to give each new toy a different name. For example if you told him to "find red ball" with the first toy, then tell him to "find tug toy" with the new toy.
Put toys together
Once your dog knows how to find several different toys by name, practice putting two of the toys together and having him choose the correct toy by name. When he can do this with two toys, add a third, and then a fourth, and then a fifth toy to the pile. Do this until your dog is a master of finding each individual toy by name.
Practice
After your dog has learned to find multiple toys, you can begin to teach him to find other non-toy items using the same process. For instance, you can teach your dog to find your keys, find your slippers, or find your phone. This trick can even be combined with fetch training, to teach your dog to bring you the found items.
By Caitlin Crittenden
Published: 01/09/2018, edited: 01/08/2021
---