How to Train Your Older Dog to Play Treasure Hunt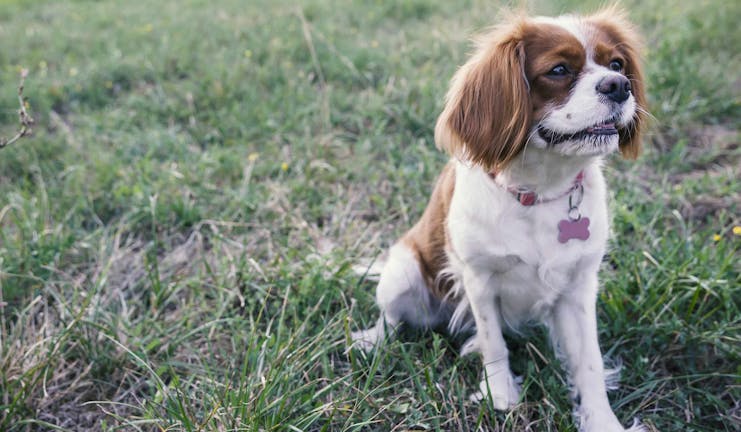 Introduction
Perhaps you've noticed that the dog you've had for many years has begun to slow down. She doesn't seem as interested in the things she used to love, and she isn't as interested in investigating new things as she once was. While you might be a little relieved that your dog is no longer getting into every possession you own or rolling in every stinky thing in the yard, perhaps you worry that she has lost some of her zest for life. The veterinarian has ruled out physical pain or sickness as a cause for the changes in your dog, and tells you with a shrug that your dog is just getting old.
Teaching an inherently interesting and rewarding game like Treasure Hunt is a great way to reinvigorate your older dog. Older dogs sometimes get very stuck in their routine. Being encouraged to do something new will prompt them to think in new ways. Exposing the brain to new stimuli and encouraging it to work in new ways may even stave off some of the symptoms of doggie dementia.
Top
Defining Tasks
Searching out a reward by smell is about as innate to a dog as it gets. Utilizing your old dog's sniffer is also a great way to build confidence in dogs that are becoming deaf and blind with age. For dogs that have become anxious about exploring new environments because of the fading acuteness of their senses of sight and hearing, Treasure Hunt is a great game to motivate exploration again.
The goal of this training is not so much to teach a new behavior as it is to reinvigorate a fading known behavior. Training should be fun and, above all, safe for your dog. Use a body harness and walk with dogs that are very unstable on their feet, and use a leash to help guide blind dogs around obstacles.
Top
Getting Started
You may already know what your dog loves. If her favorite thing in the world has always been a lick of peanut butter, or if she comes running at the sound of a treat bag opening, absolutely utilize these known treasures. As well as using old favorites, also be inventive in thinking of new ideas for your dog's discoveries. If your dog used to love chewing on meaty bones, but now can't because her teeth aren't up to it, try freezing some beef broth into cubes so she can discover something familiar that she can approach in a new way. Try some new toys and other things your dog hasn't seen before. You want to make the experience of searching and discovering a real adventure.
Top
The From Near to Far Method
Find it in plain sight
Place a reward in clear scent of your dog, across the room. Give her the command for hunt for treasure and let her go to the reward and get it. Practice a few times until your dog gets the feel for it.
Find it nearby
Place the reward in the same room, but under or behind some obstacle. Let your dog go to it. Help her if she gets confused by saying, "hunt" or a similar command and pointing out the object. Practice until she is competent at finding the reward.
Find it in another room
Have your dog stay while you go to another room to place the reward. Let her go and follow her as she looks for it, giving the command to 'hunt' and pointing it out if she struggles.
Add more treasure
Have your dog stay while you hide rewards in various places throughout your house. Make sure you remember where! Hide both toys and treats. Make sure you have some "sure thing" desirable treats on hand in case your dog is displeased with a discovery. At this stage we want to build enthusiasm for the activity.
Mix it up
As your older dog builds confidence searching out treasure, stop rewarding her for her less exciting discoveries, instead encouraging her to look for something more interesting. This will give her a varied reward system, which will keep her interest. Be creative about where you hide treasures, but remember if playing outside that your dog may wander farther than normal in her search, so keep a careful eye on her.
The Treasure Everywhere Method
Hide treasure
Hide the most desirable treats all over your house and into the yard if you want. Make sure some are clearly visible and others are harder to find. Remember where everything is! A list may come in handy.
Go looking
Go with your dog, helping her to look by encouraging her with a command word and pointing out more difficult spots.
Reward for looking
Reward your dog for looking for treasure, in between actually finding treasure, in order to build confidence and enthusiasm.
Step back
As your dog becomes more confident, step back and let her search more on her own. Only reward for looking if she becomes discouraged.
Mix it up
Vary the treasures between treats and toys, and stop rewarding for looking. Your dog should have developed the excitement of the hunt.
The Search Together Method
Enlist a willing second dog
Get a second dog that will be enthusiastic about searching out treats and toys. Make sure this dog doesn't have food aggression issues with the dog you are training.
Hide treats
Hide treats all over the house (and yard, if you would like) while the dogs wait. Hide several treats per room, in varying levels of difficulty.
Let the dogs look
Let the dogs look for treasure. Whenever one dog find a treasure, reward the other dog as well. This will prevent jealousy and reward teamwork.
Mix it up
Add toys as well as treats to the treasures, and reward less frequently, only if one dog takes a lot of interest in the other dog's reward.
Play alone
Try the game with your dog alone. She will have internalized the excitement and the concept of treasure hunting.
By Coral Drake
Published: 01/05/2018, edited: 01/08/2021
---