How to Train Your Dog to Rescue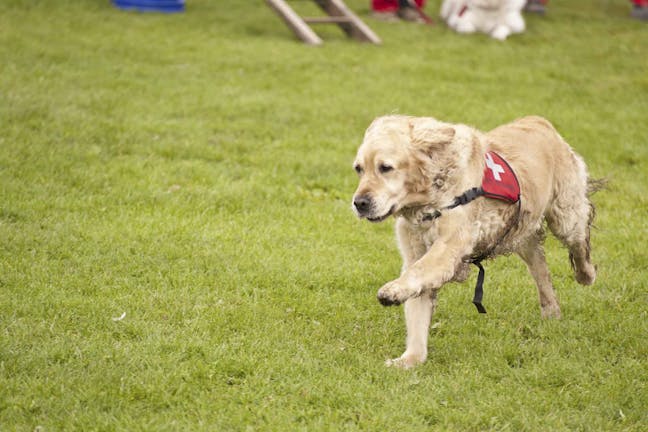 Introduction
If you had a television when you were young you probably saw stories of our dogs' unique bond with their human owners. Lassie would inevitably save Timmy from falling down a well. Hooch took a bullet for Turner. Beethoven found his beloved "boy" in the midst of terrible weather.
If these heartwarming stories of doggy rescue had you yearning for your very own trustworthy companion, you aren't alone. A dog's natural instinct to care for and protect their owners make them great candidates for rescue training. In addition, their enhanced senses of scent and hearing and ability to get into and out of tight spaces make them ideal helpers in times of emergency. Training your own pooch in some basic rescue behaviors is easier than you may think. In fact, you can do most of the foundation work at home with little to no special tools required.
Top
Defining Tasks
Training your dog to rescue will be more than a single command. Rescue dogs have typically learned a variety of useful skills and behaviors that are "chained" together while they perform their rescue duties. 'Sit', 'stay', 'look', 'down' and the ability to calmly enter and exit a car or kennel will all be foundational requirements for training your dog to rescue. Rescue dogs can help in cases of emergency and make great companions for those who often find themselves out in the great outdoors with only their trusty pooch at their sides.
Top
Getting Started
Training your dog to rescue will start with great socialization as a puppy. Dogs that will be rescuing people may be exposed to multiple types of terrain, obstacles, noises, scents and other dogs. It will be important to expose your dog to as many different experiences as possible. Basic puppy courses, agility training and plenty of exercise will help build up both your dog's mind and body in preparation for their rescue career.
While various types of behaviors go into becoming a rescue dog, below are a few fundamental training methods for teaching rescue specific commands.
Top
The Swim and Rescue Method
Water play
You should first teach your dog how to swim by acclimating him to water in a shallow pool. You'll want to get him used to splashing water as well as the feeling of it on his paws and coats and around his face. Hoses and kiddie pools make great starters for water training.
Swimming lessons
Next you should give your dog swimming lessons in a controlled enclosed pool or special doggy underwater treadmill. Be sure to equip your dog with a specially fitted life vest in case he has problems staying afloat initially. Never force your dog into the water, always coax him in and move at his pace.
Jumping in
After your dog has learned to swim, teach your dog to jump into the water on command. You or a friend will need to be in the water and attempt to call your dog in. Once he is comfortable with jumping into a pool, practice jumping from a small boat in larger lakes or ponds or off of a dock or moving surface.
Water retrieve
Once your dog has become comfortable with swimming and jumping, try throwing toys for him to retrieve into the water. Encourage your dog to bring the item back to you, treat with food, and repeat until your dog is just as comfortable swimming and fetching as he is on land.
Putting it together
Finally, after your dog has learned to fetch, retrieve and find items, place a person in the water with a life vest and give them a toy your dog has become used to fetching. You or your helper can encourage the dog to find or fetch the toy and bring it back. The person should hold on to the toy and swim alongside the dog. Slowly build up your dog's strength by reducing the amount the person is swimming on their own until the dog is retrieving the toy and dragging the person through the water with it.
Choose a toy
Start out with a rope, ball, toy or other object that excites your dog. You should engage in tug of war or other play session to get your dog interested.
Fetch!
Throw the toy into the yard and encourage your dog to return to you, either by use of the 'return' or 'come' command or by speaking their name in an encouraging manger.
Reward
Reward your dog in multiple ways for successfully returning the toy. You should give your dog food treats and lots of praise for returning the item and then throw the item again to reinforce a positive, happy experience.
Change it up
Vary the type of items you ask your dog to retrieve. Jackets, boots, hats and small bike tires are all easy to throw and carried by your dog. Remember to always treat once he returns the item.
New terrain
Alternate locations and substrates over which your dog must retrieve items. Try working with your dog out in a field on a long leash or in a crowded park. Alternate the types of items you ask them to bring back to teach a solid foundation for rescue work.
Fetch
Warm your dog up with a good game of fetch (see the retrieve skills above) with her favorite ball or toy. Don't get her too worn out, a few good rounds should be enough to create an attachment to the toy.
Set the toy
Tether your dog or have a friend hold her leash while you place the toy in the yard, visible to your dog.
Release
Release your pooch and tell her to "go get it" or "find it". Your dog will typically run to the toy and return it to you as if you're playing a game of fetch.
Hide the toy
Increase the difficulty by placing the toy in an area where your dog can't see it, such as behind a rock or small hump or in a hole in the yard. Release your dog and have her find the toy and bring it back.
Challenge
Increase the difficulty further by not allowing your dog to see where you placed the toy, instead having her rely on her nose. Using a toy filled with treats may help with this initially.
Practice
Repeat steps 1-5 with increasing degree of difficulty to turn your dog into a search and find expert.
By Kimberly Maciejewski
Published: 02/14/2018, edited: 01/08/2021
---