How to Train Your Small Dog to Respect Personal Space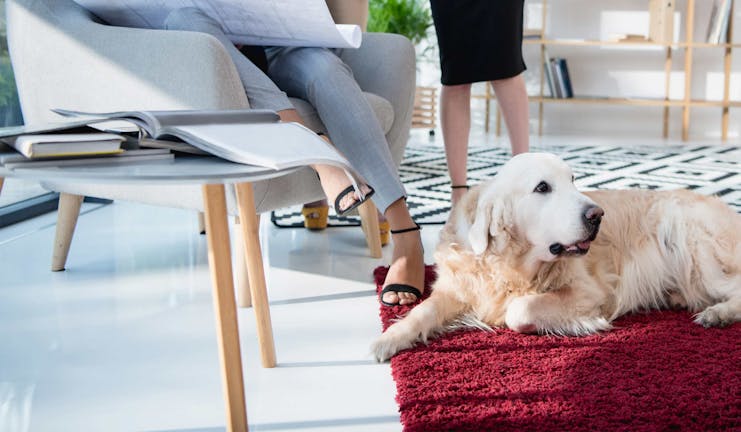 Introduction
It is generally very clear why it is important to teach your large breed dog to respect personal space. Even at only a couple of months of age, large breed puppies are very noticeable as they clamber all over you on the couch or jump up on guests at the door. You think of how much growing they still have to do and start teaching to respect personal space while they are young. 
Small dogs, however, can go much longer without having their boundary issues addressed, or even noticed. For this reason, it can be harder to teach small dogs to respect personal space once the problem is recognized. Too often, we don't realize that our small dog might have problems with personal space until it is a problem, either because the behavior has worsened or because a new change like a baby in the home or a new friend who is scared of dogs has made the behavior clearly problematic.
Top
Defining Tasks
Personal space seems like a complex concept, and it is. But in fact, dogs have a good instinctual backing for understanding this idea. Dogs use space to communicate with each other constantly. If you've ever seen a group of dogs line up perfectly straight when called for a treat or at feeding time, you know how aware a dog is of a fellow dog being even a nose ahead. You can awaken this instinctual understanding of personal space in your little dog relatively easily, and soon form respectful behavior into standard behavior.
Top
Getting Started
Treats to reward good behavior and overcome any accidental fear we cause as we shape behavior are very useful to have on hand. Learning to respect personal space can be intimidating, and treats will help remind your little dog that you are working with her, not against her. Your little dog may become frustrated with the training, as she is used to being able to throw herself around and act out her energy. Having some good tug toys and stuffed toys for shaking will be good for redirecting this frustrated energy.
Throughout the training process, it is essential that you remember that your little dog's neglect of your personal space does not indicate a lack of respect for you, but rather a misguided understanding of your physical relationship with your dog. Teaching your little dog to respect your space will take patience and trust building for both of you.
Top
The My Space, Your Space Method
Prepare to dance
This method relies on reintroducing your dog to the subtle play of space that always exists between dogs, and should exist between dog and human.
You move, I move
If your dog moves into your space, move into hers. If she jumps on your legs, step forward towards her until she backs off. If she jumps uninvited into your lap, stand up and move toward her so she jumps off and backs up. If she licks your face, butt her head with your head.
Rewards for giving space
As soon as your dog moves back into her space, reward her with a good treat or fun toy. Make sure she doesn't misunderstand and think her moving into your space initiates a game or behavior. Separate the behaviors by waiting an instant between moving your dog back and rewarding her for being back.
Rewards for impulse control
As training progresses, you will notice moments when your dog seems to think about jumping up or pushing into your space but doesn't. Reward her for those moments.
Reward randomly for good behavior
Make sure you still give your dog plenty of close time with you, by moving politely into your dog's space or inviting her into your space and rewarding with affection or treats and toys.
The Name Your Space Method
Determine your space
Decide on what space you want to reserve as private space and choose a command word to tell your dog to get out of this space.
Command and reward
When your little dog moves into your space, give the command to get out of your space and reward her when she does.
Practice with toys and treats
Keep practicing, rewarding with toys and treats as soon as your dog moves away at your command. Reward more enthusiastically for quicker moving out.
Reward for impulse control
Reward your dog in the moments when she seems to want to enter your personal space but doesn't.
Command less
As time goes on, your little dog will internalize the concept of personal space and will need fewer commands to respect your space. Make sure you frequently invite your dog into your space and go into hers so that she still has plenty of close time with you.
The Learn From the Pack Method
Go to the dog park
Take your dog to the dog park and mingle with the groups of dogs. Give your dog some time to run and play with the pack before you start training.
Walk with the dogs
Walk among the dogs, moving deliberately and not touching any dogs. They will move out of your way as you approach, and fall into line behind you or around you. You dog will move among them, learning from their respect of you.
Squat among the dogs
Get on level with the dogs. If they move in towards you, push them off with your shoulders. They should respect those movements. Don't pet or talk to them.
Call your dog
Call your dog to you. She will have to push through other dogs, and should approach with respect for this reason.
Practice and maintain at home
Practice frequently and maintain your dignified, deliberate way of being at home. Your dog will internalize the respect a pack of dogs naturally shows a calm, deliberate human.
By Coral Drake
Published: 01/17/2018, edited: 01/08/2021
---