How to Train Your Dog to Retrieve Waterfowl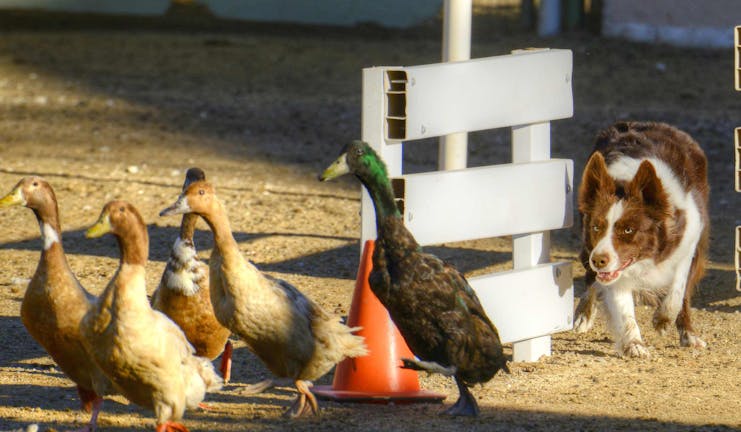 Introduction
Dogs can often be invaluable resources when it comes to finding the right tools for hunting. Whether you're hunting birds or small mammals, having a dog by your side can make it that much easier to track, alert, or retrieve potential game. One of the more common types of hunting dogs are retrievers that trained to venture out and bring back ducks that have just been taken down by a hunter. These dogs must be quick and hardy, eager to please, and with no hesitation to the field or the water.

A hunter should not rely on a dog's natural instincts to tell them what to do, however, as domesticated dogs may or may not come equipped with the right know-how to do exactly as you want them to. A frustrated hunter may lead to an unhappy dog. The good news is, retrieving is something that dogs have been learning for many years. With the right combination of patience and repetition, your dog can become just as skilled a hunter as you are.
Top
Defining Tasks
A hunting dog that is meant to become a retrieving dog will need to have the appropriate temperament for such work. An independent or aloof dog is not always the best candidate. Retrieving dogs should be large enough to hold their own out in nature and in the water, and must be effectively shielded from the elements. They will need to go through the process of learning basic obedience, then adjust to an outdoors field environment, and then learn how to retrieve in a particular way that may require the handling of small, live animals. This is a lot to ask of any dog, and it's important to take the time to go through each and every aspect of the training before asking your dog to retrieve for you.

Retrieving is best taught once your dog is about a year old and out of his puppy stages and will likely take several months before they can be relied on out in the field, especially considering most retrieving work is done off-leash.
Top
Getting Started
Before beginning with any sort of retrieving, basic obedience is paramount. Your dog must know how to 'sit', 'stay', 'heel', and he must have a fantastic recall off-leash. He must not be afraid of or hesitant around the water and must be accustomed to the sound of gunfire. Before expecting him to retrieve, these are all skills that you will need to have well in hand.
For training itself, a lure or substitute duck or other type of waterfowl should be either bought or made. Besides that, you will need a rope to tie onto the lure in order to get it back if your dog has trouble retrieving it, and a body of water. This can be a river, lake, or even a backyard pool or pond. Just be sure the water is chlorine-free and is shallow enough for your dog to be safe.
Top
Use a waterfowl scented dummy
Your dog will need to be able to differentiate between decoys that don't smell like waterfowl and a dummy that does. The goal is the dummy.
Toss the dummy into the water
Feel free to rile your dog up with it for a little bit beforehand to get him excited to retrieve. Then throw the dummy into the water without the decoys at first.
Reward for targeting
Even if your dog is not outright retrieving at first, be nearby and prepared to reward him if he directs himself to the dummy. That is his target and his focus.
Reward generously for retrieval
If your dog collects the dummy in his mouth and brings it back, offer a brief and exciting playtime with a separate toy or reward with good treats. Do not use the dummy as a toy! You want your dog to get used to returning it back to you.
Throw in the decoys
With the dummy, toss a few decoys into the water that do not have the waterfowl scent on them. Encourage your dog to fetch the dummy and reward whenever he targets or retrieves it.
Practice in the environment
Without being in a similar environment, your dog may not be ready for an actual hunt. Practice out in the field and near ponds or lakes. If you hunt from a boat, practice getting him in and out of the boat. The more you practice within the right hunting environment, the more prepared your dog will be for the real thing.
Find a partner
This method works best when you have another person to help. This person should preferably know how to swim.
Toss the dummy into the water
Have your partner go into the water with the dummy and swim or stand near it.
Call your dog to the dummy
If necessary, have your partner pick the dummy up and wave it around a little bit to entice your dog to go after it. The waving or splashing may help to mimic the movements an injured duck can make later on.
Reward for securing the dummy
Have your partner clap hands and give enthusiastic praise when your dog reaches the dummy. Be sure that it's about an arm's length away from your partner so your dog does not attribute the praise to swimming to them instead of the dummy.
Call your dog back to land
With just as much enthusiasm, call your dog back to you to encourage him to bring the dummy over. Reward generously whenever he does. This may take several practice sessions for him to get it right.
Attach an anchor to your rope
Find something heavy that can weigh your rope down into the water. A medium sized rock or other such item will work fine, so long as you can tie it to the rope appropriately. This anchor should be attached half way between one end and the other end which should be attached to your dummy.
Toss the dummy into the water
With your dog watching, throw your dummy duck into the water. Try to keep it close to the shore at first, then throw it out farther as you progress.
Tug on the rope
Because of the anchor weighing the middle of the rope length down, each time you tug, the dummy will bob up and down. This should entice your dog to go after it.
Send your dog after the dummy
Using verbal commands like 'fetch' or 'go get it' can help her get familiarized with what you expect when you use this command.
Assist your dog, if necessary
Because of the added weight, it may be a bit difficult for your dog to retrieve the dummy. Help her if you need to by giving gentle pulls on the rope. Only do this if you see her struggling.
Reward for proper retrieval
Take the dummy away and immediately reward with a treat or a toy. Give lots of verbal praise and take plenty of breaks in between practice sessions. Retrieval training should be a fun game for your dog in order for her to enjoy it.
By TJ Trevino
Published: 01/17/2018, edited: 01/08/2021
---