How to Train Your Small Dog to Roll Over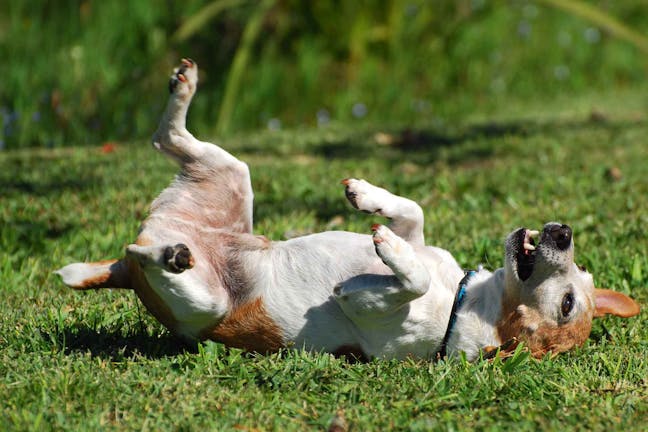 Introduction
Your dog is full of energy and forever tearing around the house causing trouble. You don't really mind because you all love him and he's a key member of the family. It would be handy if you could channel his energy into something productive though. He can 'sit' and 'drop', but it would be good if you could get him to do something that would make you giggle a little more. When you have guests over he always goes down for a treat, so you know the icing on the cake would be if you could get him performing a more entertaining trick. 
Teaching him to roll over would do exactly that. He's guaranteed to get even your grumpy mother-in-law smiling. Not to mention he'll be state-wide famous on social media. I mean who doesn't love a little dog that rolls over on command?
Top
Defining Tasks
Training your dog to roll over when he's small is definitely achievable. He just needs the right incentive and then he'll be rolling his away around the house. Mouth-watering treats or his favorite food will usually do the trick. If not, toys can be brought in to get him motivated. If he's young then he should be a fast learner and brimming with energy, so you might then need just a few days. If he's older and not quite as willing to be the performing monkey anymore then you may need a couple of weeks before you see consistent results.
If you're successful with this training you'll have a guaranteed way to put a smile on people's faces. This type of obedience training will also make it easier to teach him any number of other commands too.
Top
Getting Started
Before you hit the deck and start rolling around the living room floor together you'll need a few things. A large space where he won't break anything during training will be required. You don't want him bringing your new speakers down, even if he is little. 
You'll also need a decent stockpile of tasty treats or food broken into small pieces. A clicker will also come in handy for one of the methods.
Apart from that, you just need 10 minutes to dedicate to training each day and then you're ready to get to work!
Top
Down
Head for a quiet space, free from distractions. Then instruct him to lie down. You need him flat down on the floor before you can instruct him to roll over. Also make sure you have a few treats tucked away in your pocket.
Treat lure
Now hold a treat just above the right side of his head. You're going to use this to slowly make him roll over. Arch your arm over his head gradually, holding his attention the whole time.
'Roll over'
At the same time you're moving your hand, give a verbal cue. You can use any word or phrase you like, just make sure you give it an upbeat and playful voice. Dogs respond best when they think they're playing a big game, so keep it light hearted.
Reward
Keep arching your hand over his head until he's forced to roll over to keep his eyes on the prize. You can also give him a gentle push with your hand to help him along the way. As soon as he does roll over, give him a treat and plenty of praise.
Practice
Practice this exact technique for a few minutes each day. Keep his attention on the treat and make sure he always gets a generous reward. Once he's got the hang of it, you can slowly cut out the treats and hand gesture. Then just rely on just the verbal command alone.
Down
Have him lie down in front of you. If you can't instruct him to lie down, see our page on training him to go 'down'. As soon as you have got him lying in front of you, hold out a treat to capture his attention. Make sure your eyes are fixed on him, this will help keep his focus.
The roll
Extend your arm just above his head, hold it for a moment and then slowly start to rotate it across his head. Move extremely slowly, you want to keep his nose following the treat the whole way. If he loses interest or looks away, go back to the beginning and try again, but even slower.
Reward
Keep rotating your arm until he rolls right over in an attempt to get his mouth around it. Once he's done that, give him a treat and plenty of praise. The better the reward, the more keen he will be to do it again.
Reduce the gesture
Once he's started to get the hang of it, reduce your hand guidance. Now quickly move your hand over his head and then give him the treat. The next day just do a gesture from the wrist. Continue reducing the motion until you can just roll your finger around. If he gets confused, return to a more exaggerated gesture.
Lose the treats
Once he responds to your subtle hand gesture you can slowly cut out the treats. He knows what to do now and some attention at the end from his owner should be enough to motivate him.
Down
Get his attention with a treat and then instruct him to lie down. As soon as he lies down, click your clicker to signal he's performed an action correctly and hand over a tasty treat. Then get another treat out straight away to keep his attention.
Arch
Now get down on your knees and had the treat in front of his nose. Make sure your hand is held firmly closed, you only want to tease him at this point. Now start to rotate your hand up and over his head.
Gentle encouragement
At the same time, use your other hand to roll him over by holding has back leg. This will help him get the hang of it and force him to roll over if he wants to keep his mouth near that treat.
Verbal cue
As you begin to arch your hand, give the verbal cue you want to use. You can use any word or phrase you like as long as it's not used in conjunction with another command. Bear in mind, the shorter the word or phrase the easier he'll pick it up too.
Click and reward
As soon as he rolls over onto one side, click to show him he's done something right. With practice, he'll realize exactly what it is he has done correctly. Then you can also give him a tasty treat and some verbal praise. Practice this every day until he hits the ground and rolls over as soon as you instruct him to.
By James Barra
Published: 11/20/2017, edited: 01/08/2021
---