How to Train Your Dog to Shake Hands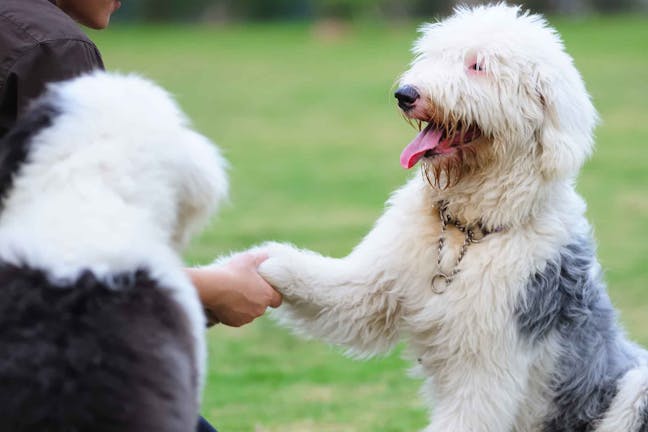 Introduction
Teaching your dog to shake hands is a fun trick. You can train your dog to shake hands with any new person he meets or use it as a greeting for any time he greets you or others he already knows. Teaching your dog to shake hands can help keep him calm when you open the door and greet him after leaving him all day to go to work. 'Shake' is not only giving you his paw but keeping it long enough to connect and move paw and hands in unison. You can impress other dog owners, friends, neighbors, and people along your walks stop by teaching your dog to shake. Think of how impressed everyone will be when they see just how smart your pup is!
Top
Defining Tasks
Teaching your dog to shake is an easy trick as long as he knows how to sit. So be sure your dog has basic obedience commands such as sit well under his belt before you move on to shaking hands. This is an easy one, so you and your dog will both have lots of fun with it. With a few different methods to try, you can pick the best one for your dog. If your dog already knows 'give me your paw', shaking is not much different it just takes a little bit longer to perform. Keep your sessions short and straightforward so your dog does not lose focus and you do not lose his attention.
Top
Getting Started
To train your dog to shake hands, you are going to need some high-value treats. These might be cheese or hot dogs or something with a strong scent that will keep him interested until he earns the treat. Keep your training sessions to 5 to 10 minutes long just a few times a day until he gets it. And be sure to have lots of fun with your pup. Once your dog has shaking hands down, he can have fun with other people, shaking their hands. 
Top
Sit
Stand before your dog and have him sit. Offer a treat for obeying the sit command. If he does not immediately sit on command, be sure to revisit the basic obedience commands before moving forward with shaking hands.
Fist treat
Hide a treat in one hand. Keep your hand closed. Show your dog your closed fist with the treat and let him smell it. Do not give him the treat or let him take it from you.
Shake command
Use the word 'shake' while placing your fist under his nose. This should entice his sense of smell, encouraging him to get to the hidden food.
Tap tap
Your dog will likely tap your hand with his paw. Once this doesn't work once, he'll likely try again.
While tapping
Once he begins to tap at your hand, grab his paw, say the command 'shake,' pump his paw up and down in a natural handshake, and give him the hidden treat.
Keep going
Practice this for five-minute training sessions several times a day. Once your dog offers his paw before sniffing for the treat, he's got it, and you are ready to stop hiding the treat.
Without treat
When your dog knows the 'shake' command and understands the action, stop putting a treat in your hand to entice the dog.
Reward
Even without the treat in your hand, be sure to reward your pup for a job well done each time he shakes hands.
Sit
Have your dog sit. Offer him a simple treat for sitting. Save the high-value treats for learning to shake hands. Sitting puts your dog in the position to perform a handshake, so make sure he understands sit first.
Empty hand
Hold out your hand with your palm up near your dog's nose.
Intrigue
Stay still with your hand up, challenging your dog to sniff. This may take a few moments, but eventually, your dog will become curious and sniff your empty hand.
Patience
Wait patiently for your dog to wonder why your hand is there and paw at it. Eventually when he realizes there is nothing to gain by sniffing your hand he's going to touch it with his paw.
Reward
The moment your dog puts his paw in your hand, close your hand around his paw, shake it, and offer him a treat from your opposite hand.
Keep trying
Repeat this technique several times until your dog puts his paw in your hand as soon as you put your hand out.
Command
Introduce the command 'shake' once your dog is used to the acts of putting his paw in your open hand. Be sure you are rewarding him each time he puts his paw in your hand and you're able to shake.
Practice
Practice several times a day, using the command 'shake' as you put your hand out with the expectation that he will put his paw directly in your hand. Be sure to reward your dog every time he successfully shakes your hand.
Sit
Ask your dog sit, so he's in the proper position for shaking hands.
Gentle tap
Gently tap on the back of your pup's his paw just below his dew claw at wrist level.
Release
Your dog will relax and release his paw to your hand.
'Shake' command
As soon as your dog lifts his paw up in reaction to your gentle tap, pick it up in your hand and use the command 'shake.'
Reward
Give your dog a treat right away for a job well done. It will take some time, but he will soon connect the treat with the action of shaking.
Repeat
Continue to practice and repeat the steps above until you can hold your hand out and use the command 'Shake' without having to gently tap the back of your dog's paw. Once you can do this without coaxing him to lift his paw into your hand your dog will know how to shake hands on command.
By Stephanie Plummer
Published: 10/17/2017, edited: 01/08/2021
---