How to Train Your Boxer Dog to Sit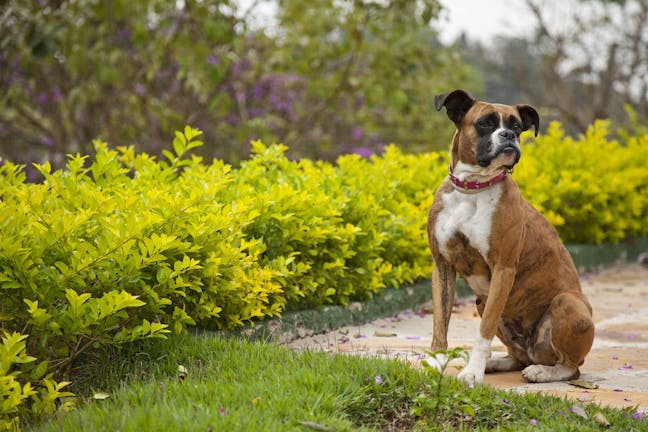 Introduction
Have you ever been embarrassed by your dog? 
Most owners are shown up by their dog from time to time, with bad behaviors such as scavenging or misbehaving with another dog. But arguably one of the most humiliating ways a dog can show you up is when they refuse to obey even the most basic commands, and stare at you blankly as if this is the first time they've heard the word "sit". 
There's something about a dog that refuses to sit that, rightly or wrongly, somehow highlights your deficiencies as an owner. 'Sit' is such a basic command that when the dog is clueless, it advertises the fact that you haven't put the hours in on their training. But of course, with a Boxer, it may not be lack of training at all, but their ability to look for fun and be distracted by it. 
With this in mind, here are our foolproof recommendations for teaching even the bounciest of Boxers to 'sit' on command. 
Top
Defining Tasks
Boxer dogs are the living embodiment of energy. Their strong muscular physique and general enthusiasm for life (and food!) mean they are happily on the go from dawn to dusk. However, when your dog is a bundle of energy, this can be a recipe for disaster, such as knocking over small children or running across a busy road. 
This is where the 'sit' command comes into its own. When the dog learns a rock solid sit you can arrest their forward movement and have the dog settle in one place. Again, this could save the unfortunate cyclist from being chased and help you stay in control in any number of potentially dangerous situations. 
Top
Getting Started
Set aside time for a couple of 5 to 10-minute training sessions a day. Be sure to keep the mood light and fun, because a happy Boxer will learn more readily than a confused or resentful dog. 
The 'sit' command is basic and yet is an exceedingly important one. It gives you control over the dog and stops him moving forward, which could be potentially life-saving if he was about to dash across a busy road after a cat. 
To teach this important command you need: 
Pea-sized tasty treats
A treat bag for ready access to those rewards
A distraction-free environment (to start with, later on, it's good to practice in a range of situations).
Time and patience
A comfortable piece of floor for the dog to sit on (Who wants to sit on a cold floor?) 
Top
The Clicker Training Method
Understand the idea
First, you teach the dog to expect a treat when he hears the clicker. Then the sound of the clicker is used to mark the exact moment the dog performs the desired action, which in this case is sitting. The dog then realizes that sitting on command earns a treat, which motivates him to comply.
Link the clicker to a reward
The first step is to link the clicker to a reward. Simply toss a small treat on the floor. When the dog eats the treat, click the clicker. Toss another treat and again click him. Your Boxer's love of food should make this easy. Keep repeating this. When you've practiced this for a while, try clicking but without throwing out a treat. If the dog looks to you or the floor, then he has learned the connection. Reward him and know you are ready to move to the next step.
Mark a spontaneous sit
Boxers are active dogs who love being on the go. An easy way to teach him to sit is to wait for him to take a break from his energetic hijinx and sit down. As soon as his butt hits the ground, click and reward him. What he's learning here is that sitting is a good thing and a super easy way to earn a tasty treat. This will encourage him to offer a sit more readily.
Label the action with a cue word
Every time the dog offers you a sit, click and reward him. Now add in a cue word, so that he knows what this action is called. As he moves into a sitting position, say "sit", and once he is sitting, click and reward.
Use the cue word first
Once the other steps are well established, you can start to say "Sit" first, in a firm but cheerful voice. If the dog has understood the previous steps, he'll realize that sitting earns a treat and he will offer the sit in response to the word. Click and reward him
Phase out the reward
When the dog is regularly sitting on command, start to skip giving a treat. Perhaps reward him every other time, so that he doesn't become complacent and thinks he has to sit really well in order to open the magic treat bag.
The Lure With a Treat Method
Understand the idea
Your food-obsessed Boxer will readily follow the movement of a treat through the air. With a little clever manipulation, you can get the treat to describe an arc in the air, such that his bottom goes to the floor as he moves his head to follow it.
Get the dog's attention
Hold a small but tasty treat between your finger and thumb. Show it to the Boxer and hold it just in front of his nose. Don't allow the dog to eat it.
Move the treat in an arc
With the dog focussed on the treat, slowly move the reward through the air to describe an arc over the dog's head. Keep the treat close to the dog and move it such that the easiest way for him to sniff it is when his bottom drops to the ground in a sit. Once he is in a sitting position, praise him and give the treat as a reward.
Label the action
Continue luring the dog, and when he gets more adept and goes to a sitting position more readily, start labeling the action as "sit". Say your command word as his butt makes contact with the ground, so he understands which action is required of him.
Use the 'sit' command
Now try saying "sit" in a firm but happy voice, as if you expect the dog to obey. If necessary, guide him with a treat until he performs the desired action. Once in a sit, praise him and give a reward.
The Do's and Don'ts Method
Do: Exercise the dog ahead of training
Boxers are an exceptionally energetic breed. It's a good idea to take the edge off his energy levels ahead of training, in order to help him concentrate on you. After all, a Boxer who is bouncing around on springs because he has energy to burn, is going to find it hard to stay still, let alone sit.
Don't: Use force
Older training methods advocate pressing down on the dog's rump and pressing the dog down into a sit position. This risks injuring the dog's back and also makes him reliant on your physically pushing him down, rather than the dog working out what to do for himself.
Do: Practice regularly
Boxers are intelligent dogs but do get distracted easily. The lesson will stick much better in his mind if it is repeated regularly. So be prepared to train regularly, ideally for two short sessions every day, in order to reinforce the message.
Don't: Punish mistakes
If the dog gets bored and stops responding or he makes mistakes, never smack or punish him. If he is getting distracted, then a single, short sharp "No" is acceptable, but you also need to bring the session to an end as he may have exceeded his ability to concentrate. Next time, aim to make the session a little shorter, so that he doesn't lose concentration and the session stops while he is still having fun.
Do: End on a high
Try to end each training session on a positive note, with a command the dog can do. This helps build his confidence, which in turn will make him eager to participate in the next training session.
By Pippa Elliott
Published: 12/11/2017, edited: 01/08/2021
---