How to Train Your Border Collie Dog to Sit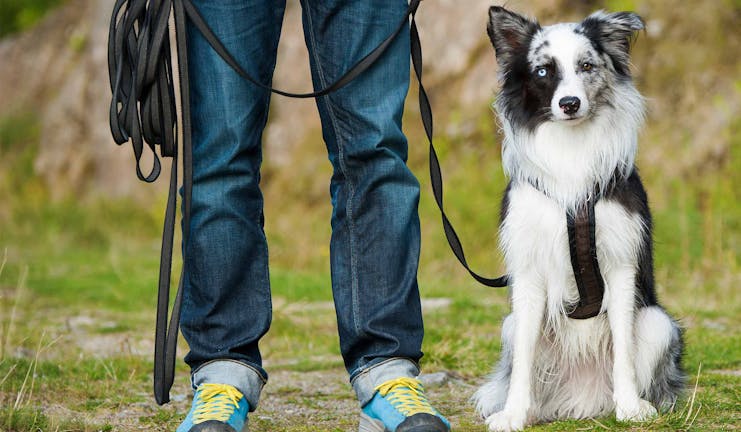 Introduction
Border Collies are full of energy and spirit. If you own one you'll know exactly what we mean. They stick closely to your side and are always up for playing around. They're confident and tenacious. That's probably part of the reason you love yours. However, despite being intelligent, they can be somewhat reluctant to learn obedience commands at times. Before you can go on to train him to 'roll over' or herd sheep, you'll need to teach him the basic commands. The first of which is  'sit'. It may seem relatively straightforward, but if your Border Collie is stubborn it's not always a walk in the park.
Get this training right and you'll have the perfect foundation to turn him into an effective sheepdog. It will also help you assert your control, making it easier to stamp out any number of bad behaviors.
Top
Defining Tasks
Border Collies are switched-on dogs. This means teaching yours to sit should be relatively straightforward. The biggest obstacle is finding the right incentive. Fortunately, they have a strong sense of smell and a weak spot for anything they can eat. So, you'll use the right tasty motivator to get him dancing to your beat. In some cases, a favorite toy can also do the trick. 
If he's a tenacious little puppy he should be a quick learner. This means you could see results in a matter of days. If he's older and never been good at following orders then you may need a little while longer. It could take up to 10 days. Succeed with this training and you'll have taken the first step towards having a disciplined and receptive dog. You'll also find you can then instruct him to calmly sit while you prepare his food or fit a leash to his collar.
Top
Getting Started
Before training can begin you'll need a few things. Break the smelliest food you can find into small pieces. Alternatively, if he loves a particular treat, stock up on that. For one of the methods, you'll also need a clicker.
You'll then need to set aside some time for training each day. Just 5 minutes should do the job. Practice in a quiet room away from distractions.
Once you have all that, just come with a can-do attitude and work can begin!
Top
Setting up
Head into a quiet room with your Border Collie in tow. Make sure you have a pocket full of treats or food too. Remain calm and quiet as you go. You want him to focus, so try not to get him too animated.
Lure
Kneel in front of him and then hold out a tasty treat in front of his nose. Make sure he knows what is in your hand but can't get to it. Try and hold eye contact at this point too, this will help keep his attention.
'Sit'
Issue the command in a clear but upbeat voice. Dogs respond best when they think they're playing a big game.
Lead him
Once you've given the command, arch your arm back over his head slowly. This will cause him to tilt his head up as he tries to follow the treat. This should automatically make him sit back. If it doesn't, you can gently push his bottom down with your other hand.
Reward & practice
As soon as he sits down you can hand over the treat and give him lots of praise. The happier he feels afterward, the more likely he will be to repeat the behavior. Now just practice for a few minutes each day until he's fully got the hang of it.
Clicker friendly
Spend a few days getting him clicker friendly. When he behaves correctly or responds to a command, you give a quick click, followed by a treat. This will become an effective means of communication with him. He'll soon understand the clicker as a signal for when he's done something right. This will speed up the learning process.
Lure
Hold a treat above his nose. Allow him to sniff around so he know's something good is on the menu. Remain calm to keep him focused at this point.
'Sit'
Issue the command in a playful voice. Make sure you give the command just once. If you use it more than once he'll soon learn he doesn't have to respond to you the first time. It's bad enough when the kids ignore you, you don't want the dog doing it too.
Guide him
Now move your hand back over his head. Let his head follow your hand. This will eventually force him to sit back.
Reward
As soon as he sits down, click and give him the treat in your hand. Make sure he gets the reward within three seconds of performing the behavior, otherwise he may not associate the reward with the action. Now practice this every day until he sits on command every time. You can then gradually cut out the treats.
Meal time
Wait until just before a meal time to start training. Border Collies love food and if you wait until he's hungry you'll have the best chance of keeping his attention. So, take him into a quiet room about half an hour before dinner.
Capture his attention
Sit down in front of him and hold a treat above his face. Make sure he can smell there's something good in there. Don't get him worked up or excited at this point, you want him to concentrate.
'Sit'
Issue the command in a clear voice. As you give the command you can start rolling your hand back over his head. This will force his body into the sit position. If it doesn't, use your other hand to help him.
Reward
As soon as his bottom touches the floor give him the treat and verbal praise. At this point you want to encourage any signs he's getting the hang of it. The better the treat the more eager he will be to play again.
Change it up
After a couple of days you can start training at different points in the day, to make sure he can still 'sit' when he isn't hungry. Once he can, you should slowly cut out the treats. He'll no longer need the food incentive.
By James Barra
Published: 12/19/2017, edited: 01/08/2021
---