How to Train Your Dog to Sit on a Mat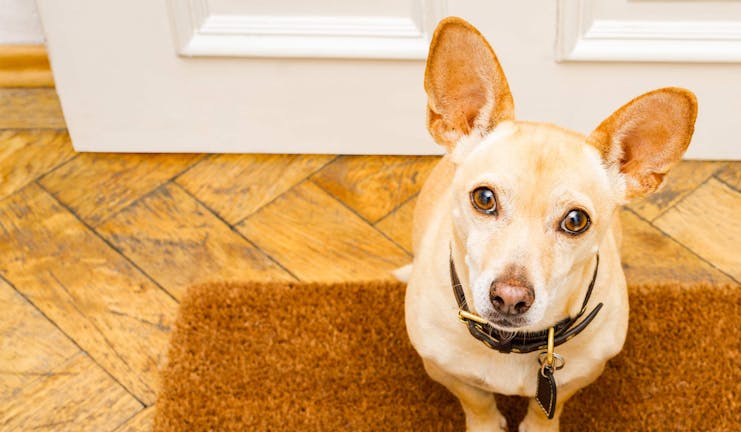 Introduction
Mitzy the Poodle used to get crazy-excited when visitors came over. Weaving in and out of legs, wiggling, whining and vocalizing to let everyone in the room know she was glad to see them. Everyone was glad to see Mitzy too, but afraid they were going to step on her, as she dashed excitedly about. Mitzy's pet parents decided to teach Mitzy to sit on a mat on command. When visitors come over she is instructed to go sit on her mat, which she does, and once greetings are complete and everyone has settled in, visitors can now go over to Mitzy to provide friendly attention, or call her to them for some cuddling and playing. Things are much more peaceful now, and Mitzy is in less danger of being tripped over!  Also, when Mitzy gets over excited in other situations, her pet parents can command her to go sit on her mat, and Mitzy gets some down time before being reintroduced to the situation at hand.
Top
Defining Tasks
Choose a command such as 'mat' or 'place' that you will use to direct your dog to go sit on a mat. You will need to break the behavior down into stages during training, teaching your dog to sit and also reinforcing going to his mat. Eventually, by combining these behaviors you will be able to direct your dog to go and sit on his mat when you say "mat" or "place".  Even a young dog can be trained to go sit on a mat. The challenge will be getting your dog to go sit on a mat when distractions are present. Ultimately, you will want to employ this behavior to direct your dog to a quiet, safe, place when he is being over-excited, or would otherwise be in the way, such as when multiple visitors are present or a barking trigger approaches your home.
Top
Getting Started
You will need to teach your dog the command for 'sit' before teaching your dog to sit on a mat. Use treats and positive reinforcement to teach your dog to sit on command. A clicker to capture sitting behavior is also often employed. You will also want to get your dog used to a mat that he will be trained to sit on, so that it is familiar and comfortable. Pairing the mat with favorite toys, treats or a chew toy prior to training will create a positive association with the mat.
Top
The Positive Association Method
Teach sit-stay
Teach your dog to reliably sit-stay. Use treats and a clicker to establish.
Precede walk with mat
Before going out on a walk, call your dog to a mat, and ask him to 'sit-stay' on the mat.
Reward with walk
Wait a few minutes then produce a leash and go for a walk. Do this every time you go for a walk. Start adding the command, "mat" when he is sitting on the mat instead of 'sit-stay'.
Reward with play
Use the 'mat' command to direct your dog to the mat then provide a favorite toy and play with your dog for several minutes following sitting on the mat. Gradually make time required sitting on mat longer.
Practice with distractions
When a barking trigger occurs or company comes over, command your dog to go to his mat and sit. After the trigger has stopped or company has settled, call your dog off the mat and provide praise, affection and play. Your dog will learn that he will get something positive if he is patient and sits on his mat when directed.
Command to mat
Place a mat on the floor and give your dog the command to go to his mat such as "place".
Lure
Hold a treat above the mat, when your dog comes and steps onto the mat, give him the treat.
Ask for 'sit'
Once your dog is coming to the mat reliably for his treat, ask him to sit while he is on the mat before giving him his treat.
Increase time
When your dog starts automatically sitting on his mat when commanded to "mat" or "place", in order to get his treat, make him wait. At first, wait several seconds and slowly work up to waiting a few minutes. If your dog gets up and leaves before the treat is given, give him the command again and wait before giving a treat the same amount of time as the last time your dog was successful. Continue practicing.
Add distractions
Practice 'go to mat' and 'sit' around distractions and require your dog to wait longer and longer before getting a treat until the behavior is being performed reliably and is useful in various situations.
Reinforce paw on mat
Place the mat on the floor, and stand behind the mat with a clicker and treats in your hand. When your dog approaches the mat and touches it with a paw, click and toss a treat off the mat to get the dog to step back off the mat so you can repeat the behavior.
Reinforce all paws on mat
Wait for the dog to step onto the mat, click and treat. Repeat, waiting for the dog to put two paws on the mat, then 3, then all 4. Continue clicking and treating.
Wait for 'sit'
With all 4 feet on the mat, wait for your dog to sit down. Do not direct, hit or guide him, wait patiently. Eventually he will sit, then click and treat.
Add command
Add a command like "place" or "mat", when your dog steps on the mat and sits. Continue to click and treat, gradually remove the clicker but continue to reward and provide verbal command.
Direct to mat
Start providing verbal command to direct your dog onto the mat. When your dog responds to your command, throw a treat party, lavish praise on him. Continue practicing, reduce treats. Provide them variably but always praise.
By Kim Rain
Published: 01/11/2018, edited: 07/02/2021
---