How to Train Your Dog to Speak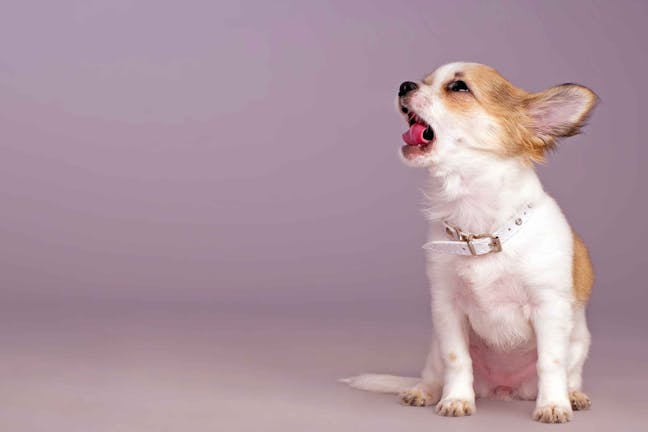 Introduction
Teaching your dog to speak on command is a fun party trick for most dog owners. But it can also have some benefits as well. When your dog learns that speak is a command and he's expected to do it when you command him to do so, he may control unnecessary barking at the same time. Training the 'speak' command to your dog teaches him that you want to hear his bark when you ask him to bark. 
The 'speak' command is a fun command to teach your dog. Having your dog speak to other people creates an introduction to play with other people and builds trust with those who meet your dog. You can use the 'speak' command to have your dog earn treats before he goes outside or goes for a walk or to earn things you know he wants for you to play fetch with him.
Top
Defining Tasks
Training the 'speak' command is very easy. You can train your dog to speak at any age. Young dogs will have an easier time learning not only the command but also learning that he is to speak only when asked and not at other times. Adult dogs who did not learn the command early on may learn the command quickly and easily but may also struggle with not speaking out of turn. Teaching your dog to speak is simply recognizing when he barks and teaching him that particular action is speaking. This evolves to teaching him that when you say the word "speak", he needs to bark. This is a pretty easy trick to teach your dog and it can be done in a short amount of time. It requires repetition and play time with your dog every day.
Top
Getting Started
To teach your dog to speak, you are going to need some tasty treats. High-value treats during training sessions are always nice to have, but a simple treat for this easy command will do just fine. You may also need a special toy or something that will get your dog excited, forcing him to bark. At least one method requires a partner to knock on the door or ring the doorbell to encourage your dog to bark. Have fun with the' speak' command; it's a great trick that will make anyone around your dog laugh.
Top
Encourage
Get your dog to bark at something. If your dog typically barks at your doorbell, a knock on the wall, a loud noise, or even someone walking through your yard, do those actions to get your dog to bark.
Command
When your dog barks, even if it's just a reaction to something like the doorbell ringing, say the word "speak". And offer him a treat.
Repeat
Repeat this several times, having your dog bark at various things.
Challenge
To challenge your dog, once he understands the command to speak happens when he barks, stop encouraging him with a noise such as your doorbell and use only the command.
Reward
Once your dog speaks on command, give him a treat for a reward. Continue to practice using the command to 'speak' to get your dog to bark so he doesn't forget the command.
Show excitement
Stand in front of your dog and get very excited. Encourage your dog to get excited with you. This could mean you are loud or your movement is fast and erratic.
Play
In your excitement, grab a toy and begin to play with your dog. A game of such as tug-of-war might build some excitement in your dog, potentially even causing her to growl or bark.
Entice
Once you have an excited dog who is playing with you, show her a treat you have ready for her.
Hide
How the treat behind your back or in your hand while your dog is still excited.
Gentle tease
While still excited, gently tease your dog with the treat you have behind your back and the toy you are playing with. If your dog whines or growls, encourage a bark by increasing the energy.
Bark and speak
If your dog is enthusiastic he will likely bark when he's not getting the full reward of the hidden treat or winning the tug of war game. When he barks, say the word "speak" and offer him the hidden treat.
Name it
Continue training, asking your dog to speak any time he barks. You may need to practice the steps above getting him excited to get him to bark but over time, he will eventually realize when you say the word 'speak' you want him to bark.
Rewards
Be sure to reward your dog every time he does his job well and speaks on command.
The Bark and Click Method
Toy
Get a toy you know your dog is very excited about and begin to play with it but don't allow him to have it.
Tease
Playfully tease your dog by playing with his favorite toy. Wave the toy around, play keep-away with a friend, and slowly build up to tug of war if necessary. It may be necessary to extend your play time if your dog has not barked yet. The second your dog barks at you while you're playing with his toy, move to the next step.
Click and treat
When your dog barks while you're playing with his toy, click and treat. After the click and treat, you can say the word 'speak' and begin to play with him using his favorite toy.
Play time
Continue to practice during playtime encouraging your dog to bark more and more. Each time your dog barks, say the word "speak" and click and treat.
Command
Begin practicing the command to speak without the energy of playing with the toy. If your dog can speak on command, he is trained. Be sure to click and treat every time he is successful.
Future rewards
Be sure you are offering your dog a click and a treat every time he speaks on command. However, don't reward him when he barks without being asked to.
By Stephanie Plummer
Published: 10/26/2017, edited: 01/08/2021
---