How to Train Your Dog to Stand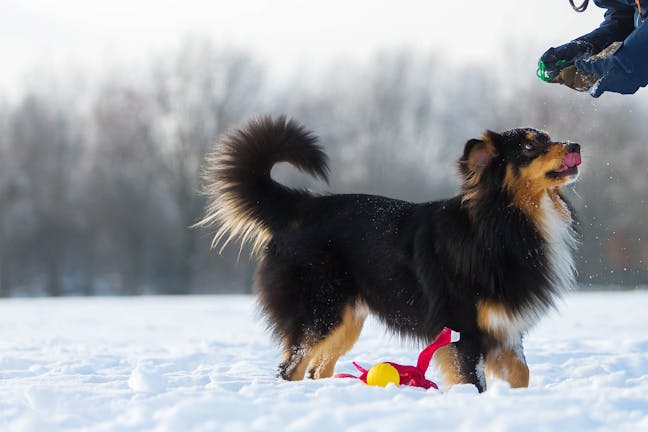 Introduction
Does your pooch think he's just a furry, fluffy human? If he does, he probably has lots of annoying habits like jumping up on the sofa and sleeping on the bed. Well now you can teach him some obedience and a new trick, by encouraging one habit, that's both human like and entertaining. Why not teach him a fun, cute little trick that's sure to make him feel like a real boy, by getting him to stand up tall on those fluffy back legs of his. Think how cute it will be when you have visitors over and you can get him to greet them by standing up tall and giving them a pawshake, like a proper little man.
Top
Defining Tasks
Although teaching your pup to stand can be a cute and fun little trick, it can also be incredibly useful. For example, dogs with allergies often get skin problems underneath their belly, if your dog is predisposed to this or if they get any other problems with their underneath bits, then it can be really useful to get your pooch to stand for you to have a good luck without upsetting them too much. 
If you're planning on doing any further tricks or training with your pooch, especially those that involve dance routines or showing, for example, teaching your pooch to stand will be an invaluable trick. Teaching them to stand shouldn't be too difficult, especially if it's a behavior they're already displaying naturally. However although this trick is suitable for young dogs, it's not suitable for puppies, they need to undergo a bit of development and build some muscle strength first, therefore this trick is best taught to pups over 6 months old. Pooches should pick it up in a week or two.
Top
Getting Started
This trick shouldn't involve too much high tech equipment. However, if you're clicker training your doggy, this trick is suitable for clicker training, so grab that clicker to encourage their good behaviors. Don't forget to buy them a big bag of their favorite tasty treats, or make them some of your own home-cooked treats, such as some delicious boiled chicken or a cooked sausage, chopped into the correct size so your pup can devour them easily. Teach your pup in short bursts, in a distraction-free environment.
Top
Get the right spot
Find a quiet spot away from distractions to keep your pooch's attention.
Start sitting
Get your pooch to sit to begin with.
Hold a treat above your pups nose
Hold a treat above your pup's nose, far enough away that he has to reach for it.
Increase the distance
Keep increasing the distance vertically that the treat is from your pups nose to get him up on to his back legs.
Add in the command
Keep repeating the above step until your pooch really gets what you want him to do. Once he understands this add in the command 'stand'. Once you've been practicing this for a week or two, he should stand on the command alone.
The From Lying Down Method
Get your pooch to lie down
Standing is a really natural behavior for pooches, so you need to let them know that you're rewarding them for the stand. Train this into them by getting them to lie down to begin with.
Get the treats
Hold the treat in front of your pooch, just above his head, until he goes into a sit.
Move the treat higher
Now move the treat up even higher until he is standing on those cute little back paws and concentrating hard.
Tell him to 'stand'
Add in the 'stand' command when he's on his back legs reaching for that treat.
Always reward
Make sure you give his a big reward and tell him how much of a good boy he's been and give them that treat he's worked so hard for.
'Stand' without treats
Once he's got the hang of it, get him to stand using only your verbal command, giving a treat only when the trick is complete.
The Natural Standing Method
Wait for your pup to stand up
If your pooch is keen on standing up on his back legs, simply wait for him to display this behavior.
When you see it, praise and treat
When he does the stand, give him a treat to let him know that he's been a good boy and tell him how much of a good boy he's been too.
Add in a 'stand' command
When you see him standing, as well giving treats and praise, make sure you add in a command, as you want the stand to be controlled and at the time you tell him.
Condition him in this way
Keep repeating the step above for a couple of weeks, so he knows you want him to do this behavior on cue and not randomly.
Try different locations
Don't just encourage him to stand in the one place, try it in lots of different places, so that he knows to stand when you tell him, regardless of the time or place.
By Catherine Lee-Smith
Published: 12/05/2017, edited: 01/08/2021
---