How to Train Your Barn Dog to Stay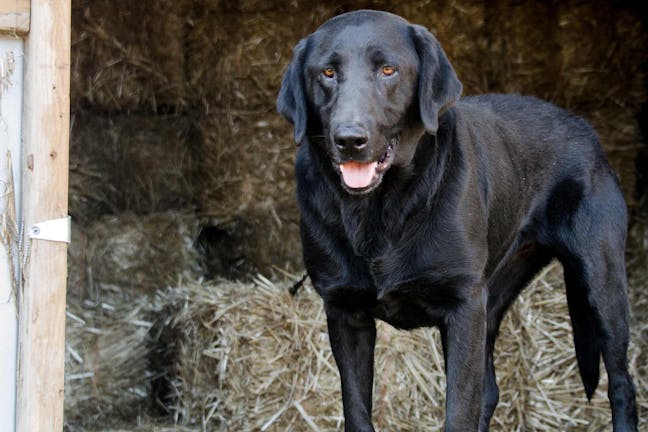 Introduction
How do others react when you bring your dog into the barn? Are they delighted to see him, call his name, and give him treats or do they wander off not wanting to deal with your pup? Does he come into the barn and treat it like his personal playground or does he find the spot you have for him and stay put until you call him to accompany you on your rounds?
A good barn dog will hang around, quietly staying in one place waiting for his owner to give him his next command. One that has not been trained will run around and cause trouble. We all know which type of dog you would prefer to have. The good news is that you can train almost any barn dog to stay, it just depends on how much time and effort you want to put into the training. 
Top
Defining Tasks
This task is no different for your barn dog than it is for a household dog. The intent is to train your dog to stay put once he is given the 'stay' command until you give him a release command. 'Stay' is considered to be one of the basic commands every dog should know. Teaching your barn dog to stay is not that hard, it just takes plenty of time, patience, and effort on both your part and that of your dog.
Just because your dog is allowed to come into the barn with you, this doesn't give him license to act like a fool by running amok. In fact, allowing him to do this can cause the other animals in the barn to become agitated and lead to serious injuries. The time you take to train your pup to stay could save you a lot of hassle. It can also save him or some of your other animals from serious injury.
Top
Getting Started
Getting started is pretty easy and best of all, you won't need much in the way of supplies to use during the training sessions. However, you will need a few items, including:
Treats

Short leash

Long leash

Time

Patience

Quiet place to train

Training your barn dog to stay is not that much different than training any other dog to do the same thing. It just takes lots of time and patience to succeed. 
Top
In the barn
Give your barn dog the 'down' and 'stay' commands as you enter the barn and near the spot you want him to remain in.
Tether his leash
With his leash still clipped on, attach the other end to a hitching rail or post.
Step away
Take a couple of steps back. Then return and give him a treat for not trying to get up. Verbally praise him. Do not try to pet him as this will only encourage him to try and get up.
Stay again
Give him the stay command and move further away. Repeat this several times over the course of a few days, increasing the distance each time. Each time you step further back return to your pup and give him a treat if he stays in place. If he tries to get up, move closer in and start the training again.
Increase the time
Once you can move back approximately 50 to 75 feet and he will stay put, you can start adding more time to the how long he must stay in position. With practice, your pup will learn to stay put when you tell him to stay until you give him another command.
Take your pup to a quiet place
Find a quiet spot in the barn and give him the 'down' command. When he lays down, give him a treat and praise him.
Use a hand signal
Use the 'stop' hand signal once he is laying down, say "stay", and then step back. Wait a few seconds and if your pup stays put for a few seconds, give him a treat. It is vital you give him the treat while he is still in the down/stay position as this reinforces the behavior.
Short practice sessions
Keep your practice sessions to no more than 15 minutes, several times a day.
Increase the times
Start extending the time your pup must stay in place before he earns his treat.
Increase the distance
Now you can start to increase the distance between you and your pup. Take a single step back after giving the stay command. Each time he stays, give him a treat. Gradually increase the distance.
Practice time
The rest is all up to spending as much time as you can practicing with your pup in different locations until you can give him the command knowing he will stay put until you tell him to move.
Start out right
Start with your dog in the position you wish him to remain in when you give him the 'stay' command. In most cases, this is the down position, where your dog is laying on his belly. This position is much easier for your dog to hold than the 'sit' position.
Teach the release
With your pup in this position, you need to teach him a release cue such as 'get up' or 'let's go'--anything that your pup can immediately associate with being allowed to get up. When he obeys, give him a treat.
Take your time
This time when you tell your pup to lie down, don't give him a treat immediately. Instead, hold off for a few seconds and then say "Yes" in a firm calm voice. Then give him the treat and tell him he is a good boy.
Repeat training
Rinse and repeat, extending the time between giving the 'stay' command and when your pup gets his treat. Start adding distance until you can give your pup the command without the treats and he will remain in place until you give him the release command.
Add distractions
Finally, add in a few distractions to the training until it doesn't matter what is going on, your pup will remain glued to the ground until you tell him to get up. The rest is all about repetition and patience.
By PB Getz
Published: 12/08/2017, edited: 01/08/2021
---