How to Train Your Chihuahua Dog to Stay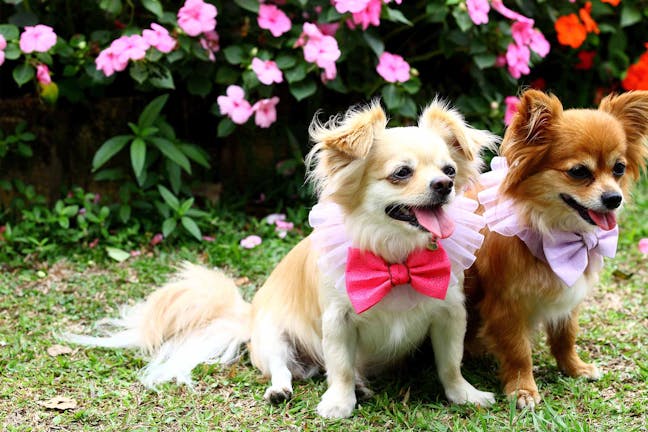 Introduction
Of all the commands you can teach your Chihuahua, 'stay' may be the most important. Teaching your pup to stay might stop him from bolting out an open door or worse yet, darting into the road and being run over. No matter how you look at it, asking your pup to stay in one place for an extended period of time goes against his nature. This makes the training that much harder, but when you add in the fact that Chihuahuas are exceptionally stubborn, this can only make it harder than it should be.
Bear in mind that 'stay' is one of the four basic commands every dog should know. In fact, until your pup has mastered these commands, he will not be ready to learn any of the more advanced tricks or behaviors. Tough training or not, be sure to be patient and never scold your pup for getting it wrong. You might hurt his feelings and make it even harder to accomplish your training goals. 
Top
Defining Tasks
Far too many dogs have the bad habit of bolting out the door every chance they get, jumping up on everyone, and chasing just about everything. Once you teach your pup to sit and stay, this should stop problems like this from happening. The idea is that once the training has been completed successfully, your pup will sit and stay in place until you release him.
Our training methods assume you have already taught your Chihauha to sit. The rest of the training involves teaching your pup to sit for an extended period of time. You can also use the 'down' position for this training. It depends on which one you prefer or in time you can teach him to stay in both positions. 
Top
Getting Started
For the purposes of this training session, we are going to assume your pup already knows how to sit. You may find you need a few things to make the training go a little more smoothly, including:
Treats:  For rewards and incentives.

Quiet: A quiet place to train in, as any distractions will only make the job harder.

Patience: You are going to need a huge supply of this.

Time: You need to be able to dedicate approximately 15 minutes twice a day to this training if you want it to work.

The big thing here is to be very patient. Chihuahuas are highly intelligent dogs, but at the same time, they are very stubborn, which can make them hard to train. 
Top
Call your dog
Call your dog over to you and have him sit.
Give the 'stay' command
Gently give your pup the 'stay' command. If he tries to lay down or get up, gently put him back into the 'sit' position.
When he stays put
When your pup will stay put for a few seconds, be sure to praise him and give him a treat.
Move back
Move back a few paces and stand directly in front of your pup. Give him a few seconds, then praise him and give him a treat.
Work on time and distance
Time to start adding more time and distance. Try adding a few feet and 30 seconds to the timer. If he stays, give him a treat. If not, go back closer and try again. Keep working at it until your pup will remain in the stay position until you release him. Remember, he should not be made to remain in this position for more than 15 minutes at a time.
The From the Beginning Method
Starting positions
Place your pup in either the 'sit' or 'down' position on his bed. It really doesn't matter which one, try the one in which he feels most comfortable. Bear in mind, sitting is harder for your pup to maintain, but laying down may make him feel more vulnerable.
Treats for your pup
As soon as your pup's body or butt hits the floor, be sure to give him a treat, but make him wait for a couple of seconds. Say "Yes" as you give him the treat.
The right way to give the treat
Far too many people tend to hold the treat up above their pup's head, all this does is encourage him to jump back up. The proper place is to place the treats in between his front paws, this will encourage him to stay down.
Add time
Add a few seconds to the time between when your pup lies down and you give him the treat. This adds duration to his ability to stay.
Just walk away
Or in this case, back away a couple of paces while giving the 'stay' command. Backing away will help keep your pup from wanting to get up. After a few seconds, give your pup the release and feed him his treat.
Increase time and distance
Keep increasing the time and distance a little at a time until your pup will stay on his bed until you release him. Try adding a few distractions, such as bouncing balls. When he stays, be sure to praise him and give him treats. When you think he is ready, start working on eliminating the treats and your pup will now stay when he is told.
Gather up a bag of treats
For this, you will need a bag of your pup's favorite treats. You will need them to help with the training.
Come, sit
Call your dog over and have him sit directly in front of you.
Palm out
Hold your hand out in front of your pup's face, palm out (like a police officer does to get you to stop). Say "stay" and repeat it a few times. This will help your pup learn the command word. Use "Stay" or your own version, but stick to only one to avoid confusion.
Backing up
Back up away from your pup, holding your hand out and saying "Stay". You may have to do this several times as he will feel like he should be following you. Each time he tries to get up, say "no" and then make him sit again. When he sits back down, be sure to praise him. Treats and praise when he stays.
Work it baby, work it
If you want this training to stick, you need to keep practicing it at least twice a day for 10 to 15 minutes per session. Keep at it and your Chihuahua will learn to stay when told.
By PB Getz
Published: 12/14/2017, edited: 01/08/2021
---