How to Train Your Older Dog to Stay Out of a Room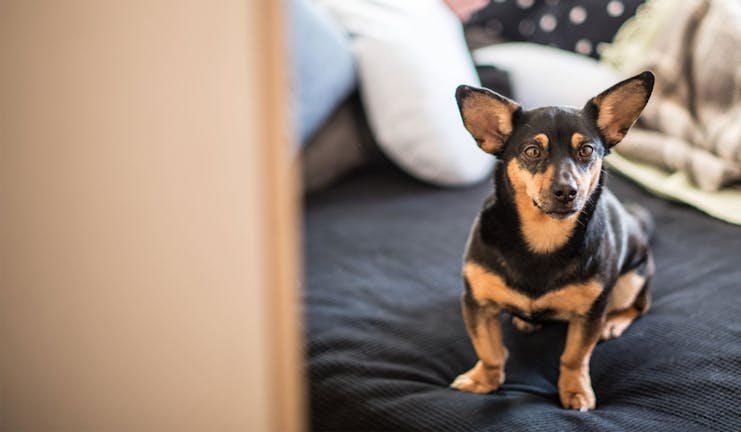 Introduction
If you've moved to a new house with your older dog, or if you've recently adopted a senior dog, you might want to keep a few areas of the house off limits. The kitchen, a bedroom, or the bathroom can be designated dog-free areas, even if your older dog has never had these boundaries before.

Though it may take a little more time and patience, your older dog can learn which spots he should steer clear of. This kind of training is called boundary training and can be used for a variety of situations. Maybe you've recently had a child and want the dog to stay out of the nursery, or you are tired of tripping over your little hoover as he searches for crumbs in the kitchen. Whatever the reason, your older dog can learn new tricks and help you out in the process.

Top
Defining Tasks
Teaching your older dog to stay out of a room takes vigilance, consistency, and time. Not only does he have to learn a new rule, but he also has to unlearn something he may have been doing his whole life. To ensure your new boundary sticks, make sure all access to the room is cut off, even when you aren't home. You can purchase a baby gate for the doorway to keep him from sneaking in, or you can keep the door to the room closed at all times. Remember, he won't understand the reasoning for the change, and if he still can access the room occasionally, he'll have a hard time figuring out that it's permanent. Have patience, be consistent, and don't give in.  Your reasons for keeping him out the room are important, and he will learn to adjust.  Make sure that everyone in your household is on the same page, so no one is letting the dog into the restricted area accidentally and confusing him when you ask him to stay out.

Top
Getting Started
Getting started with training your dog is relatively easy, and you won't need too many tools. After you have created barriers to keep him out when you aren't looking, here is what you need to help him learn the places he can't set his paws.

A short leash.
Treats
A  mat that can be designated just for your dog.

Each dog is different, and older dogs can require more time to master boundary training. Here are three different methods for training your older dog to stay out of a room. Find the best fit and give it a try. With dedication and attention, your older dog will learn that a room is now off limits.

Top
Start with a relaxed dog
Be sure to walk or exercise your dog first, and start your training when he is calm and relaxed.
Leash your dog
Put your leash on your dog. If you've never had a leash on your dog inside, he may be confused or excited, so make sure he's calm before you proceed.
Walk to the room boundary
Walk up to the doorway of the room you want to keep him out of and have him sit.
Give a treat
Give him a treat for sitting at the boundary. Then walk away.
Repeat
Repeat these steps several times every day for a few days to a week. Keep the room closed off between trainings so he doesn't sneak in when you aren't home.
Walk across the boundary
After your dog is used to sitting and stopping with you at the boundary to the room, step into the room. The dog should continue sitting outside the room.
Give treats
Walk back to the other side of the doorway and give him lots of treats and praise. If your dog follows you in, calmly tell him "no" and walk back out. Go back to the first few steps and then try again.
Vary time and distance
Keep practicing, but vary the time and distance you spend in the off-limits room. Try walking farther into the room, or standing there for a longer period of time.
Remove the barriers
After a few months of consistency, try removing the baby gate or keeping the door open. By now your dog should be comfortable waiting for you outside the room. If he slips up, add these barriers back in and keep practicing.
Find a good spot
Find a good spot for your dog outside of the room you want to have off-limits.
Find a good mat
Pick a mat, either a small dog bed or a kitchen mat. Make sure it's big enough for the dog and lay it down in the spot you've picked.
The mat is a good place
Show your dog the mat is a very good place to be. Have him sit on the mat and give him treats and praise.
Introduce the command
Once your dog knows the mat is the place to be, introduce the command "go to your mat" by pointing to his mat and saying the words. Give him treats when he obeys.
Practice
Keep practicing until he can go to the mat any time you ask. Practice when he's far away from you or from the mat.
Use the command to keep him out of a room
All along, you should have a baby gate or a barrier to keep your dog out of the room. When he has mastered "go to your mat," try taking down the gate or leaving the door open. When he tries to enter the room say, "go to your mat" and give him a treat.
Master the command
For now, only use the command when he tries to enter the room. Make sure to replace barriers when you aren't home or aren't watching him.
Mat instead of room
After a few months your dog should have more interest in going to the mat than going into the room. You can slowly decrease the amount of treats he gets. With time, he will stop trying to go into the room and will instead choose the mat.
Make the room off-limits
Set up baby gates or close the door to the room at all times. It's important that once you decide a room is off limits, your older dog doesn't have a chance to go inside.
Find a good treat toy
You are going to show the dog that not going in the room is more interesting than going inside, so anytime you are going to be in the room without him, fill a toy like a Kong with treats and peanut butter.
Give him the distraction
If he tries to get in the room, give him the distraction away from the door to the room.
Praise him
Make sure you tell him he's a good boy while he's minding his own business playing with his toy.
Reinforce the new habit
Turn this behavior into a habit. Over several weeks or months, each time you are in the room, give him his tasty distraction. With time and patience he should learn that better things happen outside of the room.
Remove the barriers
When you think he's no longer interested in the room, take down the barriers. Continue giving him the distraction while you are in the room.
Decrease the distraction
When he shows no interest in going into the room, decrease the number of times you give him the distraction. Soon he should stay out of the room on his own.
By Katie Smith
Published: 01/11/2018, edited: 01/08/2021
---