How to Train Your Small Dog to Stay Out of the Garbage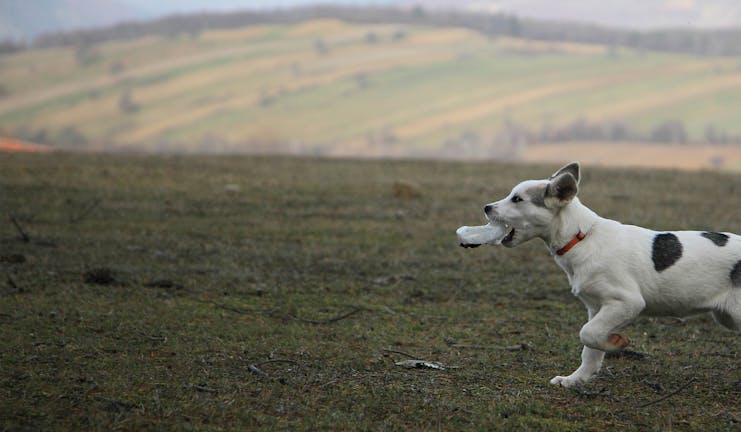 Introduction
Ah, the garbage can. To you, a convenient plastic receptacle for the disposal of waste in your home, until such a time as it can be taken outside and away. But to your small dog, the garbage can represents so much more. A tantalizing, off-limits container full of intoxicating smells and the promise of forbidden treats.
Is it really any wonder that more than one dog owner has come home to find their trash can upended, its contents strewn about, and their pup sporting that distinctive look of guilt that seems to say, "who, me?" I'm sure you know the one...
Top
Defining Tasks
Not only can your dog's obsession with garbage be messy and annoying, but if he happens to nibble on something plastic or poisonous, it could also lead to an emergency trip to the vet. So teaching your small dog to stay out of the garbage is definitely a behavior worth learning.
Top
Getting Started
There are a few different methods you can use to teach your dog to stay out of the garbage, which focus on the garbage can itself, or on applying certain 'leave it' behaviors practiced by your dog to the garbage. Before you start training, you will need:
A tall, sturdy garbage can with a lid
A stool
A motion-sensor-activated deterrent
A child-safety lock
High-value treats
Top
Make it hard
Perhaps the easiest and most immediately effective method to prevent your small dog from getting at the garbage is simply to make it hard or unappealing for him to do so. For a small dog, this can be as easy as setting the garbage can up on a stool so that he can't reach it, or keeping it in a cupboard in the kitchen.
Use a sturdy can with a lid
The kind of garbage can you use can make it harder for your small dog to get into it. Use a tall one with a non-swinging lid and a solid base that will not allow it to be tipped over by your small dog's body.
Use deterrents to your advantage
Consider a motion-sensor deterrent that delivers a non-harmful negative stimulus when your dog tries to open the garbage, such as a puff of air or loud sound. This can be activated when you are away and not able to monitor your dog around the garbage.
Keep your dog well-fed
Keeping your dog full might prevent him from being tempted by rummaging in the garbage. Be sure to keep your dog on a regular feeding schedule that will keep him satisfied, without overfeeding him (you don't want him to become overweight, either!). You can ask your vet for their recommendation on appropriate feeding amounts.
Use a child safety lock
Consider using a child-safety lock on your garbage can lid that can only be opened by twisting or pressing.
Hold your dog's favorite treat in your fist
Teaching your dog to 'leave it' is a skill that can be applied to anything that you want your dog to leave alone, including the garbage. Start with your dog's favorite treat enclosed in your fist, and place it in front of him. Since he's a small guy, you might want to consider kneeling or sitting in front of him to better maintain his focus.
Wait it out
Say "leave it." Your dog will likely make a fuss about the treat - whining, looking to you for reward, even pawing at your hand. Wait until he stops and is quiet, then open your fist and let him have the treat.
Repeat and mix it up
Repeat this step. When you say "leave it," don't let him have the treat until he is quiet. Every few practices, simply say "yes" and give him the treat right away. That way he'll know he only needs to leave the treat when you ask him to.
Teach your dog to look at you instead of the treat
Stand up and repeat the previous step with your dog's treat in your fist. Say "leave it." At this point in his training your dog will likely look to you, waiting for you to release the treat rather than pawing for it. As soon as he makes eye contact, open your fist and give him his treat. Now he knows to look at you rather than the thing you want him to leave alone.
Take it to the floor
Place a treat on the floor. Say "leave it," then cover it with your hand. Treat him from your other hand when he loses interest in what's under your hand. Practice this step, eventually raising your hand to hover over the treat. If your dog rushes for it, don't let him get it. He only gets a treat if he leaves the one on the floor alone!
Apply 'leave it' to the garbage can
Say "leave it" the next time your dog approaches the garbage can. He should know what this means by now. When he turns to you instead of the garbage can, treat him. Repeat, until your dog has lost interest in the garbage altogether.
Observe your dog
You'll want to be around the problem area when you start training your dog to stay out of the trash. Be sure to be in the room with him, able to observe him if he comes close to the garbage.
Make some noise
When he approaches the garbage, make a loud sound. This can be a word like "off!" or a sharp sound such as the blow of a whistle. This will cause him to stop what he's doing.
Distract with your dog's favorite toy
Once he has stopped and turned to the source of the noise (you), show him his favorite toy and offer it to him, distracting him from the garbage.
Treat your dog
When your dog has left the garbage alone and has been successfully distracted, you can treat him.
Repeat
Do this every time he approaches the garbage can--make it clear that the garbage in unpleasant, and leaving it alone is fun and rewarding.
By Michelle Anne Olsen
Published: 01/26/2018, edited: 01/08/2021
---