How to Train Your Small Dog to Stay Out of the Garden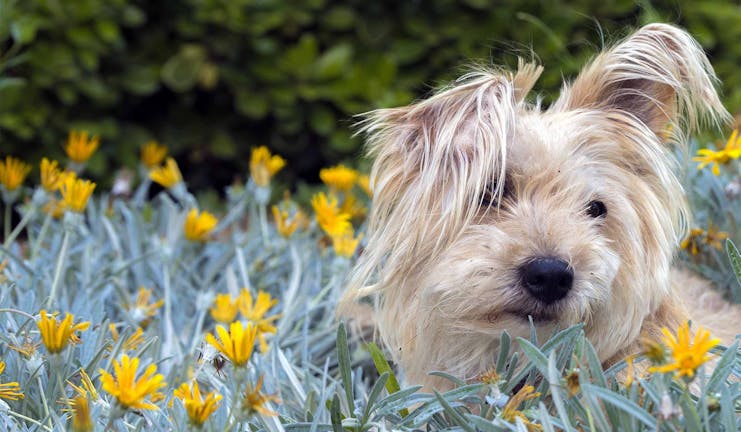 Introduction
For a little dog, he's got plenty of energy. He seems to be tear around the house all day and evening, without ever needing to catch his breath. He gets a decent walk and plenty of exercise each day but he's still always fully charged. You could put him the yard, but you've spent a considerable time getting the garden in top shape, so you don't want him trampling on your new plants or freshly laid lawn. The problem is, the kids often leave the door open and he gets out there anyway. Also, because he's small, he seems to be able to sneak under or jump over any obstacles you put in his way.
Training him to stay out the garden will protect it from canine ruin. If you live near a main road, then keeping him out of the garden may also mean he doesn't escape onto the road and cause an accident.
Top
Defining Tasks
Training any dog to stay out of a garden full of fresh air and interesting smells can prove tricky. However, with small dogs, the challenge is heightened. This is because their size allows them to fit through gaps normal dogs simply couldn't. He may even be able to sneak through the cat flap to get outside! So, you will need to use a number of deterrence measures to keep him firmly out of the garden. Obedience training will be required to increase your control. Then you need to find an effective motivator to keep him away from the garden. 
If he's a puppy, he should be receptive and eager to please. You could see results in just a couple of weeks. If he's always had free rein in the garden, you may need up to six weeks to fully break the habit. Succeed and you may never need to worry about him escaping from the yard and getting into trouble with other pets or traffic.
Top
Getting Started
Before work can start, you will need to gather a few items. A deterrence collar, baby gates and a water spray bottle will be required for one of the methods. 
A generous supply of treats will be needed. Alternatively, break his favorite food into small pieces. Some inside toys and food puzzles will also be used for one of the methods. Set aside 10 minutes each day for training, but remain vigilant as much as possible. 
The only other things you need are patience and a pro-active attitude, then work can begin!
Top
Baby gates
They can be fitted with ease and will fully prevent your little getting into the garden if placed on the right doors. Just make sure the dog can't slip through the gaps if he's really small.
'NO'
If you catch him heading towards the garden, you must rush over, take him by the collar and give a firm 'NO'. Don't scare him, but make sure he knows you are not impressed. This should make him think twice next time.
Water spray bottle
If the 'NO' doesn't do the job, upgrade to a water spray bottle. Give a quick spray near his face each time you see him head towards the garden. You don't have to wait until he's outside, you want to discourage any interest in it at all.
Deterrence collar
They can be bought online and from local pet stores. These remote controlled collars will emit an unpleasant spray of citronella whenever you hit the button. Simply be vigilant and hit the button each time. He will soon start associating the garden with negative consequences and lose interest.
Consistency
Get everyone in the house together and make sure you all enforce the rules. If one member of the house doesn't deter him when they catch him, you will confuse your dog and push back the end result. So, be patient and consistent, eventually he will give up trying to go in the garden.
The bed
Lure him over to his bed with a treat. You are going to teach him to go to his bed when instructed. That way, whenever you catch him heading for the garden you can use a quick verbal command to get him away.
'Bed'
Stand a foot or two away from his bed, then give a 'bed' command in a clear voice. Point at his bed and look at it as you give the command. It may take a little while, but eventually he'll catch your drift and head for his bed.
Reward
As soon as he steps foot on his bed, hand over a treat. Give him lots of praise; the happier he feels the more likely he will be to do it again. At this point you want to encourage any signs of moving to his bed.
Increase the distance
Over the next few days, practice for around 10 minutes each day. Each time, stand further away when you instruct him to go to his bed. Keep practicing until he heads straight for his bed every time even when you're at the other end of the house. At this point, you can slowly phase out the treats.
Application
Now use the command whenever he heads for the garden. Also make sure everyone else in the house does too. He will soon understand the signal means not to head for the garden and give up on it altogether.
Play time
Make sure he gets plenty of attention inside. He may be heading for the garden out of boredom. So, play tug of war and mess around with toys each day. Just a few minutes each day should prevent any attention-seeking behavior.
Food puzzles
If he associates inside with food and fun, then he may lose interest in the garden. Food puzzles can keep him occupied for hours on end. The garden will quickly drop to the bottom if his interest list.
Exercise
Make sure he gets plenty of exercise and walks outside. If he spends enough time outside anyway, the garden will be less appealing. Plus, if he's tired after his walk, he will spend his time napping inside instead of trying to get into the garden.
Remove temptation
Make sure you keep doors shut and don't leave any of his toys outside. If he can see his belongings out there, he will of course want to go and retrieve them. Even your kids' football and tennis balls could pique his interest.
Tricks
Teach him some entertaining tricks. You can teach him 'down', 'roll over' and anything else you fancy. All will channel his energy into something productive and keep him distracted form the garden. Do all of this and he will have everything he needs inside.
By James Barra
Published: 01/15/2018, edited: 01/08/2021
---