How to Train Your Small Dog to Stay Within Boundaries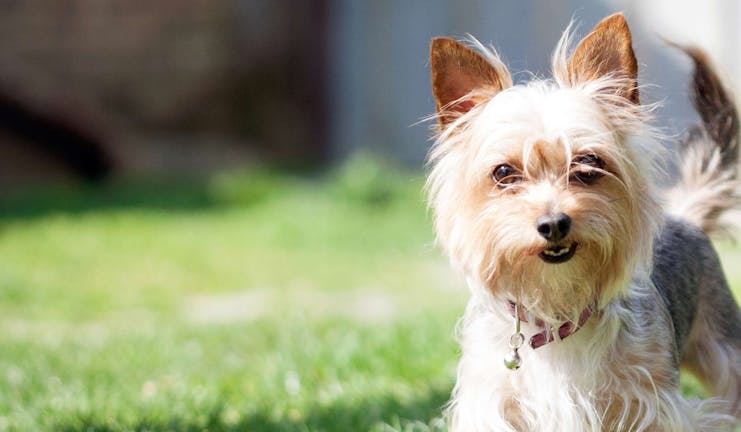 Introduction
Training your small dog to stay within boundaries is important to keep him safe, especially if he's ever going to be off-leash. If you have property the country, for example, you are not going to fence off your entire yard but will need your small dog to stay on your property within boundaries to keep him safe. Such a little guy could get hurt outside of the safety of your property. You may also want your small dog to stay within boundaries if you would like to protect certain areas of your yard such as a garden you worked hard to create. 
Training your dog to stay within boundaries keeps him away from things which could cause him harm and protect your property as well as properties surrounding yours. Keeping your dog within boundaries also reminds him of rules to follow and why they are important. Whether you are keeping your dog off of your bed or off of the couch or within the confinements of an unfenced yard with the freedom of not having a leash, teaching your small dog boundary training goes far beyond the basic rules of staying where he belongs.
Top
Defining Tasks
Basic boundary training will start with showing your small dog where he can go versus keeping him out of where he's not supposed to be. Giving your small dog boundaries allows him to have freedoms within the safe confinement you created. Teaching your small dog basic boundary training will take time patience and lots of repetition. Practice this training as often as you can at least once a day, if not more. You will show your small dog his boundaries and test his limits during this training. Be prepared to use an invisible line and potentially create a visible line your dog can use while he's learning to stay within his boundaries. Keep your boundary training sessions short and simple but repetitive and rewarding. 
Top
Getting Started
If you can schedule specific boundary training with your small dog it's a good idea because it will hold you both to sticking to a schedule and ensure the training is done on a regular basis. You may need to be prepared with yard flags or something to create a visible boundary line. Your small dog will also expect some high-value treats to learn boundary training. This will entice him to stay within boundaries and reward for a job well done during training. Boundary training typically takes several weeks, so be patient and consistent with your little guy. Show tolerance for mistakes and pushing boundaries.
Top
The Clicker Training Method
Clicker and markers
Prepare for boundary training with a clicker, treats, and utility flags. You will find these small flags at a local hardware store.
Place boundary
Place the flags along the boundary where you'd like your dog to stay. Commit to this boundary before training your small dog as changing it later may confuse him. Also, consider the size of your dog and how much space you'd like him to have to have freedoms and remain safe.
Recognize flags
Set two flags aside to train your small dog to recognize them. Show your little guy a flag and when he sniffs it or shows interest in the flag, click and give him a treat. Do this several times using both flags.
Name flags
Put the flags in your house just a few feet apart and start giving them a name. This name could be the word 'boundary,' or some may use the word 'line.' Pick a word you will use at the boundary line you are training your small dog to respect. Hold one flag up, say your keyword, and when your dog acknowledges it by looking at it, touching it, or sniffing it, click and treat. Repeat this with the other flag a few feet away, forcing your dog to walk to it.
Separate flags
Separate the flags a few more feet and walk your small dog to each flag, clicking and treating each time she recognizes them when you use your keyword. Keep practicing this, moving the flags a bit each time. When you are ready, move the training to the area you have flagged off creating a boundary.
Boundary line
Walk the boundary line you've created with your small dog. He should recognize the flag or markers from your indoor training sessions. Begin to use the keyword with this boundary line and click and treat with each marker your little guy acknowledges. If you find your small dog distracted, consider using a leash at first.
Practice
Keep practicing, eventually moving to off-leash training if your little guy has been leashed. As he improves walking this boundary line and not crossing it but rather recognizing each flag, start to remove a few flags. Taking out every other flag will increase the distance your little guy will have to walk to recognize the next target or marker. Be sure to click and treat at every flag if your dog acknowledges it.
Over time
Your small dog will begin to recognize this line as one not to be crossed. Be sure you are consistently walking this border with your small dog. Over time you should be able to remove all the flags and have an invisible border you've conditioned your small dog to recognize.
No flags
Once you have removed all the flags or markers creating the boundary line, take your training to a new level and walk this border without any markers keeping your small dog in line. As you walk along, offer him verbal praise and stop for the rewarding click and treat every so often so he is still rewarded even when the flags are gone.
Walk perimeter
Walk your small dog with a leash to the perimeter and then along the border you'd like your dog to stay within several times a day. While walking, talk to your dog using his name often. Point to the ground telling your dog this is his boundary. Walking this same line over and over will start conditioning your small dog to know this is his boundary.
Boundary line
After walking this boundary line several times a day with your dog for several days while pointing out the boundary and having conversations with your small dog keeping him engaged, stop pointing at the boundary line and change your motion. Walk with your dog off-leash along this boundary and begin to use a sweeping arm motion to still point out the boundary line. Your expectation is for your dog to notice this invisible line but not cross it.
Command
After a couple of weeks of walking the line together, start having your dog do basic obedience commands near the boundary line. Walk him to the line and ask him to sit and stay. Do this in several areas just on the boundary line, testing him a bit.
Cross the line
On occasion, have your small dog sit and stay on the boundary line, but you step over and cross it. Do not stay long and be sure to give him a treat if he obeys. This will open opportunity for your small dog to know you may need to cross the line even if he cannot.
Challenge
To really challenge your little guy, walk him along this boundary line and toss a treat over the line. If he goes to get it, let him have it without consequence, but revisit how long you've spent training the above steps. You can use a 'leave it' command if you've trained this to your small dog. If he is conditioned to stay on his side of the line, he should stay put. If your little guy makes no move to get the treat, give him a treat as a reward. You can also cross to get the treat you tossed and then cross back, letting him have the treat.
The Inside or Outside Method
Commands
Your small dog needs to know basic obedience commands such as 'come,' 'stay,' and 'leave it' as well as 'sit' and 'down.'
Leash walk
Once your small dog has gone through basic obedience training, take him for a leash walk to the boundary. This could be a boundary in your home, such as staying out of the kitchen or nursery, or it could be a property line boundary outdoors to keep your little guy on your property or out of a garden on your property.
Walk
Since your small dog knows all the commands he needs to know for this boundary training, walk with him near these boundary lines. If he tries to cross the boundary, stop walking. He should feel the leash tighten and not be able to cross.
Treat
Once your small dog stops, give him a treat.
Entice
Continue to walk along this boundary line but entice your little guy to cross the line by having a toy ready for him on the other side. Use a command such as 'leave it' or 'stay' as you cross to get the toy.
Chase
Challenge your dog to chase something over the line by tossing the toy back over the line. If he tried to get it, stop him with the leash and redirect with a 'sit' command.
Practice
Take your dog to his boundary line, enticing him with toys and treats on the opposite side until he can no longer be enticed. Be sure you aren't teasing him too long. Also, make sure he is rewarded for staying within the boundary.
Off-leash
Once you are comfortable with your practice on the leash, start practicing with your small dog off-leash. Redirect with commands to sit and stay if he tries to push boundaries and cross the line. Keep practicing and rewarding. He will get it with lots of repetition and consistency.
By Stephanie Plummer
Published: 01/17/2018, edited: 01/08/2021
---