How to Train Your Dog to Stop Chewing on Things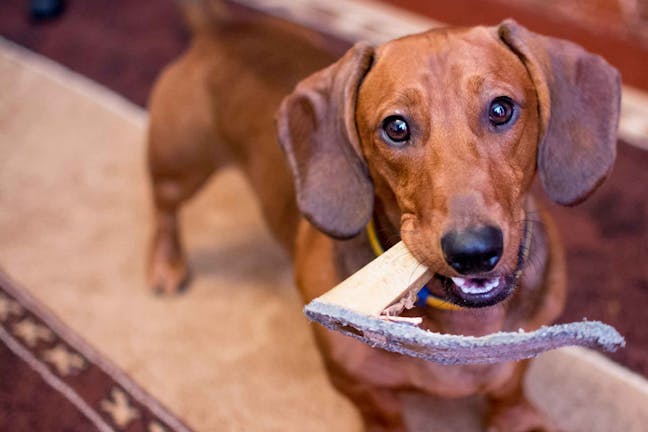 Introduction
How many times have you looked around your house, only to find your pup has been chewing on anything he can wrap his teeth around? If you have a teething puppy, this is not a good thing but it is quite common. But, if you have an older dog or one that has finished teething, it is not something you should have to put up with. Not only is it destructive, but it can end up harming your pup and could end up with him in the vet's office having chunks of whatever it is that he was chewing on surgically removed. There are several ways you can go about training your dog not to chew on things. The one thing you need to keep from doing is punishing your dog for doing what comes naturally. 
Top
Defining Tasks
The idea is to teach your pup to stop leaving teeth marks on everything in the house, ranging from shoes to the carpet, to the furniture, your kids' toys, and goodness only knows what else. However, the last thing you should do is yell at your pup when you catch him chewing and most certainly not after the fact. All this serves to do is make him more agitated rather than curing what is a bad habit. While you can teach your family to put their toys and anything else your pup likes to chew on away, you can't exactly put the furniture and carpets away. The rest of getting your pup to stop chewing on everything in sight comes with training, time, and patience. 
Top
Getting Started
The first stage of training your pup to stop chewing on everything is to try and figure out why he is doing it. In general, there are three reasons why your dog might be chewing. First, he is teething, second, he is bored, and third, he is anxious or stressed. While chewing is quite normal, even in older dogs, chewing on things and furniture around the house is never an acceptable type of behavior. You should have plenty of chew toys on hand for him as well as his favorite treats for when he gets things right. 
Top
Pick up the place
Start by picking up the house and moving everything your pup likes to chew on, like the kids' toys, to a safe place.
Use protectors
To protect your furniture during the training process, you can pick up special corner protectors from your local pet store. These are easily attached temporarily so your pup can't chew on them.
Fill the floor with toys
Fill the floor of your home with a selection of your pup's favorite chew toys. These will be used to distract your pup and give him something to chew on, keeping him too busy to worry about chewing on anything else.
Caught in the act
Each time you catch your pup in the act of chewing on something he shouldn't be, gently distract him by giving him a chew toy to gnaw on.
Repeat until he no longer chews on anything else
Keep the replacement process up every time you catch your dog chewing on something he shouldn't be. Never scold him, just reward him when he starts chewing on his own toys. It will take a few weeks to reach this point, but be patient and it will happen.
Evaluate the situation
Take a little time to study your dog's behavior, try to figure out when he chews just as much as what he likes to chew on. Is he chewing when no one is home, does he do it right in front of you, or does he sneak around at night chewing his way around?
Stock up on chew toys
While your dog may have a good selection of chew toys already, now is the perfect time to go out and buy some new ones for him. Be sure to buy a few of those tasty rawhide chews as well, the taste will help make them more attractive to your pup. Rotate the toys he has out every few days to help keep him from getting bored with them.
Take control of the situation
Taking control of the situation is a vital part of training your pup to stop chewing on everything. It means keeping everything put away, using furniture protectors where applicable, and keeping a close eye on your pup. It may also mean needing to put your dog in a kennel or crate at night until he stops chewing.
Make use of the 'leave it' command
Try placing one of your pup's favorite things to chew on that he is not supposed to be chewing on in the middle of the floor and take a seat next to it. Just sit quietly until your pup starts to wander towards it. Then cover the item with your hands and give the command, "Leave it!" in a firm voice. If he backs off, give him a treat and praise.
Set the concept in stone
Next, put the item down on the floor and walk away from it. If he walks towards it, use the 'leave it' command. Getting it right earns your pup a treat, getting it wrong earns him more training time. With a little hard work and effort, your dog will soon get the idea that the only thing he should be chewing on is his chew toys.
The Ounce of Prevention Method
Limited access
When possible, keep your dog from being able to enter areas where there are things he likes to chew on. You can use baby gates, pieces of plywood, even a tether when you are with him to accomplish this. But, at the same time, you need to be sure you provide your pup with plenty of chew toys to gnaw on.
Tastes bad…
When it comes to furniture and carpets, you can't exactly put them away and you can only limit your pup's access to them so much. The good news is there are a number of special sprays on the market that your pup will not like the smell or taste of, such as bitter apple. You can lightly spray furniture, carpets, rugs, and anything else you can't put away. This will keep your pup at bay.
Give him plenty of options
To help prevent boredom chewing, be sure to keep plenty of his favorite chew toys where he can easily find them. There are sprays available at your local pet store that you can use on his toys to make them smell and taste better, or you can smear a little peanut butter on them.
Plenty of treats
Every time you see your pup opt for one of his chew toys instead of looking for something else to chew on, be sure to praise him and give him a treat.
Use the 'drop it' command
If you are lucky enough to catch your pup chewing on something he shouldn't' be, don't get mad at him. Instead, use the "drop it!" command. If he drops the item, give him a treat and lots of praise. Repeat this training process until the only thing your pup chews on is his chew toys. Be patient, it can take weeks for him to perfect this behavior.
By PB Getz
Published: 11/02/2017, edited: 01/08/2021
---