How to Train Your Dog to Stop Digging Under the Fence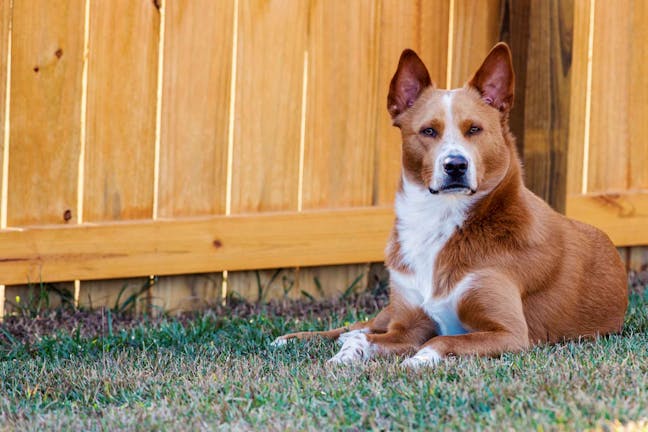 Introduction
Your dog has the most irrational habit of digging his way out of the yard. Indeed, it's not unusual for you to get phone calls from total strangers saying: "We have your dog."  You've made a lot of new friends through collecting him from his wandering, but you worry that one day his luck will run out on the roads. 
What puzzles you is why he's so obsessed with digging under the fence. It's not as though he's stuck in the house all day. While you're at work he has access to the yard and can roam and play outdoors to his heart's content. 
You've even made an effort to stop him digging by shouting when you catch him in the act. However, for some reason, he enjoys defying you and digs with even more determination. 
Unfortunately, what you failed to grasp was the dog was bored and frustrated, and digging provides an outlet for his energy. On top of that, when you shout at him the dog thought he was being encouraged rather than punished, and it made him more determined to dig, not less. 
If you're now scratching your head wondering what can be done, then read on to find out. 
Top
Defining Tasks
Dogs dig for a whole variety of reasons, including instinct, boredom, for mental stimulation, to find cool earth to lie on, and to chase down critters. Resolving this digging behavior depends on removing the stimuli for him to dig, while providing alternative activities to do instead. 
Even the most determined digger will respond given time and patience. But if in the meantime you're worried about having an escapee on your hands, practical measures such as a buried fence or chicken wire will beef up security for your peace of mind. 
Top
Getting Started
To stop a dog digging under fences is perfectly possible, but it does take some forethought and planning. Ideally, you'll have enough space in the yard to create a small fenced area where the dog is encouraged to dig. In addition, you need to be consistent when it comes to providing plenty of exercise and mental stimulation for the dog. 
To get going, you'll need: 
 A small area of the yard where the dog is allowed to dig

Low fencing around this area
Toys or treats that you don't mind being buried
Treats
A treat bag to wear on your belt
Puzzle feeders
A collar and leash to take the dog for walks
Ball and toys to play with
Chicken wire
Top
Understand the idea
Certain breeds, such as terriers, are hard-wired to dig in order to search out prey. In a case of "If you can't beat them, join them," a good strategy is to designate an area where the dog is allowed to dig. This provides an outlet for his behavior so that he's less likely to dig in inappropriate places, such as under the fence.
Set up a "Dig Zone"
Prepare an area in the yard where you are happy for the dog to dig. Make it a reasonable size. Provide clear boundaries so the dog understands where the dig zone ends and the yard begins. You may wish to create a low wall or fence around it with planks to differentiate from the rest of the yard. Fill the dig zone with whatever substrate the dog prefers to dig in, such as soft soil, compacted soil, or sand.
Attract the dog to the area
Scatter treats or place a favorite toy on the surface of the dig zone. In a happy, excited voice, encourage the dog to explore the area, and praise him when he jumps in. Each time the dog goes out into the yard, make sure there is something interesting for the dog to discover there.
Half bury a toy
Now the dog is regularly visiting the dig zone, half bury a toy there. Point out the toy and encourage the dog to dig it up. When he does this, say "Dig" in a happy voice, and praise him.
Put digging on cue
As the dog gets the hang of things, bury the toys deeper and deeper. When the dog visits the dig zone, point to the soil and say "dig", to encourage him. Pretty soon, the dog will learn to head straight to the dig zone in order to investigate what goodies await beneath the surface there. By satisfying his need to dig, this will reduce the urge to do so in the wrong place, such as under fences.
The Meet the Dog's Needs Method
Understand the idea
Dogs dig for a variety of reasons. These can include boredom, seeking out critters, or to find a cool spot to lie. It's helpful to work out why the dog might be digging, and then address the underlying cause. By meeting all the dog's needs for exercise and mental stimulation, you reduce his inclination to burrow under the fence.
Adequate exercise
Many times, a dog that is left out in the yard to exercise himself will find ways of expending that energy that don't meet with the owner's approval. To the dog, digging is a wonderful outlet for energy, and he doesn't understand why he isn't allowed to indulge himself when he's left to his own devices. Be sure to give the dog plenty of exercise, appropriate for their size and breed. Take the dog for walks and engage in active games, such as fetch with a ball. Do this at least twice a day. A comfortably tired dog is a lot less likely to dig.
Mental stimulation
Boredom seems to be a recurring theme, but that's because a dog whose mind is not fully occupied is liable to get up to mischief. Exercise and active play are valuable sources of mental stimulation, but so is obedience training (it should always be done in a fun way) and strategies such as using puzzle feeders. If the dog spends a lot of time outdoors, then consider scattering his kibble on the grass, so that he has to spend down sniffing out the individual biscuits. Or, investigate one of the many excellent puzzle feeders that are available, such as Kongs(TM). These make the dog figure out how to get the food and a great way to occupy a dog.
Provide shelter and shade
Some dogs dig in order to expose cool earth, so they can lose heat on a hot day. Be sure to provide shade, plenty of water, and a means of the dog cooling off--perhaps a shallow paddling pool or a cooler mat left outside in the shade.
Use the 'dig' cue
In the 'Digging Zone' method, we learned how to establish a digging zone. As part of this the dog learned the 'dig' command. When an action is put on cue, then the dog is less likely to show that behavior unless asked to do so. Thus, regularly take the dog to the digging zone and ask him to dig, will help get this out of his system.
The What NOT to Do Method
Don't punish the dog after the event
If you discover the dog has dug a big hole under the fence, don't punish or chastise him. The dog won't link the punishment to an event that happened in the past, and instead the punishment will make him wary of you, the owner. The dog may then start to hide or avoid encountering you outside, but still dig holes when you're gone.
Don't shout at the dog for digging
If you catch the dog in the act of digging, avoid shouting at him. To pay the dog attention in this way risks accidentally rewarding him with attention, which reinforces the behavior and makes it more worthwhile for him. Instead, try to distract the dog with a squeaky toy in order to get him away from the area. Then ask him to perform a command he knows well, such as 'sit', and reward him.
Don't put down hazardous substances
If the dog develops a digging obsession because of burrowing critters that are occupying his yard, then be careful how you dispose of the critters. Don't put down poisonous or hazardous substances that could poison not only the gopher, but your dog.
Don't expect the dog to amuse himself in the yard
It's a common mistake to think that a dog left alone in the yard is exercising himself. In fact, most of the time they are resting or bored. Don't assume that because he is outside he is receiving enough mental stimulation, because this is unlikely to be the case.
Don't expect some dogs to change their habits
Some dogs are hard-wired to dig (terriers!). While retraining will help, if your dog is a determined escape artist then you may need to take things a step further. Take some practical measures to stop him digging under a fence. This can mean digging out a trench and sinking the fence partially into the ground or laying chicken wire just beneath the surface of the soil to make deep digging impossible.
By Pippa Elliott
Published: 11/13/2017, edited: 01/08/2021
---