How to Train Your Dog to Stop Trying to Herd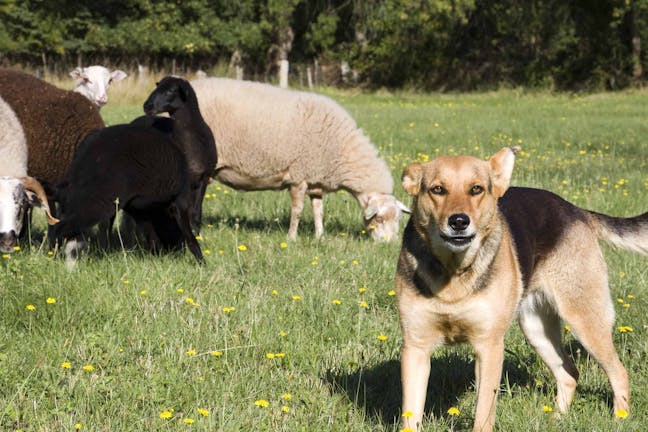 Introduction
If you ever venture a little outside of the urban world and into the rural farmlands,  you'll be hard-pressed to find a farm that doesn't have a flurry of yips and barks hot on the tails of the livestock when it's time to bring them back in for the day. For years, farmers have been relying on man's best friend to corral their animals both to and from the pastures and there are no better dogs fit for the task than the herding breeds who find that their purpose in life is to work, work, work! So what happens when a herding breed is brought off of the farm and into an apartment? Or even into the backyards of suburbia? You can be sure that they'll find something to herd, whether it's the local wildlife, other pets, or even your own kids.
Top
Defining Tasks
Herding breeds like the Border Collie, the German shepherd, and even the Welsh Corgi are all born and bred to work. These dogs are highly intelligent and require almost constant exercise and mental stimulation to keep busy. Without the necessary environment, their need for something to do can easily turn into a problem behavior. While cows and sheep may need the occasional nip at the heels to get going, a toddler isn't going to take so kindly to the behavior when he's trying to run around and play. You might not either.
This behavior is inherent in these dogs, but it's not unmanageable. Herding dogs can thrive in urban environments with the right training and exercise. Providing these dogs with the appropriate outlets to expend their vast energy can be fun and very rewarding, though it can also be hard work and require some discipline. Starting early while still in puppyhood with this type of dog is best, but even adults can benefit from training. Within just a few months, your herding breed can become a well-behaved pal instead of a nipping nightmare.
Top
Getting Started
A herding dog's intelligence can sometimes be off the charts, so you'll need to be on your toes. Gather up some treats as a reward or a favorite toy, a leash to keep your dog close by during training, a clicker if you have one, and a whole lot of patience. Work in an area free of distractions like noisy children or lots of people walking by. If you're going the competitive route, consider making your own obstacles out of spare materials around the house for your dog to jump over or climb through.
It can be difficult to get these dogs to focus, but once they do, you can bet they'll pick up what you want from them very quickly.
Top
Get acquainted
Clickers are little devices that simply make a clicking sound when you press a button. Use this sound to indicate when your dog has done a behavior that you like by clicking and then offering a treat. Repeat several times without any commands to start with. He'll soon understand that the click means he's on the right track.
Try a basic obedience command
Using the clicker, try teaching your dog to 'sit' by using the clicker to indicate when he's making progress. Any time he makes any indication of sitting, click and treat. When he finally sits all the way, click multiple times and give him more than one treat. This will help reinforce the good behavior.
Try other commands
Move on to 'down', 'come', 'stay', 'speak', or any other commands that you'd like your dog to know, using the clicker to reward when progress is being made.
Focus on recall
A herding dog's recall may be the most important tool in their obedience arsenal. With a good recall, you can stop them from doing any unwanted herding and come right back to you instead. Spend extra time on training 'come' to ensure that your dog can return to you at all times.
Try it with distractions
Very gradually introduce distractions to your clicker training. This could be other people or pets in the house or a particularly interesting toy or a bowl of food. Start with the distraction being far away and move it closer to your dog as he makes progress. Move the distraction back a step if your dog makes a mistake and try again.
Decrease the dependence on treats
If you'd like your dog to be less dependent on treats to behave, slowly wean him off of them. Treat in intervals or at random moments. You'll keep your dog guessing about when he's going to get a treat and he'll be more likely to perform the behavior every time. Do this gradually or he may end up losing interest.
Put it into practice
Any time you see your dog beginning to herd, pull out the clicker and do some obedience work. His focus will likely go right back to you in anticipation of a treat
Start with a walk
Herding dogs are extremely dependent on exercise. Going for a long walk once or twice a day will help diminish the amount of excess energy your dog has, which can lead to better behavior.
Get some running in
Go for a run with your dog or find a safe off-leash park where she can run at her own pace. Walks are good, but runs are great!
Invest in new and interesting toys
Find toys that require the use of your dog's nose or paws to reveal treats inside or you can easily make them out of materials around the house. Creative puzzle toys can keep her occupied while you're busy.
Find time to socialize
Whether it's with other dogs, the family, or just you, find some time for your dog to interact with others. If she's especially well-behaved with strangers and other dogs, search for some dog-friendly places around town to visit.
Explore the water
If your dog is particularly fond of the water, fill a kiddie pool up and let her have at it! Other options can be going swimming at a lake or at the beach, which works out many of her muscles. Make sure to always supervise your dog around water.
Mix things up
Creating a routine can be good for your dog, but mixing up which activity you do each day can keep her on her toes and interested in what you're doing together each day. Keeping her occupied will give her very little time to herd the people in the house.
Research herding dog sports
Dog sports are extremely popular, especially with herding breeds. Sports can give your dog everything he needs to be successful and direct his herding instinct into something productive and fun. Among the types of sports that dogs can take part in are agility, frisbee, dock diving, and yes, even competitive herding! Do a little digging to see which sport may suit your dog the best.
Search for local dog sport groups
Local groups can offer classes, equipment, training, and even competitions themselves. Take some time to see if a group could help you get your start in dog sports.
Learn the sport
Figure out what you dog needs to know to be successful at the chosen sport whether it's a perfect 'fetch', a great 'down-stay', or a smooth 'heel'.
Practice basic obedience
Most, if not all, dog sports require at least a basic understanding of obedience commands like 'sit', 'stay', 'down', 'come', and 'heel'. Some require a 'wait' or a 'fetch' command as well. Be sure your dog is excellent at these commands before expecting more complicated routines.
Find a good practice environment
Whether you use professional sport equipment or make your own at home, do your best to simulate the sporting environment to practice in.
Test your dog's skills
The better your dog gets at the sport, the more he can be challenged. Try new things to keep the sport fresh and keep him invested.
Check out the competition
Go to local competitions to talk with other trainers and explore the competitive environment.
Compete!
Frequent competition and practice will keep your dog busy, happy, and less likely to herd around the house.
By TJ Trevino
Published: 12/11/2017, edited: 01/08/2021
---