How to Train Your Dog to Stop Whimpering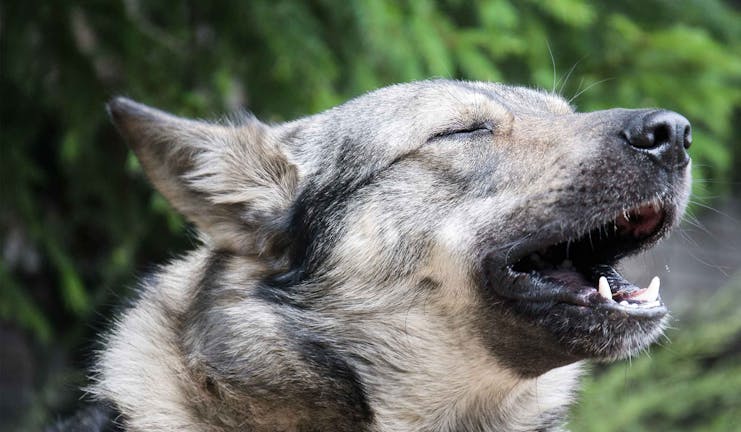 Introduction
Whimpering and whining can be a problem behavior in dogs. Not only is it annoying, it can be maddening when it becomes an incessant behavior. 
Many canines go through a whining stage right around the time they start growing in their adult teeth, around 4 months. If their human companions encourage the behavior by inadvertently rewarding it, it can become a habit that will be tough to break. 
In the worst cases, dogs that whimper persistently are sometimes rehomed out of frustration. This is terribly unfortunate since problem whining is relatively easy to address with a little know-how, patience, and persistence. 
This guide will show you three methods that you can use to curb problem whimpering and restore your relationship with your Good Dog. 
Top
Defining Tasks
Before you start any training program to curb whining, make sure that you have ruled out any legitimate reasons for whimpering such as:
Pain from illness or injury
A need to go outside to potty
An empty water bowl
A fear or phobia from a specific trigger
In the case of pain, sometimes it can take a vet to identify problems that you might not be able to assess from plain sight. If there is any chance that your dog could be whimpering out of pain, seek a vet's help to identify the problem. 
In most cases, whimpering is for one of the following less urgent reasons:
Attention seeking – in other words, "Play with me!"
General anxiety – that is, not in response to a phobia trigger.
Excitement – such as, during a greeting.
Chances are, you or family members have been rewarding whimpering by giving the dog exactly what he wants – usually attention. In other words, you may have accidently trained your dog to whine! 
Top
Getting Started
Before you start working on reducing problem whimpering behavior, start by making some observations which can help you assess the reasons your dog is whining, as well as give you some tools to make the most of your training program. 
Are there specific times when your dog seems to whimper?
Is there a chance that your dog is in pain or has a legitimate need to get your attention?
Are you or other members of your family rewarding whimpering behavior with pets, lap time, entertainment or praise?
If so, what specifically is motivating your dog to continue whining? 
When you know what is motivating your dog to whine, you will know the exact kinds of rewards that will work to make him stop whining! 
The three methods suggested in this guide are meant to be used together, continuously. Training your dog not to whine is about responding to his whimpering with new strategies. Expect your training program to take 2-6 weeks depending on how long you have been rewarding problem whining. 
Top
Background
If you want to stop problem whimpering, this is a basic method that is the foundation for stopping any undesired behavior. It starts by learning how to give your dog a "hard ignore." This means you make a big deal out of ignoring your dog. Looking away or walking into another room are good examples. If your dog is in your lap, put him on the floor. Make this a motion and a movement the instant he starts to whimper so that he begins to learn that whimpering now has the opposite effect he is going for.
Hard ignore
As soon as your dog starts whimpering, give him a hard ignore. Continue to ignore him completely until he stops whining. Wait for 2 -3 seconds of quiet, then give him a little reward such as a pet or a smile and some praise.
Repeat
Your dog is likely to start whining the second you stop giving himattention. Go back to the hard ignore and repeat the last step. The first day will be the hardest. At some point your dog will "get it" and you can start extending the time you wait before giving him some praise or attention for quiet.
Reward quiet
Meanwhile, throughout your day, look for opportunities to give your dog some praise or attention when he is minding his own business and not whining. The more you reward quiet, the more quiet you will get. Be patient and persistent.
Next steps
After a few days of the hard ignore treatment, if whining has not significantly decreased, then add the 'Time Out' method.
Time out
This method adds alone time as a consequence of whimpering. As soon as your dog gives any whimper, say "Too Bad!" in a disappointed (not angry) tone. Immediately direct her, or pick her up and take her, to a crate or room where she can be alone unsupervised.
Quick quiet
Do not let your dog out of Time Out until she stops whining or crying for 2-3 seconds. It may take a few minutes, or even a half hour for her to quit whining in Time Out. That is okay. The first days are the hardest. Stick to it!
More time
Continue using Time Outs instantly when whimpering begins. Start expecting more time before releasing your dog from Time Out, up to about 5 minutes for an effective Time Out.
On the road
If you have a foldable crate, you can take it with you to teach her that it is not okay to whimper, anywhere. If you happen to be traveling without the crate, you can continue your training program using any means of isolating her such as a tie out, a small room, or a fenced area.
Next steps
If your canine is still whimpering after a week or two of Time Out training, then move on to the 'Spray Bottle' Method.
Background
Starting with punishment techniques is usually not a good idea with dog training. Punishment can make dogs fearful or aggressive, and they can become immune to being punished as well. Try the other two methods first. If they fail to fully end problem whimpering, this method will be effective at stopping it once and for all.
Set up
Fill up a clean spray bottle or squirt gun, or better yet, a few of them so you can have them handy at a moment's notice.
Squirt
The second your dog gives an attention seeking whine, squirt her. She will stop. If she starts whining immediately, repeat.
Reward quiet
Once she gives you 30 seconds of peace, ask for a behavior that she is really good at with a high probability of success. For instance, ask for a 'down' and give her plenty of praise when she obeys. Repeat, probably several times in a row at first. Stay persistent and patient. No additional correction is necessary.
Quick draw
Within 5-10 well aimed squirts, your dog is going to probably cease and desist when you so much as reach for the bottle. This is just fine and you won't need to pull the trigger as long as she stops. Continue to repeat and over time extend the amount of time you expect quiet before a reward.
By Sharon Elber
Published: 01/18/2018, edited: 01/08/2021
---