How to Train Your Dog to Swim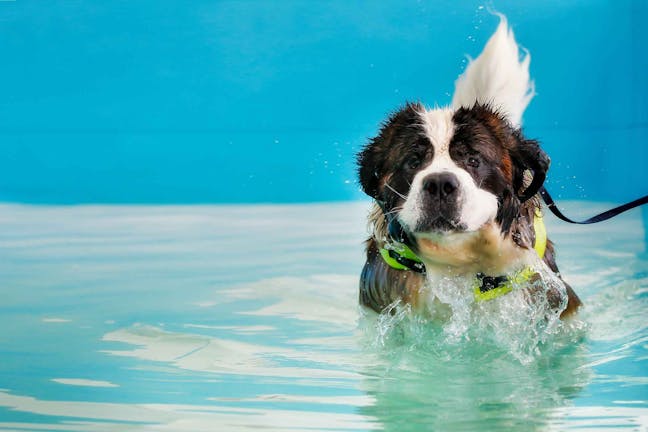 Introduction
Swimming is a great form of exercise. Using many different muscle groups and not putting any pressure on the joints, swimming is a rare form of working out that keeps us fit and healthy without causing any wear and tear to our bodies. Therefore, teaching your four-legged friend to swim can be equally beneficial. It has been stated that 60% of pets in the United States are now overweight; swimming is a great way to keep your pupper fit and ensure that they lead longer, healthier lives. Not only does teaching your pooch to swim have all of these health benefits, but it can also be extremely enjoyable for your pooch and a great way to bond if you're a keen swimmer, as your pooch can come on swimming adventures with you.
Top
Defining Tasks
Teaching a dog to swim can be an extremely fun and rewarding activity, however, there are factors that need to be taken into consideration. Thinking that all pooches love water and will take straight to it is a common misconception; some pooches will need a lot of time and encouragement, whereas others will love the water and jump right in. Therefore, the time it takes your pooch to learn can be variable--try not to get upset with them if it takes a little longer and understand that some pooches are scared of the water and may not be able to learn. Certain breeds of dog are better suited to swimming than others, for example, retrievers and spaniels are generally quite keen swimmers, however, deep-chested breeds such as bulldogs aren't naturally buoyant and will require a lot more help in order to swim successfully. Your pup should have some time to grow and get bigger and stronger, so this command is recommended for pups above 6 months old.
Top
Getting Started
To begin teaching your pup to swim, you'll need to have an area of shallow water that both you and your pup can get in safely and some doggy floatation aids. Your dog will need to be fully vaccinated, against leptospirosis in particular as there is a risk of catching this from the water. The shallow end of a swimming pool would be the ideal, as here there won't be any naturally occurring hazards such as sharp rocks, reeds, and currents as you would find in a river. You'll also want an area free from distractions, so if it was just you and your pooch this would be ideal. After your pup has been swimming, make sure you have some special doggy shampoo to wash him with, as you'll want to make sure his skin doesn't get infected or sore from any chemicals or bugs he picks up during his swim.
Top
The Synchronized Swim Method
Get everything ready
Make sure you put the doggy life jacket on your pet before you get started, particularly if you have a small breed pooch. Make sure their leash is firmly secured.
Start shallow
Begin by both entering a shallow area of a pool, river, or lake. A pool is the best option to avoid currents or naturally occurring hazards. If using a river or lake, make sure the area is clear.
Never throw your dog in
This will be a frightening experience and he might never want to swim again after.
Go in gradually
Slowly walk into the water with your dog's leash in your hand. This will get him used to having their paws wet to begin with.
Encouragement
If your pet is reluctant to go in to begin with, give some gentle encouragement. This can be in the form of praise or a favorite toy to get him to go in farther.
Support your dog
Put your arm under his tummy to take some of the weight off and to encourage him to swim on his own. Keep doing this until he swims freely of his own accord.
Unleash
Your dog can be unleashed once he is able to swim freely of his own accord, but be sure to keep him leashed until he is able to do this.
Praise and rinse
Once your pooch comes out of the water, be sure to praise him and give a treat to make swimming a positive experience. Give him a rinse down with the doggy shampoo to get rid of anything unpleasant on his coat.
Teach the 'swim' command
Get your pup to go into the water on command. Start by leading him in and saying 'swim', so that he associates this word with the water. Praise him and give him a big reward each time. Especially when he gets to the point of swimming of his own accord without you when you say 'swim'.
Keep it short
In order to not overload or exhaust your pooch, keep your initial training sessions at 3-5 minutes so that they can get used to the water and don't become overwhelmed by it.
Keep calm
Although you need to keep your pooch on a lead and swim with him to start with, make sure everything you say is in a calm, positive, reinforcing tone of voice. If your pup senses you panicking, he's likely to do the same.
Teach him to come back
Once your pupper understands how to swim comfortably and can go a little further away from you without the leash, teach him to come back. If your dog knows recall, use the command and he should come 'back' to you as on land. Be sure to give lots of praise when he does.
Always supervise
Although your pooch now knows how to swim comfortably, never leave him unsupervised, as dogs can do silly things and you want to always make sure you're there for him if he needs you.
Buy a suitable life jacket
Make sure safety comes first and your pooch wears a life jacket the first few times he goes for a swim. Select the correct life jacket from him from a pet store or appropriate online retailer. The life jacket should have handles so you can help keep him afloat and a ring to tie his leash to.
Get him used to the life jacket
Before you go diving in, put the life jacket on your pooch at home to get him used to it. If he's uncomfortable in the life jacket, this could impact his ability to swim. Give him lots of praise and treats when he sits comfortably in the jacket.
Start shallow
Start off in shallow water to just get him used to getting his paws and fur wet, gradually going a bit deeper. Be sure to hold on tight to his leash.
Get him to swim to you
Once he's used to the water, go a little bit deeper and try to get him to swim to you, using a very encouraging, positive tone of voice. When he does it, give him lots of praise. If he looks like he's having any difficulties, make sure that you go and rescue him without panicking. The training exercise needs to be a calm one.
Take it slow
Make the swimming sessions short; they will be very tiring for your pooch to begin with. It is best to do these steps over a period of week, repeating the following couple of weeks until your pup becomes a strong swimmer and can go it alone--always under your supervision though, of course.
By Catherine Lee-Smith
Published: 11/02/2017, edited: 01/08/2021
---