How to Train Your Small Dog to Swim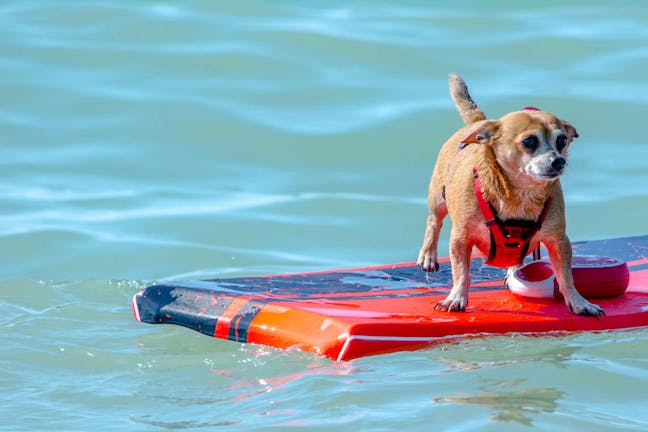 Introduction
You made a conscious decision to move to the seaside. You have beautiful beaches to walk your small canine companion along and you always envisaged him leaping through the waves and enjoying a good swim. It hasn't quite turned out like that though. You're not sure if he's scared of the water but he certainly won't swim in it. On the other hand, maybe you don't have a sea on your doorstep, but you do have ponds and lakes nearby. All of which he doesn't like going for a dip in. 
Training your little dog to swim will alleviate any concerns or nerves he might have. You'll then get precisely what you've always wanted; a little dog that smells like the dirty pond water when he returns home from a walk! Jokes aside, teaching him to swim is more than worthwhile. It's fantastic exercise for him and a great way to tire him out, so he naps peacefully in the evenings.
Top
Defining Tasks
Fortunately, training a small dog to swim isn't as difficult as many people think. He simply needs support and guidance from his loyal owner. You also need to find something to incentivize him to take the plunge. As you can probably imagine, food and toys do the job very well. Once you've taught him to swim you just need to encourage him and he'll take care of the rest. If he's young, he should be brimming with energy and full of confidence. You may need just a week to see consistent results. If he's older and always been wary of the water, you may need up to three weeks before he's fully comfortable.
Training him to swim isn't just great exercise, it's also good for his health. Swimming helps to strengthen muscles and joints, which may stave off arthritis and other conditions when he's older.
Top
Getting Started
Before you dive in you'll need a few things. Somewhere to practice is the first essential. A local pond or lake is a good place to start. A sea will do, but it's best if you can build his confidence up in calmer waters first. Because he's small, a bathtub may also be a good starting point.
You'll need plenty of treats and food, plus a waterproof toy. You'll also need to dig out your bathing suit. Don't think you can stay warm and dry while he does all the hard work!
Once you have those things, just bring patience and an optimistic attitude and you're ready to hit the deep end.
Top
The Pool & Sinking Toy Method
Play time
Spend a few minutes playing with your dog and a heavily weighted toy. Make sure the weight will also survive underwater, it's going to play a crucial role during training. Play tug of war and really get him as excited as possible. Make this toy his life, and leave it in his bed overnight so it smells like him too. This will make it feel even more like his.
Fetch
Start playing fetch with this new toy in the yard. Throw it all over the place and always give him a reward when he brings it back. Do this for a couple of sessions before you head towards the water.
First step
Now drop the toy on the first step of the pool. The water should be clear so he should be able to see it clearly. Hold out the treat so he knows what's waiting for him if he retrieves it. You can then point and talk in animated voice to encourage him to get it.
Reward
As soon as he gets it out, make sure you run over to give him a treat. Also give him lots of verbal praise and really show him happy you are. The more attention you give him, the more motivated he will be to go back in.
Increase the depth
Over the next few sessions, slowly throw the toy further in. Throw it on the second step, then the third and then so on. Because the toy sinks he'll have to swim underwater to get it. Doing it step by step will gradually build his confidence and before you know it he'll be diving into water without a worry in the world. At this point, you can stop giving him treats.
Frisbee
Take a frisbee or a tennis ball and play with it in the yard for a few minutes each day. Really get him excited and worked up. Talk in a high pitched voice, point at the frisbee or ball and encourage him to play with it. After a few sessions of this, simply seeing the frisbee or ball will send him into over drive.
Start shallow
Now take the frisbee and head towards the water. Start by throwing it just next to the surface, then throw it into the very shallowest section. Run with him towards it and encourage him to jump in. You may need to act like a crazy person to get him worked up, but that's what you have to do!
Reward
As soon as he takes the plunge, give him a treat and lots of praise. Get down and stroke him and really show him he's done behaved correctly. The better the reward the more likely he'll be to jump in again.
Deeper
Next time, throw the frisbee a little deeper. Make sure you stay relatively close to him, that will put him at ease. Once he jumps back out, run over to give him a treat and praise again. Keep practicing this but throw the frisbee deeper each time.
Mix it up
Once he's confident in that pond or lake, head for a new one. You need to make sure he's confident swimming in all water, including the sea if you're near one. Follow the same steps as before and always be ready with a treat on the side. Once he's confident in different ponds, lakes and pools, you can slowly cut out the treats.
The Lead By Example Method
Bathing suit time
Dogs mirror their owners behavior and look to them for support. That means the best way you can put him at ease in the water is to dive in yourself. So get swimming ready, then take your dog and some tasty treats to the water.
Dive in
Once you're in, start at the shallow end and stay close to the side. Then take out a treat and see if you can lure him in. Hold it close to his nose and guide him in. Also talk in an animated voice. If he thinks you're playing a game he'll be more likely to join you.
Reward
As soon as he's in, or even sticks a paw in, give him the treat. At this point, you want to encourage any signs that he's approaching the water. Keep encouraging until he fully jumps in with you. Keep him at the shallow end and give him another treat. Spend a few minutes in there and then get out.
Depth
The next day, head back into the water. Follow exactly the same steps as above, but this time head for the deeper end. Stay relaxed and happy, this will keep him comfortable. Use as many treats as it takes to get him in and then swimming to the deep end with you. Make sure you praise him and keep it fun.
Support him
Repeat this for a few minutes each session. As he gets more comfortable you can spend longer in the water. To start with though always stay close to him and keep a steadying hand on him. Having you there will give him the safety blanket he needs. Once he looks in his element you can lose the treats completely.
By James Barra
Published: 11/21/2017, edited: 01/08/2021
---