How to Train Your Boxer Dog to To Be Obedient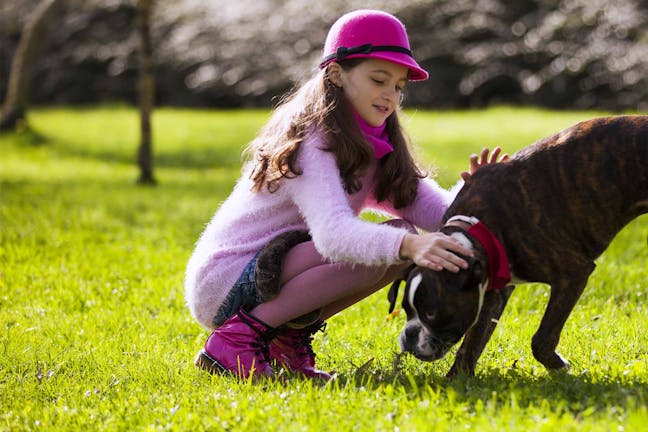 Introduction
You've recently welcomed a gorgeous Boxer dog into your home. He's energetic, brave and full of love. Everyone has a soft spot for him and you even catch your partner speaking to him in a baby voice when he thinks you're not looking. One thing he's not so good at though is following instructions. He thinks he runs the place so getting him to 'sit' or not jump on the furniture is challenging, to say the least. He's also badly behaved on walks and jumps up at guests when they come over. 
You know Boxers are supposed to be devoted and confident, but you didn't realize how rule adverse they would be. Training him to be obedient is essential if you want a well-behaved dog. You can't have a Boxer who's strong and scary looking charging around without any boundaries. 
Top
Defining Tasks
Training any dog to be obedient can be difficult but Boxers, in particular, can throw you some curve balls. Because they're so playful and energetic it's difficult to get them focused and enforce any rules. Fortunately, you just need to find the right incentive. Tasty food and some of his favorite toys are an effective way to keep him on task. You'll have to look at his routine and incorporate regular training into his daily life.
If he's just a puppy, he should be a quick learner and you could see results in a couple of weeks. If your Boxer is older and been living like a king for many years then you may need a couple of months before you see consistent results. Get this training right though, and your life will be much easier. You won't have to worry about him clambering up on the table to steal food, or pulling you on walks.
Top
Getting Started
Before you get to work you'll need to gather a few things. You'll need a generous selection of treats or his favorite food broken into small chunks. You'll also need a range of toys and clicker for one of the methods below.
You'll need to set aside 10 minutes each day for training. Find a quiet room to practice in when noisy kids aren't charging around playing. 
Once you've got all of that you just need patience and a can-do attitude, then you can get to work!
Top
Day One
It's important you start training him to be obedient from day one. Boxers can be a handful straightaway, so you need to set the tone. When they're young they are at their most receptive. So, be strict early on and you'll be grateful for it later.
Socialization
Make sure he gets the chance to see other dogs. Group obedience classes are the perfect place for this. Here they will see how other dogs behave and will copy their behavior. Not to mention the training you pick up there will help retain firm control outside of classes.
Clicker training
Use a clicker to reinforce good behavior. The clicker acts as a signal to him, telling him when he's behaved correctly. This speeds up the learning process and you'll find it easier to teach him any number of obedience commands.
Start simple
You need to teach him the basic commands first, such as 'sit' and 'down'. If you do this when he's a puppy you'll find he picks up other commands much quicker too. Once he's mastered the basic instructions you can move onto more advanced obedience training.
First time
It's important you don't repeat obedience commands. You should give the instruction only once. If he knows you'll repeat it then he'll just wait until you've pestered him a while. You have to set the tone from the beginning that he must respond to you straight away.
Set boundaries
You need to enforce a number of rules to show him you are in control and are the pack leader. For example, don't let him jump up on the furniture. Every time he does, take him out of the room by the collar.
Make him wait for meals
This is an effective way to teach him discipline. Prepare his meal then make him wait for a couple of minutes before you let him eat it. This will reinforce who is in charge.
Make him wait for walks
You can do exactly the same thing with walks. Put the leash on him and then make him wait a couple of minutes before you take him out. Wait until he's calm and show him that going out is on your terms.
Exercise
Make sure he gets plenty of exercise each day. Boxers have a lot of steam to blow off. Ensure he gets a long walk or that you throw a ball for him during walks. If he's tired when he's home he'll be much more likely to follow the rules.
Consistency
Make sure he gets his meals at the same time each day. Also, make sure you take him out for the toilet at the same time. A routine on your terms will in-still order into his life and further emphasize that you are in charge.
Play time
Set aside a few minutes each day for playing with him. His acting up may be attention seeking behavior. So, spend some time playing with his toys and giving him love and attention. Once he has that from you each day, his behavior may improve.
React
When he does misbehave it's important you stamp out the behavior quickly. That means giving him a firm 'NO' and then removing him from the situation. Give him 30 seconds outside to calm down and then let him back in.
Obedience commands
Spend a few minutes each day teaching him basic obedience commands. You can teach him 'sit', 'down', 'wait', and any other commands that would be useful. This will help get him used to following your instructions.
Rewards
Make sure you use tasty treats to reward good behavior. If he has an incentive to behave then he's more likely to do so. The promise that food could be around the corner will keep his attention and ensure he follows your instructions.
Never punish him
It's important you never terrify him. If you scream at him and he gets scared then controlling him could be even harder. You need to build a relationship based on respect not fear.
By James Barra
Published: 12/13/2017, edited: 01/08/2021
---