How to Train Your Dog to Trail Run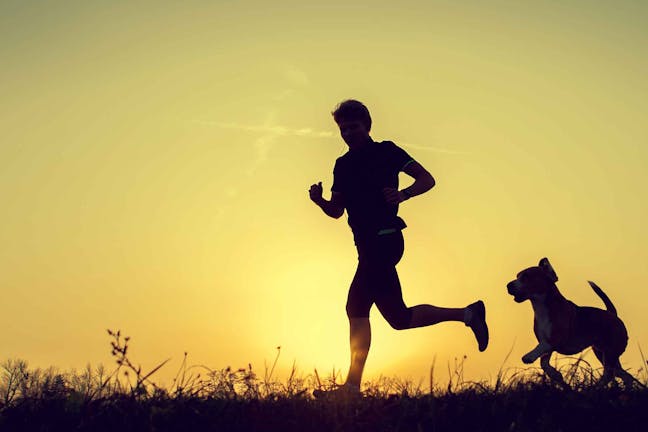 Introduction
There are few activities as invigorating and inspiring as trail running, and the only way trail running could be even more fun is if you have a four-legged canine companion to experience the beauty of the moment right by your side. While running is a natural ability that dogs have, they still need to build up their strength and stamina before they start running longer distances, and especially over rough terrain like trails.
Running is an excellent activity for dogs, as it encourages both physical and mental exercise, giving a dog the enrichment he deserves. With the proper training plan, you can teach your dog to trail run with you and you can both enjoy the great outdoors together!
Top
Defining Tasks
Patience, consistency, encouragement, and planning are necessary to make your dog's first trail run a fun and positive experience. But equally as important is an honest assessment of your dog's physical features and capabilities.
Not all dogs can run long distances over uneven ground. Is your dog lean and long? Does he have a shorthaired coat so he doesn't overheat easily? Or is your dog short and squat, with stubby legs? Does he have thick fur that can cause him to overheat while running? If you're unsure whether your dog is suited for trail running, check with your veterinarian first before you begin a training program.
Just because your dog isn't a Greyhound or a Rhodesian Ridgeback doesn't mean he can't become a trail runner. You just need to put a realistic training plan in place for your particular dog and stick to it. With commitment and practice, even the littlest dog can have fun at your side running through the woods!
Top
Getting Started
Trail running should be an engaging experience for you and your dog, but you also want it to be a safe one. Make sure that you purchase a sturdy leash or leash and harness combination for your dog. Consider the leashes that tie around your waist, leaving your hands and arms free to fall into a natural swinging motion. These leashes can help you keep control of your dog, especially in tight quarters on small, winding trails.
For safety purposes, be sure that you and your dog wear bright, reflective material while you run on trails. Jackets, shoes, collars, and harnesses are available in fluorescent colors and often have reflective patterns, piping, or lights so that other people using the paths can see you and your dog coming from a distance. Always have your dog on a leash and under control when you are on the trails, and have poop bags on hand to clean up your dog's waste. 
Just like people, dogs need to stay hydrated during exercise. Have water on hand for your dog to drink during breaks on the trail, and before and after the workout. Trail booties may also be necessary for your dog if his paws are soft, sensitive, and not toughened up.
Remember to start slowly and be very patient with your dog as he builds his strength and stamina over multiple runs. Make sure your dog is interested in trail running; never force your dog to run if he doesn't want to run. It may take some time, but with your enthusiasm, love, and patience, your dog will be trotting on the trails next to you in no time at all!
Top
Locate one of your dog's favorite toys
Choose a tennis ball or other light toy that you can easily throw a reasonable distance.
Throw the ball repeatedly to your dog
Encourage your dog to chase and retrieve the toy, thereby slowly building strength and stamina.
Keep initial sessions short
Have your dog chase and retrieve the ball until he is short of breath or panting somewhat heavily. This may take anywhere from five to ten minutes during the first few training sessions.
Allow your dog to recover
When your dog exhibits signs of exhaustion, bring the session to a close and allow him to recover and relax.
Repeat and increase
Give your dog the time to improve his stamina by practicing this training method twice weekly, gradually increasing the number of and time frame for each session. After your dog successfully completes a play-training session for thirty minutes without stopping, you can begin running with him on the trails.
Plan out your route
Plan out and scout out your trail running route before you run it with your dog. Look for any rough or dangerous areas that could cause injury and plan ahead for those areas.
Secure your dog's leash and/or harness
Make sure that your dog's leash or harness is secure. It shouldn't be too tight or too loose, and should allow you control over your dog at all times.
Run for ten minutes
Begin running with your dog for ten minutes. Give your dog the chance to adapt to your running pace. Take walk breaks as needed.
Adjust your dog's leash as needed
If your dog is running ahead of you, consider shortening the leash so he learns to run alongside you. If he is running behind, slow your pace down until he builds up enough stamina to keep up with you.
Add ten more minutes each week
As your dog progresses, add another ten minutes of running to your training runs per week. Stop when you have progressed to the mileage or time you desire.
The Anti-Distraction Method
Choose a command cue
Pick a phrase such as "Leave it," "Let's go," or "We're running," to redirect your dog's focus back onto you and the run should distractions, like other dogs, people, or wildlife, emerge on the trail.
Have your dog under control on the trail
Make sure that your dog's leash or harness is secured or properly fitted so that you have your dog under complete control should distractions occur.
Stay calm and confident
If you are stressed out about possible encounters with other animals or people while trail running, your dog will pick up on your discomfort and react accordingly. Stay calm and confident in your training and your dog will follow your lead.
Use positive reinforcement
When your dog follows your commands and handles distractions on the trail in stride, be sure to praise him and even give him a small treat.
Repeat
Be sure to repeat each of these steps every time you trail run with your dog so your time together is both fun and safe.
By Erin Cain
Published: 11/30/2017, edited: 01/08/2021
---