How to Train a Beagle Puppy to Come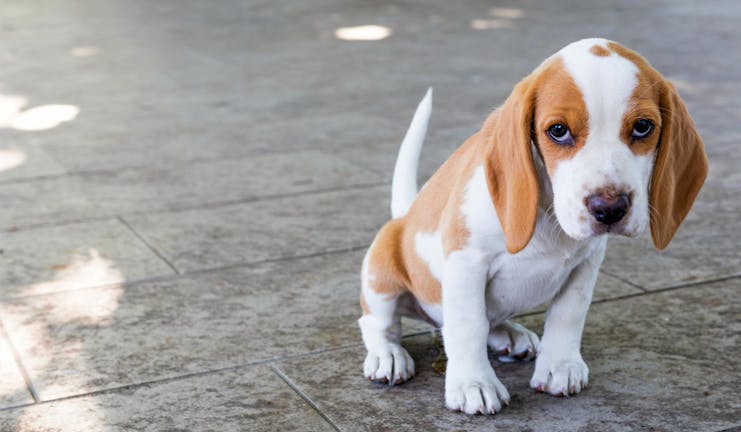 Introduction
Training your Beagle puppy to come when called is a behavior that is critical for their long-term safety, and your long-term sanity. It is a basic skill that all dogs should learn as early as possible.
Professional trainers call this skill "reliable recall." Working with your Beagle puppy as soon as possible is the best way to make sure they will come when called, for life.
A special note about Beagles:
Beagles have been bred for their ability to track game through the woods. As such, they have very strong instincts to follow a scent.
No matter how much training you do, a Beagle will always be at higher risk for running off and getting lost following a trail than some other breeds. Many professional trainers recommend that unless you have a Beagle for the sake of hunting, you should keep them in a secured area or on a leash at all times for safety sake.
This does not mean you should not bother training recall to your Beagle puppy, it just means you should never put her in the position where failing to come when called could cost her life.
Top
Defining Tasks
With any recall training, you will want to be sure to follow these guidelines throughout the training process to ensure the best chances at success:
Don't let your Beagle puppy trick you into chasing her when teaching this behavior. 
Try to never call your puppy to you, then take away a toy or put him in the crate. Coming to you needs to always be associated with something good. 
Expect to practice recall daily, and throughout the course of your Beagle's life. 
If you need to call your Beagle away from danger, such as traffic, always run in the opposite direction of the road and call him with a positive and excited tone. 

Your Beagle puppy is smart! She will start to come when called within a few short sessions. Improving her recall skills will take months as she matures to adulthood.

Top
Getting Started
Long Line: Beagles are rather notorious for following their nose over everything else. You will get to a stage in your recall training where you will need to enforce your recall command with your Beagle puppy. A long rope or leash that is at least 25' long is a great tool for this.
Be Exciting and Fun: The key to really motivating your Beagle puppy to give you his attention over other distractions is to be the most exciting thing in his environment. This means using high value rewards (stuff he really loves!) and keeping a playful attitude.
Keep it Short: For Beagle puppies under 4 months, you should keep training sessions between 5-15 minutes. If you get the tell-tail "walk away and sniff everything instead of listening to mommy" move, then you are expecting more from your baby Beagle than she is mature enough to give. 
Top
Set up
For Beagle puppies 8 weeks or older, this is the method you should use to start to teach them to come when called. In a room that is familiar to your puppy, get set up with your chosen rewards handy.
Run away
When your Beagle pup is a few feet away from you, run away from him. This will encourage him to follow you, instinctively. As soon as he starts coming your way, say his name followed by the recall command "Come!" Use an excited tone. When he gets close, gently grab his collar for a few seconds, then let him go and give him a big reward. Repeat 10-20 times.
Add distance
Continue working on the last step, but add some distance gradually. Keep the game fun. Don't repeat your recall command. At this stage, just ignore failures and continue to graciously reward success. Repeat this training process during a few training sessions each day.
Outside
After your Beagle puppy is 4 months old, start making this more challenging by working outside with a long line. Add distance gradually and remember to always touch that collar before rewarding.
Add consequences
Only after your Beagle puppy has plenty of success under her belt should you add consequences for failing to come when called. The most effective method is usually to give her about 2 seconds to come when called, then reel her in and give her a brief "time out." In no time, you should start to see a very eager dog come to you every time you call her. Proceed to the 'Proofing' method to make her recall even stronger.
Set up
If you want to make sure your Beagle has lots of fun learning to come when called, this fun game will do the trick! Start with some friends that each have a small bag of tasty treats cut into tiny pieces. Have them stand or sit in a circle.
Take turns
This game works by taking turns calling your Beagle puppy, followed by rewards when she is successful.
Hold back
When she gets to the person that called her, have them hold her while the next person calls, so that she will get excited to be let go and run to her treat. This really builds some excitement into the game, teaching your dog that running to the caller is loads of fun.
Add distance
Increase the size of the circle. Make sure everyone knows not to correct her during this game. Ignore failures and praise success.
Outside
Make this game an even bigger challenge by trying it outside. Remember to use the long line for safety when working with your Beagle puppy outdoors.
Why you need to proof
If you want to really make your Beagle puppy's recall strong, you will need to do what professional dog trainers call "proofing." This means that you gradually add challenges to your recall drills, making sure to add them slowly enough that your pup is mostly successful. The following steps offer ways to proof your puppy's recall, intended to be used only after he has the basics of recall down pat.
New places
Start doing some recall drills in new places such as empty parking lots, on hiking trails and in your friend's yard.
Add distractions
Add some distractions to your recall drills, gradually. If you know your Beagle has problems recalling when there is a cat around, for example, try having a cat in a carrier nearby, and gradually calling your Beagle puppy past the carrier, getting closer and closer to it. Make sure your rewards are always better than the distraction for your dog.
Add people
To get your dog to respond to a recall no matter who calls him, be sure to get some help and have others do some recall drills with him too.
Get picky
You can train your Beagle to run back to you when called even faster by getting selective about the recalls that you will reward with gusto. Pick the fastest recalls and start to gradually decrease your reward rate to about 1 in 20.
When NOT to recall
If you are pretty sure that your Beagle is not going to come when you call her, and you have no way to enforce that, then do not use your recall command. If she is into something really good, and you call her and she does not come, she is being rewarded for not following the command. This will "break" your recall over time, teaching her that it is "optional."
By Sharon Elber
Published: 01/22/2018, edited: 01/08/2021
---