How to Train a Beagle Puppy to Sit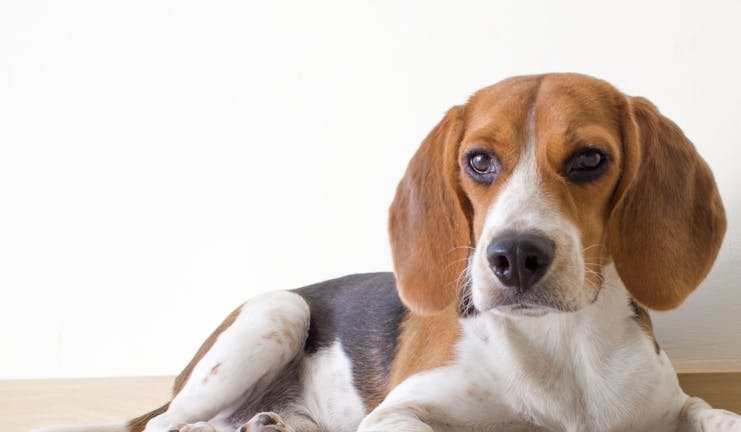 Introduction
A Beagle puppy is simply adorable. Yours is probably gentle, even-tempered, intelligent, and determined, just as you'd expect. He loves new people and pets; he always bounds over and jumps up to say hello. Since he's so irresistibly cute, you haven't been too hot on the training yet. You're just enjoying having him around. However, it's now dawning on you that it's time to start training him some basic obedience commands. 
Training him to 'sit' is the first step in teaching him a whole range of commands. Lots of instructions, from 'wait' to 'jump' will require a 'sit' first. This type of training is also important because it will reinforce your position as pack leader and instill some much-needed discipline. Not to mention it's a fantastic way to channel his energy into something productive.
Top
Defining Tasks
Training some dogs to sit can prove challenging, despite it being arguably the most basic command. However, because you have a Beagle, you already have certain advantages. Firstly, Beagles are well known to be relatively easy to train. Secondly, because Beagles are a scent hound, you can get him dancing to your tune by appealing to his acute sense of smell. Training will then involve you guiding him and making it all feel like a fun game.

Because he's a puppy he should be eager to please and a fast learner, you could see results in just a couple of days. If he's easily distracted then you may need a little while longer, up to a week. Get this training right and you will be taking the first step towards a well-trained Beagle who can perform a variety of entertaining tricks.
Top
Getting Started
Before you can start training, you will need to get your hands on a few bits. Break his favorite food into small pieces or stock up on treats. Because he's a Beagle, smelly food, such as cheese, may be an effective motivator.
You will also need a toy and a clicker for one of the methods. Then set aside 10 minutes each day for training and try to find a time where you both won't be distracted by kids charging around.
Once you have all that, you just need patience and an optimistic attitude, then work can begin!
Top
Kneel
Take him into a quiet room and kneel in front of him. Then hold a treat out to capture his attention. Hold eye contact and remain relatively quiet. You don't want to get him too worked up just yet.
'Sit'
Issue a 'sit' command in an upbeat, playful voice. Beagles learn best when they think they're playing a game. You can use any word or phrase you like, just make sure you give the command just once.
Guide him
As you give the command, roll your hand back over his head slowly. As he follows your treat filled hand, he will be forced to sit back. You can also use your other hand to gently push his bottom down.
Reward
It's important that as soon he sits down you hand over a tasty reward and give him lots of attention. The happier he feels afterwards, the more likely he is to repeat the behavior.
Practice
Spend a few minutes each day practicing the 'sit'. Once he's got the hang of it, you can then slowly phase out the treats. You can then get him to sit before you give him his meal, or while you secure a leash to him to go for a walk.
Play time
Spend a few minutes each day playing with a specific toy. You can play fetch and tug of war, just really try to get him as worked up as possible. Talk in a high-pitched, animated voice to really get him excited.
Setting up
Now take him to a quiet room and hold the toy above his head. He should be so eager to get his mouth on it that he watches it intently. Also, make sure you have your clicker close by.
Tilt
Slowly tilt the toy over his head, so he's forced to look up and back. This will push him into a sit position. If he doesn't follow your hand, try again but move even slower.
Click
Make sure you click when he sits down. This will be your signal to him that he's performed the behavior correctly. Use this for all commands and you will have an effective means of communicating with him.
Reward
As soon as his bottom touches the floor and you've clicked, hand over the toy and play around with it for a minute. Get him as animated as possible and really make sure he gets a good minute of attention from you. Practice this several times each day until he sits as soon as you instruct each time. You can then gradually cut out the toy lure.
Setup
Call him over and prepare his food in front of him. He will probably already be jumping up and down in excitement. You're going to use this moment when he's desperate for food to get him responding to your instruction.
'Sit'
Give your verbal cue in a playful voice. You can use any word or phrase you like. Beagles can learn hundreds of different commands. However, ensure you only give the command once. Otherwise he will know he can wait for you to pester. You want him to react first time, every time.
Move the bowl
Hold the bowl close to his face and then gradually tilt it over the back of his head. This will naturally make him sit down as he tries to follow the food. If he tries to move, try performing the movement when he's already against a wall, where he can't back up.
Reward
When he does sit down, hand over the bowl of food and give him some verbal praise. To start with, you want to encourage any signs he's getting the hang of it, so don't wait for him to sit for 10 seconds. You can then gradually increase the length of time he waits there as he gets the hang of it.
Change it up
Practice this at each meal time, but also start using other situations to your advantage. Before you take him for a walk, for example, is a good opportunity to get him to sit first.
By James Barra
Published: 01/23/2018, edited: 01/08/2021
---