How to Train a Boxer Puppy to Lie Down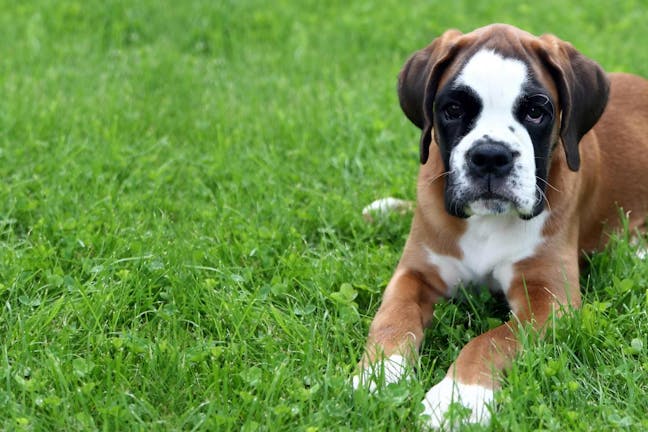 Introduction
Boxer puppies are playful, curious and energetic--more so than most other breeds of puppies, and that is saying something! Therefore, teaching your Boxer puppy can be a bit of a challenge.  
Because your energetic boxer puppy is going to grow up to be an energetic adult Boxer, having a good grasp of the 'lie down' command is going to be very important in the future, when an excited jumping Boxer puppy becomes an adult that can unintentionally knock you and guests flying. Being able to get your Boxer to lie down gives you control over excited rambunctious behavior when you need it, and helps the puppy to relax, calm himself, and learn important self-control.  Eventually, it may even be an important safety mechanism, if your curious Boxer is moving towards danger like a roadway or the neighbor's feisty cat. Also, if your Boxer will lie down on command, you will be able to take him places where he needs to behave in a calm way, such as to public places or other people's homes. This will allow your Boxer to accompany you to a variety of places, which will make him happy in the long run. He just needs to learn a little self-control first.
Top
Defining Tasks
You can use a command like "down" to ask your Boxer puppy to lie down. Because Boxers are excitable dogs and are prone to crouch when they lay down and then pop back up again, you will want to teach your Boxer to lay down and then roll over onto one hip with his legs out to the same side, not bunched up underneath her, which will increase the likelihood your Boxer will be up again before you know it. Puppies as young as 6-7 weeks can start learning to sit and then to lie down. Remember to use patience, encouragement, and to make sure your young Boxer pup understands what you are asking of her. Yelling at or punishing a Boxer puppy that is confused will not accomplish the task and will only upset and stress your young dog. Be clear in your commands and wait for your Boxer puppy to catch on to what you are asking.
Top
Getting Started
You will need treats, lots of treats, for your food-loving Boxer pup, to teach him to lie down. Using a clicker to capture 'lie down' behavior is also useful. For this method, you will need to have patience to capture lying down and good timing to reinforce it. Remember to guide and reinforce, not punish your Boxer pup when teaching 'lie down'.  If your Boxer pup knows how to sit prior to teaching lying down, it will make training easier.
Top
Lure to sit
Ask your Boxer pup to sit. To encourage a 'sit', hold a treat over your dog's head and say "sit". Your dog will track the treat and his bottom will go down to a sitting position.
Lower treat to ground
Once your pup is sitting, move the treat to the ground in your hand, so the puppy follows it the ground with his nose and body. Say "down" as your pup touches the ground.
Pair release word
Say "OK" when your Boxer gets up to introduce the release word.
Lure onto hip
Notice If your puppy's bottom comes up as you lower the treat and he moves his legs up underneath him. If this is the case, move the treat back and to the side so your dog has to curl his head around to reach it and roll over onto his hip before giving the treat. This encourages him into a more relaxed lying position and he is less likely to pop up.
Practice without lure
Practice several times a day for several days until your pup starts responding to the lay down command without being lured. Increase the time before giving your release command.
Put in a 'sit'
Ask your Boxer puppy to "sit". Tap his bottom or apply gentle pressure if required.
Position yourself
Kneel down next to your Boxer puppy, who's in the sitting position, and put your nearest hand on his shoulders and your other hand behind his front legs.
Guide to 'down'
Say "down" and press gently on shoulders while scooping his front legs forward so that your puppy is in a lying down position.
Reinforce 'down'
Stroke your dog while he is lying down to encourage him to relax and give him a praise and a treat reward. Encourage him over onto one hip.
Remove guidance
Repeat often until your dog starts initiating lying down without having pressure put on his shoulders or his legs guided forward. Continue treating.
Wait to capture 'down'
Stand in front of your dog with treats and a clicker. Wait patiently for your Boxer to lie down on his own, this could take several minutes or longer.
Capture lying down
When your dog lies down, use your clicker and give your dog a treat. Repeat several times.
Add commands
Now with your clicker and treats available, wait for your dog to lie down and say "down" then click and treat. Practice often. You can also use a hand signal like a palm faced down to reinforce and signal the 'lie down' command. Repeat several times daily for several days.
Remove clicker
Ask your Boxer to lie down by giving the command "down". When your dog lies down, do not use the clicker but continue to give a treat for several days as you practice the command.
Provide variable reinforcement
Ask your dog to lie down. Instead of giving a treat each time the command is performed, praise your Boxer pup instead and stop to give him affection. Intersperse affection and praise with tangible food treats for several days until your dog is reliably responding to the "down" command for praise only.
By Laurie Haggart
Published: 02/01/2018, edited: 01/08/2021
---