How to Train Your Dog to Listen to Verbal Click Words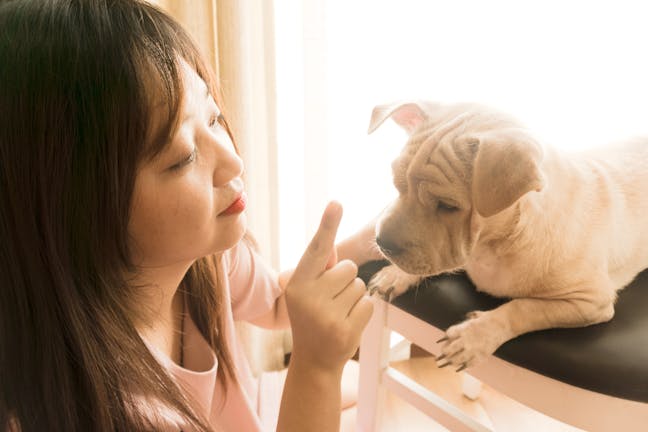 Introduction
Whether you have a boisterous Border Collie or a laid-back Labrador, training your pooch to listen to commands is never straightforward. There are tons of different methods for training out there, and one popular proven technique is using a clicker as a marker for commands. 
By marking good behavior with a clicker, you'll find your pup picks up new tricks much quicker. A clicker helps create a better dialogue with your dog by telling them what they're doing right, rather than focusing on what's wrong. But what exactly is verbal clicker training? And does it work? Here's the lowdown on training your dog to listen to verbal click words.
Top
Defining Tasks
There are a couple of key tasks to consider when teaching your dog verbal commands with a clicker. First, you'll need to ensure you're rewarding your dog for good behavior rather than praise.

If you find you're using your clicker and giving your dog a treat when saying things like "good dog!" or "well done!", your dog will associate these words with the clicker rather than a specific command.

You should always praise your dog after successfully doing the trick with a clicker; however, wait until after you've given your dog a treat so they don't get confused. If your dog isn't very food-motivated, you may struggle to train them with a clicker. 
After your dog completes a specific command after you tell them to "sit", "stay", etc., you'll have around 3 seconds to use your clicker and then give a treat as positive reinforcement. If you're not quick on the draw, your woofer may not associate the command with the clicker. It's also vital to always give a treat whenever using the clicker, even if you use it in error. If you let off the clicker by accident without giving treats, your pup may not associate the clicker with positive reinforcement, making future clicker training extra difficult.
Top
Getting Started
To start training your pup to listen to verbal click words, you'll want to prepare a bag of high-value treats your hound loves to reward the correct behavior. Try to pick a space with very few distractions to begin with, and then try training again in a busier space, so your pup gets used to following commands even with lots of distractions around. 
If your dog follows a specific command, use the clicker and then give them a treat. Over time, your dog will begin to associate the clicker with their favorite treat and will perform tasks with little to no fuss.

You should always praise your dog during training, ensuring you wait until after you've used the clicker and given them a treat. Advanced training techniques can be challenging even if your dog is highly food motivated, as it requires great hand-eye coordination and your pup's undivided attention. If you're struggling, consider booking a session with a dog trainer through Wag!.
Top
Introduce the clicker
Press the clicker once and give your dog a small, high-value treat. Repeat this step approximately 10 times until your dog associates the clicker with positive reinforcement.
Check your dog understands the clicker
You can check the first step has worked by using the clicker while your dog is distracted. If they start paying you attention, you know they associate the clicker with a treat. If they don't start looking for a treat, repeat the click-treat combo until you're successful.
Introduce a basic command
Pick a basic command like "sit". Get your dog to perform the command through normal training. In the case of sitting, put a treat in your hand and hold your hand above the dog's head until they look up, which will cause them to instinctively sit down. When they perform the command correctly, use the clicker immediately, and give them a treat. Praise your dog afterward to reinforce their behavior further.
Repeat training
Repeat the command several times so your dog associates the trick with the clicker.
Remove treats
Use the command and the clicker without giving any treats. Through positive reinforcement, your dog will know that they've done the trick correctly through the clicker.
Remove the clicker
Stop using the clicker and just use your chosen command word. Your pup should now associate the command with the clicker.
The Advanced clicker Method
Introduce the clicker
Introduce the clicker by getting your dog to associate it with a treat they love. Repeat around 10 times until your dog knows the clicker will get them a treat.
Check your dog understands the clicker
Test your initial training works by using the clicker when your dog's distracted. If they come to you looking for treats, you've been successful. If not, repeat step 1 until you get the desired effect.
Introduce an advanced command
Choose an advanced skill or trick for your dog to learn — for example, how to agility jump. What you'll want to do is use the clicker slowly throughout each step of learning an advanced skill, so they'll perform it the same way each time. If you're using the Lead Together Method to teach your dog to agility jump, you may want to use the clicker whenever your dog positions themselves correctly and when they complete the jump.
Complete each stage individually
Complete each step of your advanced training exercise individually using the clicker and rewarding with treats. Repeat as many times as necessary.
Combine all stages with the clicker
Combine the steps together, using the clicker and a reward for each stage they get right. Reward your dog for each part they get right, even if they don't complete the whole trick. Repeat until your dog completes the whole trick in sequence.
Practice the whole trick without treats
Get your dog to perform the entire trick, only using the clicker at each stage without any treats. Repeat until successful.
Practice the whole trick without the clicker
Use just your marker word without the clicker to get your dog to perform the entire trick. You may want to give your dog a treat at the end initially as a sign of a job well done.
By Adam Lee-Smith
Published: 03/09/2021, edited: 03/09/2021
---